Cookbook #72: Woman's Day Encyclopedia of Cookery, Vol. 4, Cre-Fin. Woman's Day, Fawcett Publications, NY, 1966.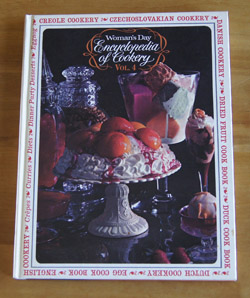 This is the fourth in a series of 12 food encyclopedia volumes. I discussed the first three volumes here: Volume 1, Volume 2, and Volume 3.
The first entry in this volume is "Creole Cookery". I marked a couple recipes to try, especially "Louisiana Pecan Cake" with 3 1/2 cups pecans and a whole cup of whiskey! Next come crepes, croaker (a fish that makes a grunting noise), croissants, and crumpets. The curry recipes look interesting, as they do not rely solely on American curry powder. Czechoslavakian and Danish cooking follow. Devil's food cake! James Beard contributed an article on desserts.
Following James Beard's essay is one entitled "Dinner-Party Desserts from a Jittery Cook", by Margot Sandler. Jittery!
"Well, jittery or not, I like to give dinner parties, and I have learned to avoid some of the more common pitfalls. I have found, for instance, that there is nothing better for soothing the nerves than the thought of the good dessert waiting calmly in the refrigerator."
I stop and read the section on "Diet", an essay titled "The Truth About Diets" by Fredrick J. Stare, MD, Professor and Chairman of the Department of Nutrition, Harvard School of Public Health. An excerpt:
". . . with the automobile, the outboard engine, electric golf cart, and now the motorized toothbrush, there seems to be a conspiracy against adults securing any physical exercise."
I hardly think my "motorized" toothbrush robs me of exercise! (The rest of the essay is totally sensible though, encouraging a varied diet, small portions, and lots of exercise. He also mentions "electronic cooking" which is probably a reference to microwave ovens.)
Dinners, Duck Cook Book (looks useful), dumplings, durum wheat, Dutch cookery. The éclairs entry includes a good recipe for a from-scratch vanilla cream filling. Eels! Eek! I doubt I'll ever make "Matelote of Eels".
Eggs, eggplant, elderberries, English cookery, an Entertaining Cook Book, escarole, fair ("Country-Fair Dinner"), fermentation, fiasco (an Italian wine bottle), fiddlehead (a fern), figs. "Fines Herbes" ends the entries in this volume.
I decide to make "Date-Nut Muffins" for this blog. I have a handful of dates in my pantry that are getting pretty dry and need to be used, and muffins are always great for breakfast.
The recipe doesn't call for a lot of sugar (1/4 cup) but has a bit of butter (1/4 cup). Is that legal for breakfast? When does a muffin become dessert? I'm not the only one who wonders about this. From Deb Perelman's Smitten Kitchen blog:
"We all know that muffins teeter precariously on a razor-thin line that divides the food categories of "Acceptable for Breakfast" and "Nope, This Is Dessert" and one must maintain firm boundaries during the breakfast hours lest the day that follows devolve into a full-on bacchanal of Resolution decompensation that ends with one passed out amid scatters of Cheetos, ketchup packets and French fry grease with a side of cronut."
"Whole grains and oats = breakfast!
White flour = cake.
An egg or two = breakfast!
Lots of eggs = cake.
Natural sweeteners = breakfast!
White sugar = cake.
Unsaturated fats = breakfast!
Butter = cake."
The recipe for "Date-Nut Muffins" leans towards "dessert". I would add another criteria to Deb's list: "fruits and nuts = breakfast". I'm willing to use whole wheat pastry flour and a bit of honey, teetering these back to "breakfast". But I want the butter in these!
Below is my version of these muffins. I added some vanilla and honey, and used brown sugar instead of white sugar. I was out of fresh milk, so I used water and dry milk instead. Since my dates were dry and hard, I warmed up the 1 cup of water, added the dates, and let it stand until the water cooled. Next time I'll add more dates, and that change is reflected in my version below.
1 cup milk (can substitute 1 cup water and 3 tablespoons dry milk)
1 egg
1/3 cup brown sugar
2 tablespoons honey
1 teaspoon vanilla
2 cups whole wheat pastry flour
1/2 teaspoon salt
1 tablespoon baking powder
1/2 cup chopped walnuts
3/4 cup chopped dates
1/4 cup butter, melted
Beat the milk, egg, brown sugar, honey, and vanilla. Stir together the flour, salt, and baking powder, then add to the milk mixture and stir to combine. Add nuts and dates, then butter, and mix only enough to blend.
Fill 10 muffin cups (paper-lined, or greased, or use a non-stick pan) and bake at 400˚ for 20 minutes, until browned.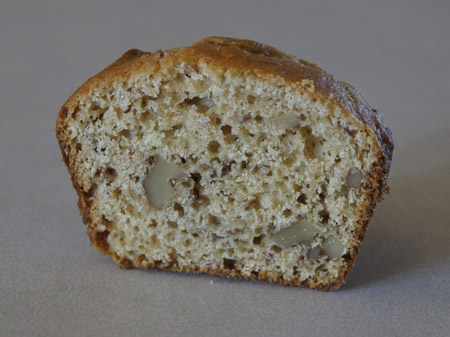 I had to try one as soon as they were baked! They are excellent. I like the whole wheat flour in them. I consider them healthy enough to be called a breakfast food!