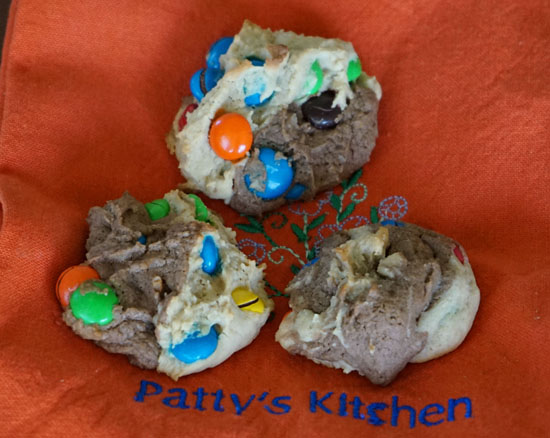 How can you go wrong? These cookies are made with M&M's®, peanut butter, cocoa, cream cheese, butter, brown sugar . . . these are so good they are sinful.
How did I come to make these on a warm summer day? Well, we were going up to the mountains to spend a few days with our kids and their young families. I get to be "Grandma", and that means I get to make some cookies to bring. Yay! I perused my old cookie recipes and came upon these "Dynamic Duo Delights". Hadn't made them in decades. Now's the time.
Dynamic Duo Delights
3/4 cup butter plus 2 tablespoons butter
1 cup brown sugar plus 1/4 cup brown sugar
1 cup white sugar
8 ounces cream cheese, softened
1/2 cup peanut butter (I used the crunchy style)
1 1/2 teaspoons vanilla
2 eggs
2 1/2 cups flour
1 teaspoon baking powder
1/2 teaspoon salt
3 tablespoons cocoa
2 cups plain M&M's
Beat together the 3/4 cup butter, 1 cup each brown and white sugars, cream cheese, and peanut butter, then add the vanilla and eggs. Stir in flour, baking powder, and salt.
Divide the dough in half and place each half in a bowl. Add 2 tablespoons butter, 1/4 cup brown sugar, and the cocoa to one bowl of dough. Add 1 cup of M&M's to each bowl of dough.
For each Dynamic Duo cookie, take a bit of the dough with cocoa and a bit of the dough without cocoa. Push together to form one rounded teaspoonful of cookie dough, then drop onto an ungreased cookie sheet. Continue with all of the cookies.
Bake the cookies at 350˚ for about 12 minutes, just until they are nicely browned.
Makes about 5 dozen cookies.
Enjoy!
---
*The photo above is my first food-blog photo taken with my new camera, a Sony alpha 7II. Sadly, my old Sony alpha died suddenly on our trip to the Alps this summer. Good bye old-friend Sony camera. Welcome to the fold, my new full-frame Sony.