Cookbook #202: The New Pillsbury Family Cookbook, The Pillsbury Company, Minneapolis, Minnesota, 1973.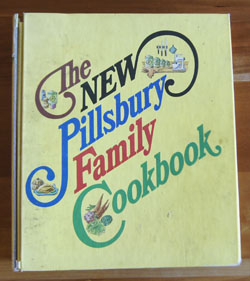 The New Pillsbury Family Cookbook is one of my three most-used reference cookbooks, alongside McCall's Cook Book (1963) and the Joy of Cooking (1964). I always reference this book when cooking a good roast, especially a rib eye roast. I also use the fruit pie baking guide. This book is well-used, but entirely readable! It's great for basic quick bread recipes too. If I want advice on how to cook or bake anything, this is one of the three I consult. Or, if I want to compare recipes.
The tone is straightforward, no "bossiness" like Joy of Cooking. The writing style is not "chummy" either. I am very comfortable with this book and its recipes – I grew up with this type of cooking, and began cooking this way, and still do, a lot of the time. Sure I often cook more twenty-first century, exploring new ingredients and methods, but our day-to-day meals are usually pretty twentieth century. We rarely eat dinner out, and that means I've had to come up with meal ideas zillions of times to keep things from getting boring. The New Pillsbury Family Cookbook? I won't let go of it!
I search the web, and discover that others must also like this cookbook. It's labelled a "classic cookbook" and also "vintage". Hey, I resemble that remark! (I bought it when I was only 23.) This is a five-ring loose-leaf binder cookbook. I find that it was also published as a hard-bound book (408 pages, just like mine) and is now selling for as much as $74 when in mint condition (VintageCookbook.com). Guess I'm not the only one who likes classic American cookbooks.
Pillsbury is currently a brand name used by both General Mills (Minneapolis-based) and the J.M. Smucker Company (Orrville, Ohio-based). (Wikipedia.) Pillsbury has a current website with lots of recipes. Note that Pillsbury is also the name on many of the "Bake-Off" booklets that I have covered in this blog.
One thing about this book has always made me smile: cake, candy, and pie sections come before meats and main dishes. Vegetables are last. I like cake first too! . . .  but just now I realize . . . the chapters are in alphabetical order. Geesh, that takes some of the fun out of it!
As I flip through the pages, I note several recipes I'd like to try. I like the "batter" breads in the yeast bread section, like English Muffin Bread and Dilly Casserole Bread. These are no-knead breads, and although not held overnight like the current no-knead breads I make, they give a hole-filled texture, kind of like a crunch, to the finished breads. I note an apple cake that has 2 cups of fresh apples and only 3/4 cup of flour. The Carrot Cake has honey in it, and less oil than the current very good but also very high calorie version that is my standard. It also suggests using whole wheat flour instead of all-purpose flour, and gives directions for baking at high altitude (5200 feet). I made notes on the Brownies and Pumpkin Bars recipes. If I make a pecan pie, I consult this book – and have post-it notes on that page. If I forget the proportions for a graham cracker crust, or want to make a pie crust from vanilla wafers or other cookies, directions are in a nice table on page 147. And page 149 is indespensible to me: a table of how to bake different sizes and kinds of fruit pies.
Once again . . . I really do like this reference book. But let's go on.
Pages 206-207 hold my post-it notes and magazine clippings for cooking prime rib roasts. These expensive, large roasts go on sale every holiday season, and I usually buy them to cook New Years Eve. Often with "roasted potatoes", a delightful way to cook potatoes that my daughter and I first enjoyed in England in 2002. Today, I find a recipe for "Citrus Simmered Steak", thick round steak that is simmered for a couple hours on the stove top. I decide to make this recipe for this blog, since I bought just such a steak yesterday on sale. Sounds like a nice, different mix of seasonings: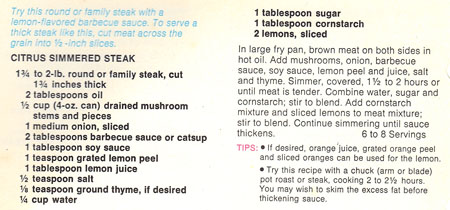 The poultry and game chapter shows signs of "well-use", but I haven't marked any recipes. Today I do, though! "Golden Oven-Fried Chicken" is coated with cornflakes, almonds, and Parmesan cheese. Now, I've made cornflake-coated chicken for years, but almonds and cheese? No. I will make this recipe soon. (271)
The last chapters chapters show little signs of use. Seafood and outdoor cooking, salads and sauces, vegetables. I find a few basic recipes for mayonnaise, waldorf salad, tomato aspic, salad dressings, and a good selection of sauces, like mornay sauce, veloute sauce, hollandise sauce, cocktail sauce, and barbecue sauce.
Okay, time to cook! The recipe from The New Pillsbury Family Cookbook for "Citrus Simmered Steak" is above; below is my version.
Citrus Simmered Steak is simmered for a couple hours on the stove top, so I decided to pull out my big old cast iron pot. Lately I've been using the LeCreuset for braising; it's nice that it goes from stove tip to oven. But I haven't used the cast iron pot in ages, and thought I'd re-familiarize myself with the benefits of this pot. I suggest any covered, large pot you have, but the heavier the better.
Citrus Simmered Steak
serves about 4
1 3/4-2 pounds round steak, at least 1-inch thick (often, this cut of round steak is called "London broil" in our supermarkets)
2 tablespoons oil (approximate)
1/2 teaspoon salt (or to taste)
pepper
1 small can mushrooms, stems and pieces, drained (these days, "small" mushroom cans are 7 oz.), or use fresh, sliced mushrooms
1 medium onion, chopped or sliced
2 tablespoons ketchup
1 tablespoon soy sauce
1 teaspoon grated lemon peel
1 tablespoon lemon juice
1/4 teaspoon dried thyme
1 tablespoon sugar
1 tablespoon cornstarch
1/4 cup water
1 thinly sliced and seeded lemon
Heat the oil in a large pot on the stove top. Salt and pepper the meat, then cut it into large chunks that will fit into the pot. Brown the meat on both sides. Add mushrooms, onion, ketchup, soy sauce, lemon peel and lemon juice, and thyme. Simmer, covered, for about 2 hours, or until the meat is very tender. Check and stiir occasionally and add a little water if it looks like the mixture is drying out.
When the meat is done, remove it from the pan and set aside. Combine the sugar and cornstarch, then mix in the 1/4 cup water. Add this mixture to the pan and stir into the drippings, heating until bubbly and thick. Add more water if you think it's too thick. Add the sliced lemon to this gravy, and then add the meat back in. Simmer a few minutes for the flavors to blend.
Slice the steak across the grain (yes, it's kind of messy to do this). I served the steak-sauce mixture over store-bought gnocchi (because I like them!), but it would also be good over mashed potatoes, rice, or pasta.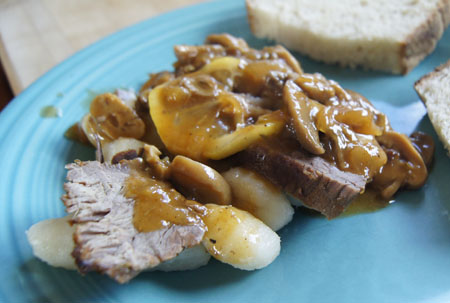 This was tasty and flavorful I left most of the lemons off my husband's serving because I wasn't sure he'd like them. The Swiss/round steak was a bit like, well, like "round steak". I always find this cut of meat rather chewy and flavorless, no matter how I cook it. With the sauce and the long cooking, though, it did make a good week night meal. I scraped the sauce off the leftover meat, sliced it thinly, and it made a yummy sandwich with tomatoes, lettuce, and ketchup. The last bit of leftover meat went into tacos.
Of course, I am keeping this cookbook!