Cookbook #243: The Vegetarian Cookbook, Nicola Graimes, Hermes House, Anness Publishing Ltd, London, 2003.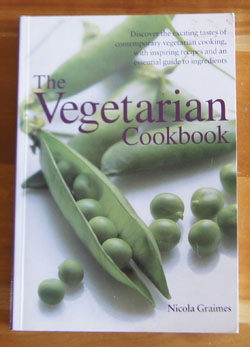 The Vegetarian Cookbook is pleasantly laid out and illustrated, and Nicola Graimes is a personable author. I probably bought this book at a time when my daughter was vegetarian. I don't think I've cooked many – if any – of the recipes in it! Why not? I really can't tell you.
Nicola Graimes writes in the introduction:
"Vegetarianism is not purely about achieving and maintaining good health. A meat-free diet is enjoyable, delicious and varied. The choice of fresh vegetables, fruit, herbs, noodles, pasta, grains and cheeses is now more extensive than ever before, enabling cooks to experiment with different flavours, textures and colours, and vegetarian food has become a popular cuisine in its own right."
And, dear spell checker, "flavours" and "colours" is correct in this Britain-published cookbook!
More from Graimes:
"Today, much of our food is processed and bears little resemblance to the original ingredients, so the recipes in this book specify fresh, unrefined foods whenever possible."
If you have read any of this blog of mine, you will know that I am entirely in agreement with the above statement. So why haven't I used this cookbook? Time to settle in and give The Vegetarian Cookbook a good reading. The first fifth of The Vegetarian Cookbook is an extensive guide to ingredients, from vegetables to spices and oils and pastas. Useful, but these days I usually rely on the internet instead.
The rest of the book is recipes, most with an international flair. "Soups" is the first recipe chapter, beginning with chilled soups. (I am not a fan of chilled soups.) I do like several of Graimes' recipes for hot soups. I'd like to try North African Spiced Soup (potatoes, celery, tomatoes, chickpeas, and lots of spices) and Spiced Lentil Soup. Cream of Courgette Soup? A courgette is a zucchini, so it's cream of zucchini soup. Garlic and Coriander Soup is an interesting concoction of cilantro (coriander), garlic, vegetable stock, bread, and poached eggs. Roasted Vegetable Soup sounds good too. First you roast butternut squash, carrots, parsnip, rutabaga, and leeks, then combine them with vegetable stock, cook, puree, and serve.
So. There are some interesting recipes in this book. Perhaps in 2003 I wasn't quite as adventurous in my cooking? Not sure. I turn to the appetizers chapter. I like Asparagus in Egg and Lemon Sauce because the sauce would be lighter than traditional hollandaise sauce. To make Twice Baked Gruyere and Potato Souffles you smash cooked potatoes with egg yolks and gruyere cheese, fold in beaten egg whites mixed with gruyere cheese, and bake in ramekins. Corgette Fritters with Chili Jam are fried in a small amount of oil, and the chili jam is home made.
The Vegetarian Cookbook continues with chapters entitled Lunches and Suppers, Fresh and Healthy Dishes, Entertaining in Style, Side Dishes, Salads, and Breads and Savoury Bakes. I noted several recipes I'd like to try: Jamaican Black Bean Pot, Penne Rigate with Mixed Vegetable Sauce, Baked Cheese Polenta with Tomato Sauce (this recipe calls for the polenta "logs" sold in local stores), Pumpkin Gnocchi, Summer Herb Ricotta Flan (crust-less, high protein, low fat), Polenta Crepes, Avocado, Red Onion and Spinach Salad with Polenta Croutons, and Cheese and Courgette Cluster Bread. Champagne Risotto calls for over a cup of champagne! Graimes writes: "This may sound rather extravagant, but makes a beautifully flavoured risotto, perfect for that special celebratory dinner."
I had fun looking up ingredients I didn't know. "Puy" lentils are small green lentils with blue marbling. "Borlotti" beans" are oval with red streaks and can be substituted with red kidney beans. "Quorn" is a British meat substitute. "Con chiglie" is a type of pasta, sort of like small shell pasta. "Gem" squash looks like a plump zucchini. "Garganelli" is a penne-shaped pasta. "Kohlrabi" is a vegetable related to cabbage and I'm not sure I've seen it in local stores. "Rocket" salad is arugula salad. Some ingredients might be hard for me to find. For instance, one recipe calls for a mixture of both fresh and mature Pecorino cheese – only a store with an extensive cheese collection is likely to carry both. Pickled walnuts? I've never noticed these in any local stores. I don't have a good source of wild or field mushrooms called for in a lot of recipes.
It's largely Nicola Graimes' excitement about her recipes that makes the book enjoyable. A former editor of Vegetarian Living magazine, she has over 20 books to her credit, and is still writing. I might buy her book Superfood Energy Balls & Bites, since I often eat little bites of protein bars throughout a day of work-outs and other activities.

For this blog, I decide to make Walnut Bread, a whole wheat bread with lots of walnuts.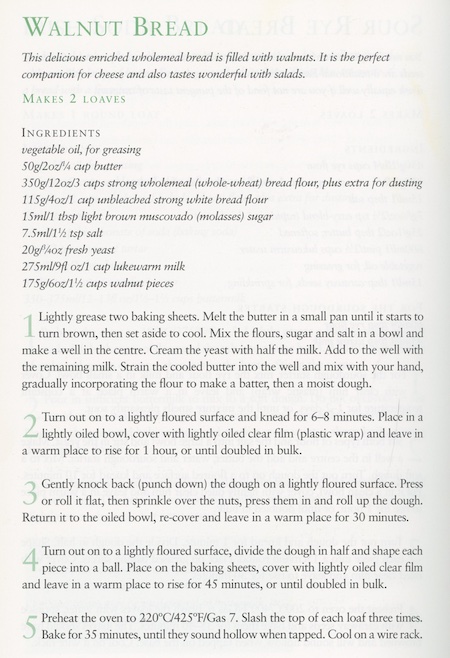 (This book is hard to open out flat enough to follow a recipe while cooking!)
I will make this bread in my breadmaker. For the "strong wholemeal (whole-wheat) bread flour", I decide to use half whole wheat and half white whole wheat flours, both from King Arthur Flour. For the "unbleached strong white bread flour", I will use King Arthur unbleached white bread flour, with a touch of vital wheat gluten too. I used turbinado sugar for the "light brown (molasses) sugar". I made the dough in a single loaf pan rather than two small round loaves. My version of Graimes' recipe is below.
Whole Wheat Bread with Walnuts
makes one 9×5-inch loaf
1 cup milk (may need a little more, see below)
1/4 cup butter, cut into small pieces
12 ounces whole wheat flour (I used a mixture of whole wheat and white whole wheat)
4 ounces white bread flour (I put a couple tablespoons vital wheat gluten and then added white bread flour to 4 ounces total)
1 tablespoon brown sugar or turbinado sugar
1 1/2 teaspoons salt
2 1/4 teaspoons yeast (1/4 ounce)
1 1/2 cups chopped walnuts
Put all the ingredients except the walnuts in a breadmaker. Set to a dough cycle with a rising step. Watch as the kneading begins – my dough wasn't forming a firm ball so I added a bit more milk.
When the breadmaker signals that it is done, take the dough out and roll it out. Sprinkle with the walnuts and press them firmly into the dough. Knead the dough several times to distribute walnuts. Then, form into a loaf and place in a 9×5-inch loaf pan.
Let rise until the bread tops the sides of the loaf pan. Bake at 425˚ for 35 minutes.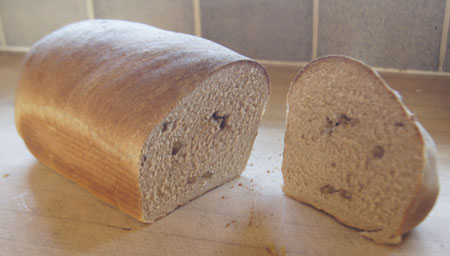 This bread is excellent! I think I found the perfect combination of whole wheat flours to give it excellent flavor and still have good texture – sometimes whole wheat loaves turn out sort of like heavy rocks. The walnuts made me keep wanting to have another bite! Note that this is a good bread for people on a low-carb diet, because it is whole-grain and also has nuts.
I will definitely keep The Vegetarian Cookbook!