Cookbook #238: Silver Anniversary Bake-Off Cookbook, the Pillsbury Company, US, 1974.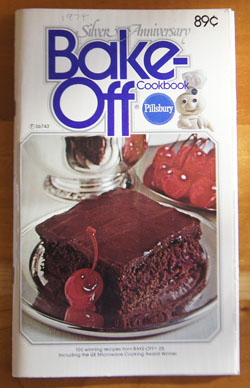 The Silver Anniversary Bake-Off Cookbook is one of the 22 cookbooks or cookbooklets on my shelves. The publication dates vary from 1959-2000, and most were my Mother's. Some have good recipes, and some not-so-good recipes, but they reflect Americana of late twentieth century USA.
This booklet was my mother's, and it is of the "not-so-good" recipe sort. Why? Because I can find only 4 recipes in 80 pages of recipes that do not call for pre-packaged convenience foods. What are these products? Pillsbury Hot Roll Mix, Refrigerated Quick Crescent Dinner Rolls, Coconut Pecan or Coconut Almond Frosting Mix, Hungry Jack Au Gratin or Scalloped Potatoes, Yellow or Fudge Cake Mix or (non-branded) custard or pudding and pie filling mix. I just don't buy that type of packaged food. I like baking from scratch, and I like choosing my own type of flour and shortening/oils. I want very few foods in my diet that come in packages with long lists of chemical ingredients.
As I go through this booklet, I note that even my mother did not mark as tried a single recipe in this book!
Here are some typical examples of the recipes in this book: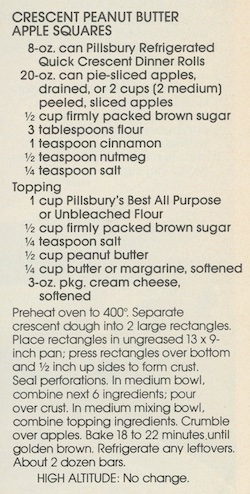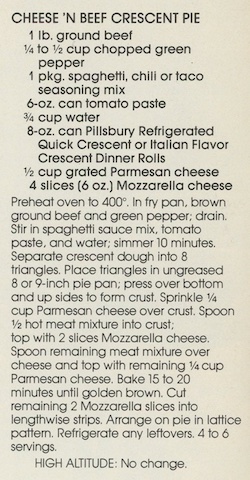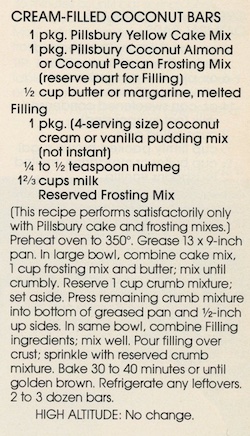 What are the four recipes that do not call for packaged mixes? That short list follows:
Easy Peach Spice Cake made with AP flour, sugar, spices, grated orange peel, peach or apricot preserves (I could use my own jam!), orange juice, eggs, nuts, and a frosting of powdered sugar, preserves, and butter
Pocket-of-Chocolate Cake (bundt cake made with sweetened condensed milk, "creme" cheese, chocolate chips, nuts, AP flour, sugar, sour cream, rum, eggs)
Quick Apple Spice Bars made with brown sugar, eggs, 3 chopped fresh apples, AP flour, cinnamon, 1 cup cheddar cheese, nuts, and coconut
Fiesta Chicken Kiev (chicken breasts cooked in the microwave)
For this blog, I choose to bake "Quick Apple Spice Bars". Note that they have apples and cheese in them –  classic combination for apple pie. I think these bars sound good, unusual, and close to being a "healthy" recipe. (They don't even call for butter or a cooking oil.) A side benefit is that these spice bars would be a good way to use up fresh apples (maybe those partially chewed on by a certain grandson!).
The fresh apples, cheese, nuts, and coconut in this recipe are all on our approved list of foods. Note that there is no butter or shortening in the recipe. The sugar? A no-no for us. I'll wait to make these until we have company.
Quick Apple Spice Bars
1 cup brown sugar (reduce to 7/8 cup at high altitude, over 5200 feet, like me)
2 eggs
3 cups peeled, finely chopped apples (about 3 medium)
1 cup flour
2 teaspoons baking powder
1/2 teaspoon salt
1/2 teaspoon cinnamon
1 cup grated cheddar cheese
3/4 cup chopped nuts
1/4 cup coconut
Combine the brown sugar and eggs, mix well. Stir in apples. Stir together the flour, baking powder, salt and cinnamon, add to the sugar and egg mixture and stir only until the ingredients are just mixed. Stir in the cheese, nuts, and coconut.
Bake in a greased and floured 13×9-inch pan. Bke at 375˚ for 20-25 minutes, or until golden brown.
I'll add a photo when I make these! Gotta wait for company.