Cookbook #241: Crock-Pot® Stoneware Slow Cooker, Owner's Guide, Rival, JCS/THG (The Holmes Group), 2006.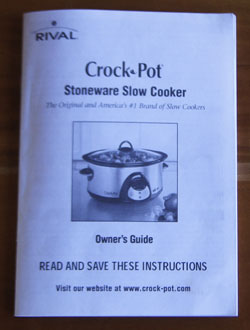 This is my current crock pot. It replaced a nearly-broken one in about 2006. This one has a removable stoneware crock that makes it easy to clean, a high-low setting, and a timer. This is my first crock pot with a timer, and I'd always get one like this from now on.
This is the last of my 11 crock pot cookbooks. Below is a list of those cookbooks and their publication dates, in the order that I covered them for this 250 Cookbooks blog. Crock pots are also called slow cookers, crockery cookers, or stoneware slow cookers. (I am reminded by Crock-Pot® Stoneware Slow Cooker that "Crock-Pot®" is a registered trademark.)
Crock-Pot® Stoneware Slow Cooker is a small booklet, 5×7-inches, 15 pages. Instructions and warranty take up 6 1/2 pages, and recipes 8 1/2 pages. I count 23 recipes. (Actually, there is another 15 pages, but those are upside down and in French.)
I am going to keep this cookbook, largely because it has "official" instructions and also warranty information. And also, the handful of recipes really look like they will "work". If you read any of my other crock pot posts, you will know that I think crock pots turn good food into indiscernible mush with a bad recipe.
I find this in the question and answer section of the instructions:
Q "Can I cook a roast without adding water?"
A Yes – if cooked on LOW. We recommend a small amount because the gravies are especially tasty. The more fat or "marbling" the meat has, the less liquid you need. The liquid is needed to properly soften and cook vegetables.
This hits home to me, because lately I have been slow-roasting beef roasts in the oven. I might try my crock pot next time.
The first recipe in Crock-Pot® Stoneware Slow Cooker is for Pot Roast of Beef. Someday I'd like to try this recipe and compare/contrast with the method I now use from Cook's Illustrated (Cover and Bake).

The second recipe is for Beef Bourguignon, and that is what I'll make for this blog. Another recipe I have my eye on is Chicken With 40 Cloves of Garlic, something I've always wanted to make. I might also consult the recipes for meat loaf, pork chops and roast, whole chicken, Swiss steak, French onion soup, jambalaya, and game hens (roasted with no added water).
Here is the recipe for Beef Bourguignon: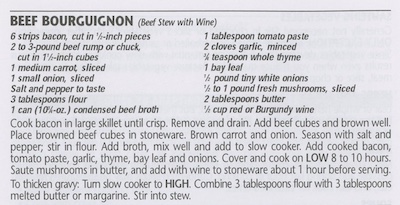 My version is below. I added more stock and more wine, and found that these changes gave just the right amount and thickness of gravy at the end. I used double the amount of tomato paste. I did not add the 3 tablespoons butter plus 3 tablespoons flour at the very end to thicken the broth, but I suggest you do that if you want a really thick gravy.
Beef Bourguignon
serves 6-8, and freezes well
6 strips of bacon, cut in 1/2-inch pieces
beef rump, chuck, or cross-rib roast, around 3 pounds, trimmed of fat and cut into 1 1/2-inch chunks
1 carrot, sliced
1 onion, chopped
3 tablespoons flour
2 cups beef stock
1 cup (about) red wine; divided
2 tablespoons tomato paste
2 cloves garlic, minced
1 teaspoon dried thyme, or a few sprigs fresh thyme
1 bay leaf (I used a big fat one recently purchased at Savory Spice Shop in Boulder)
1/2 pound tiny white onions (you could leave these out, but I like them; the ones I used were frozen)
salt and pepper to taste
1/2 pound fresh mushrooms, sliced
2 tablespoons butter
Cook the bacon until crisp. Drain and set aside.
In a clean pan, use a little bit of the bacon grease to sauté the beef chunks. Do this in batches and at fairly high heat. (You can anso brown the beef in the pan used to cook the bacon.)
Place the browned beef chunks and the cooked bacon in the crock pot.
Add a bit of oil or bacon fat to the pan used to brown the beef, then add the carrot and onion and cook until brown. Add the 3 tablespoons flour and mix in as well as possible, then add the beef broth; mix well and add the vegetable-broth mixture to the crock pot.
Add about half the wine, the tomato paste, garlic, thyme, bay leaf, and tiny white onions to the crock pot. Add salt and pepper to taste. Stir to mix.
Cook on low for 8-10 hours (in my crock pot, the meat was tender at 8 hours). An hour before serving, sauté the mushrooms in the butter, and add them and some more red wine to the crock pot and continue slow-cooking. (Remove the bay leaf and any fresh thyme sprigs before serving.)
Serve!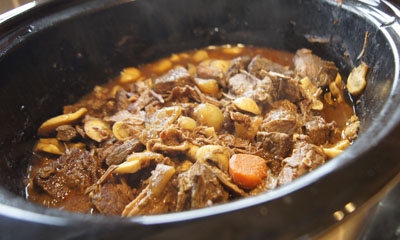 This was totally yummy. I loved the rich, dark broth-gravy. I am glad I didn't add the flour/butter mixture at the end to thicken the gravy. It was rich and thick enough for me as it was – it was indeed "especially tasty". I'm also glad I added more wine than called for in the recipe. I liked the sautéd mushrooms added for the last hour – their texture and flavor were not lost by 8 hours of cooking.
To serve, I cooked some potatoes, carrots, and peas and stirred them into our servings of bourguignon. I often like stew prepared with potatoes added later, because for the two of us, I usually cook a lot of stew-type meat at once and freeze some for another meal, and potatoes do not keep their texture after freezing. Also, this method opens up variations: you could serve the bourguignon over mashed potatoes, pasta, rice, gnocchi, polenta – you name it. Or keep it without added carbs for a nearly low-carb meal.
I get to enjoy this delicious bourguignon a few more times, and quickly, by thawing the portions I stowed away in my freezer. This recipe was a success!