Instant favorite: A muffin recipe from the Whittier Wildcats Cookbook, this week's 250 Cookbooks blog entry. These muffins are oh so good! They pack a full cup of coconut and a cup and a half of apples into 12 muffins. I added some cinnamon and used fresh nutmeg.
I think these are really "cupcakes". Too rich to be called "muffins". Maybe a little whole wheat flour will assuage my conscience.
Here is the original recipe: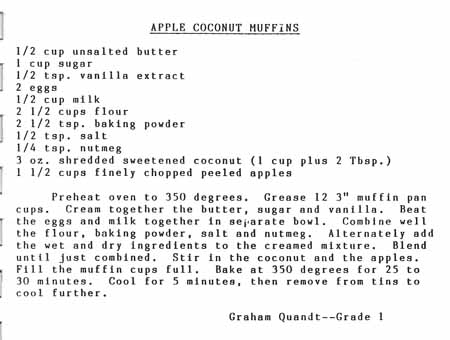 Below is my version:
Apple Coconut Muffins
makes 12 muffins
1/2 cup unsalted butter (or use regular butter and skip the additional salt)
1 cup sugar
1 teaspoon vanilla
2 eggs
1/2 cup milk
1 cup whole wheat pastry flour
1 1/2 cups all-purpose flour
2 1/2 teaspoons baking powder
1/2 teaspoon salt
1/2 teaspoon ground nutmeg (freshly ground if possible)
1 teaspoon cinnamon
1 cup shredded sweetened coconut (this weighed 3 1/2 ounces on my scale)
1 1/2 cups chopped, peeled apple (for me, this took 1 1/2 large apples)
Prepare 12 muffin tins in your favorite fashion.
In a mixer, cream the butter, sugar, and vanilla.
Stir together the flours, baking powder, salt, and spices.
Whisk together the eggs and milk.
Add the flour mixture alternately with the egg mixture to the creamed mixture, blending after each addition only until just combined. Stir in the coconut and apples.
Bake at 350˚ for 30 minutes or until they are light brown on top and test done with a toothpick. Cool in pan at least 15 minutes before removing to cool on a wire rack.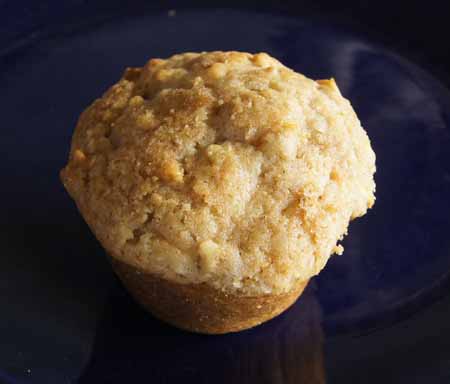 Be sure to let these cool before removing from the pan. I tried getting one out after only 5 minutes and – oops! It fell apart. So of course I had to taste it. And then go back for more. Addicting!