Cookbook #223: Weight Watchers Quick and Easy Menu Cookbook, Weight Watchers International, Nal Penguin, Inc., NY, 198.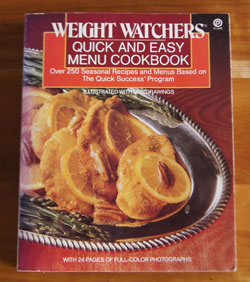 This is the second Weight Watchers book that I have covered in this blog, the other was Weight Watchers 365-Day Menu Cookbook. In general, I like Weight Watchers. My best word is "sensible" for the eating plans. Weight Watchers' plans of the 1980s espoused foods from the entire food pyramid, and taught dieters to watch their portions, learn the foods that have the most calories, and learn the foods that have the most nutrients. They help dieters learn how to eat and enjoy a balanced diet – a "normal" diet, not a "fad" diet – and this knowledge should help them beyond the initial strict dieting phase.
I found Weight Watchers 365-Day Menu Cookbook a bit "weird" – read my post to find out why.
This Weight Watchers cookbook looks more promising. I immediately find a couple recipes I could cook for this blog. It is nicely laid out, with each page being a meal plan for one day (breakfast, lunch dinner, snacks) tucked in a column to the left, and a full recipe for one of those meal plan items on the right. As I scan the recipes, I realize that ingredients are pretty much what I already have in my pantry, so no special trips to the market to find an odd ingredient are needed. Below is a recipe I tried. It illustrated how the book is laid out.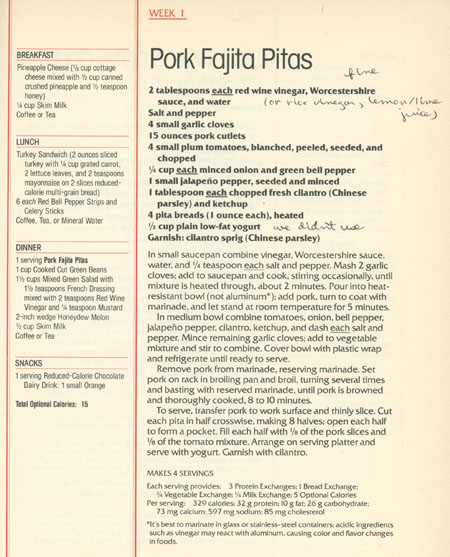 I like the large variety of fresh vegetables in the recipes. The chapters are organized by month of the year, so that you are able to use the fresh foods most abundant at the moment in the market. There are several full page color photos scattered throughout the book. And I like the way each recipe lists calories and exchanges (bread, milk, vegetable, protein, fat), kind of like the diabetic diet book I covered, The Calculating Cook.
One of the recipes I like is the "Swiss Chard Gnocchi". It is reminescent of the dumplings of my recent blog post, the Cooking of Germany, but the Weight Watchers version incorporates a fresh vegetable (swiss chard) for a less-calorie higher-nutrient version of a dumpling. "Greek Vegetarian Pitas" include cucumber, bell pepper, fresh parsley, garbanzo beans, tahini, yogurt, mint, and feta cheese. Several recipes include kale and fennel. Muffins have raisins and freshly grated carrot. "Capered Turkey Amandine" calls for almonds, capers, and parsley. I'd like to try the "Apple Crisp with Graham Crackers", since I am always looking for low calorie desserts, and I have lots of graham crackers at the moment, and have never thought of putting graham crackers on an apple crisp.
I like this too: almost all the main dish recipes are written for two people. So convenient for this retired couple.
I do note that most recipes lower the calorie content not only by portion size, but by including less fat. For instance, when I compare my own muffin recipe with the muffin recipes in Weight Watchers Quick and Easy Menu Cookbook, I find mine have more fat and less sugar for the same total calorie amount. This is so very common in the low-fat diet trend of the late twentieth century. (The Big Fat Surprise kind of turned my own ideas about fats entirely around.)
I marked one recipe as tried, the "Pork Fajita Pitas".
I like this cook book well enough to keep it. For this blog, I'll make the "Chicken 'n' Noodles Amandine".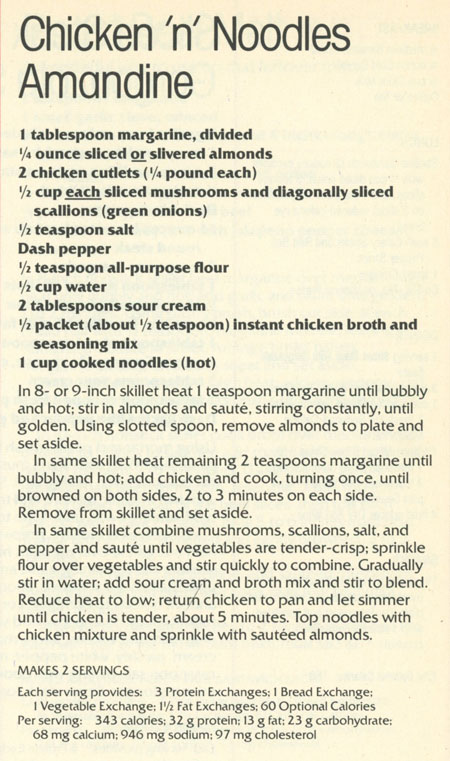 As I look over the recipe ingredients, I recall this about Weight Watcher recipes: they can be a bit nutty about the amounts of each ingredient. Of course, they are listing nutrient values per recipe, so that will only work if the cook carefully measures everything. For example, the directions say to "divide a tablespoon of margarine", using 1 teaspoon for toasting the almonds and two teaspoons for frying the chicken. "1/4 ounce" of almonds is about a tablespoon (I weighed them and then volume-measured them)."1/2 teaspoon flour" is not going to thicken the sauce, in my opinion, and 1/2 teaspoon of flour only has 5 calories. So I'll splurge and use a tablespoon, for a huge 37 calories. "1/2 packet" of instant chicken broth and seasoning mix? I don't have that, so I'll just use salt and pepper. I am to use "1 cup of cooked noodles". (Who likes to measure cooked noodles anyway?) That is not very helpful, what I need to know is how many dry noodles to cook. From references, I find that:
1 cup of cooked noodles has 210 calories
1 ounce of dry pasta has 100 calories
Thus, I would weigh out 2 ounces of dry noodles for about 200 calories. I know how much pasta we like: in general, I weigh out 3-4 ounces of dry pastas like spaghetti and penne for the two of us.
I used one big boneless chicken breast, about 12 ounces, and cut it in two horizontally, and pounded it a tiny bit to flatten it. Two people can be a guy and a girl, so sometimes portion sizes have to be nudged.
Below is my version of the recipe. It may have more calories than the printed version.
Chicken Noodles Amandine
serves 2
1 tablespoon sliced almonds
boneless chicken breast, 8-12 ounces (use 2 chicken cutlets, or slice a whole boneless chicken breast into two pieces)
1/2 cup sliced mushrooms
1/2 cup diagonally sliced green onions (I used green onions and some leek too)
salt and pepper
1 tablespoon butter
1 tablespoon flour
1/2 cup water or chicken stock
2 tablespoons sour cream (or more, if you want; I actually used half yogurt and half sour cream)
salt and pepper
cooked noodles (cook 3 ounces dry pasta)
Toast the almonds in a dry, non-stick pan until golden. Set aside.
Saute the chicken breasts in a skillet in a bit of hot olive oil. When both sides of the chicken are browned (about 3 minutes per side), remove them from the skillet and set aside.
In the same skillet, melt the tablespoon of butter. Saute the mushrooms and green onions until tender-crisp, then sprinkle the flour over them and stir. Gradually stir in the water (or stock). Stir in the sour cream and salt and pepper to taste. Turn the heat to low, and add back the chicken. Simmer about 5-10 minutes, until all is hot. Serve over noodles and sprinkle with the toasted almonds.
Here are the chicken breasts in the pan, ready to be served: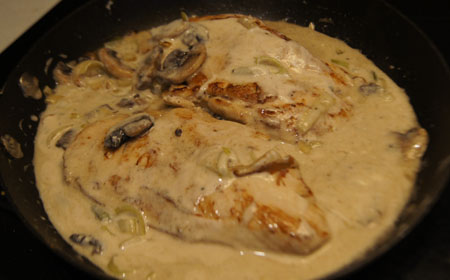 And our plated meal: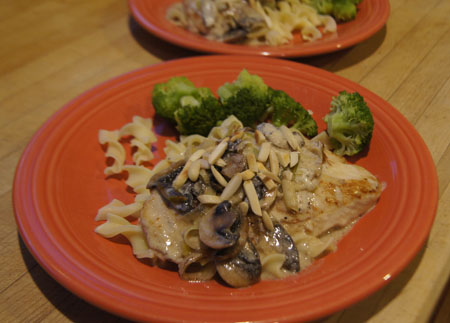 These were tasty and very easy to make. The sauce was a bit thin for our tastes; next time I would add more than a tablespoon of flour. But all-in-all, a success!