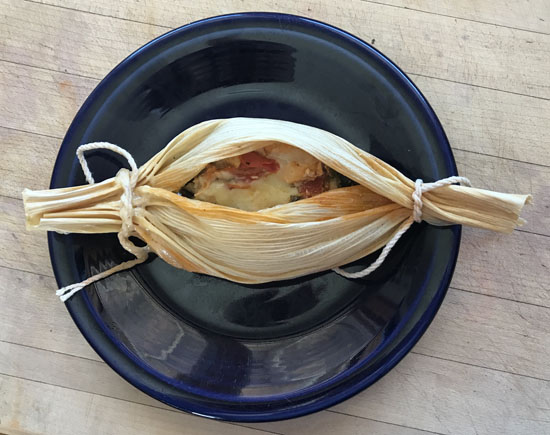 Tamales are great, but kind of a pain to make. At least, that's my usual feeling about them. Since I've entered my retirement phase of life, though, I have more time to cook, so I've been exploring different types of potentially lengthy recipes. Tamales are my current project.
A couple years ago I entered a tamale recipe in my "Main Dishes" document. Not sure I've explained my "recipe documents" before. Perhaps I should take a second to describe these? It's like this. Back in the 1990s I began entering my recipes in a word-processor document using, of course, Macs. It began as one document in Word. Then I split into categories and put them in Framemaker. After Adobe stopped making an Apple version of Frame, I moved them all to Apple's Pages. I sometimes treat my recipe documents like a diary – I talk to myself in them. My tamales entry is a great example of this trend of mine, and it's also the recipe that is the focus of this blog entry.
So here we go, my tamale recipe in my Main Dishes document:
"Can't believe I've never written down a recipe for tamales! Guess I always use the recipe on the back of the masa harina or the tamale kits I used to buy (Melinda's?)."
[Actually, it was Melissa's. On their site: "Melissa's Tamale Kits take all the pain out of preparing a delicious, impressive meal". The kit includes clean corn husks, masa, and a recipe. I used to find these kits at Safeway.]
"Anyway. I bought some masa marina from Bob's Mills. No recipe on the package. I could find nothing in my notes, so I checked Cooks Illustrated. They included fresh corn! (and baking powder). I compared with a recipe in the Mexican cookbook that I got from Mother. I drew up a recipe mid-way between the two on amount of lard, and yes, I used lard. I steamed them in my stove top bamboo steamer. These were great."
"The filling can be anything almost. I used some (wet) pork green chile and a few sliced whole olives and a little cheese mixed in. I would have liked queso fresco. John likes a sauce on top, but not a fresh salsa. Try some enchilada sauce on his. I am happy with no or very little sauce, but even my preference can be swayed by how wet the filling is. The cooked masa stands out better if the filling isn't too wet."
Below is the recipe I wrote down then (a couple years ago) and it is the recipe I used exactly last week. I know when a recipe is perfect in my recipe documents by the fact that when I make it, I make no new changes. That is this one!
---
Note: This recipe is supposed to make 10 tamales, the folded style. I only make 6 because this is the way I like them! The top is open or only lightly covered by the husks. This is how they made them at the Zolo Grill in Boulder, back a few years. It allows the tamales to be fluffy and full of filling, rather than a smashed paste of filling between thick layers of masa.
Tamales, my style
makes 6 large, serves maybe 3
1 cup masa
1/2 cup fresh or frozen corn
1/4 teaspoon salt
3/4 teaspoon baking powder
40 grams lard (about 3 tablespoons; you could substitute vegetable shortening)
water
filling of your choice (suggestions below)
Soak 6 corn husks in boiling water (clean them if necessary). They take about an hour to become nice and pliable.
Cook the corn for a few minutes in boiling water (on the stove top or in the microwave). Drain it. Process the corn in a small or large food processor or just chop it fine. Put this corn in a measuring cup and make the volume to 1/2 cup with water.
Put the masa, salt, and baking powder in a food processor and pulse a couple times. Add the lard in chunks and process briefly until the lard is in less than pea-sized lumps. Dump into a bowl. Add the corn/water mixture and mix the dough until it is wet. Add more water in small amounts, mixing after each addition, about a couple tablespoons total. You want the dough to hold together but do not work it too much.
Lay out 6 corn husks and divide the dough among them. Spread the dough to within an inch or so of the corn husk edges. Add filling on top. Tie the ends with string, like in my photo at the top of this page.
Steam about 30 minutes. I use a stove top bamboo steamer set inside a wok.
If you like, serve with a sauce like enchilada sauce.
Fillings
These are just suggestions! I do like cheese in chunks in my open tamales, as they melt into a nice gooey mess.
Chicken: Cook a boneless chicken breast in boiling water until done. Chop into pieces, or shred with a fork. Saute in a pan with onions and garlic, then add chiles and tomatoes (salsa, fresh, hot tomato sauce, or some other sort of mixture). I like sliced olives too. Add cumin and chili powder and cilantro and other seasonings as desired. Cook until flavors combine, then cool. Fold in chunks of jack cheese before laying the filling atop the tamale dough.
Pork or beef: Use you favorite homemade pork or green chili. Aim for up to a half-cup of filling per tamale.
Beyond that, use your imagination. Zolo's makes wild mushroom tamales. I've seen sweet potato ones too. Or turkey, fish, duck with mole sauce, pumpkin . . . just use your imagination.