Cookbook #80: Mrs. Fields Cookie Book, Debbi Fields, Time-Life Books Inc., Alexandria, Virginia, 1992.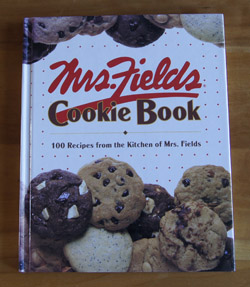 I went through a Mrs. Fields® cookie phase, like many Americans! I got this cookbook for myself, and have often drooled over the recipes.
Debbi Fields opened her first cookie store in Palo Alto in 1977. A store just for cookies was a new concept at the time. And it took off, as today there are many Mrs. Fields® franchises, and you can purchase them online.
The recipes are all excellent, the photos and layout great, and Debbi Fields presents a friendly introduction. I tried several of the recipes over the years, but kept the cookbook nice and clean.
I had no trouble finding a recipe to try. I note that most of the drop cookies are baked at 300˚ for about 20 minutes. Most of my personal cookie recipes call for a 375˚ oven for about 10 minutes. Mrs. Fields® recipes call for butter (not margarine) and are all from-scratch. In the introduction, Debbi states that the recipes call for "ingredients you have on hand." Yeah, if you keep lots of different kinds of chocolate and vanilla chips on hand!
I decided to try "Sweetie Pies".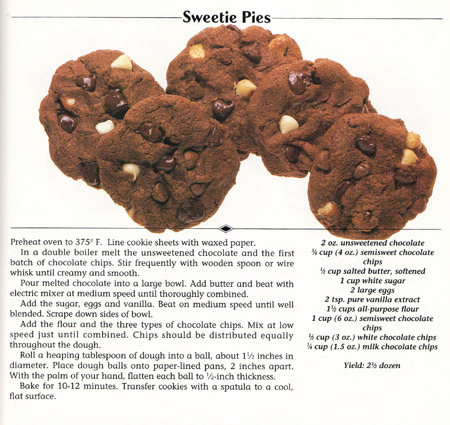 I made them pretty much like the above recipe, just changing the ratios of the different types of chocolate chips and adding a bit more flour.
Sweetie Pies, a Mrs. Fields® cookie recipe, with slight variations
2 ounces unsweetened baking chocolate
3/4 cup semisweet chocolate chips
1/2 cup salted butter, softened
1 cup white sugar
2 eggs
2 teaspoons vanilla
1 1/2 cups flour (plus 2 tablespoons if necessary)
3/4 cup semisweet chocolate chips
1/2 cup white chocolate chips
1/2 cup milk chocolate chips
Melt the unsweetened chocolate with 3/4 cup semisweet chocolate chips, either in a double boiler or in the microwave.
Beat the butter with the melted chocolate, then add the sugar, eggs, and vanilla. Beat until well blended.
Add the flour and the three types of chocolate chips. Mix at low speed just until combined.
At this point, the original recipe says to "roll a heaping tablespoon of dough into a ball, about 1 1/2 inches in diameter." Well, my dough was wet and sticky, so I added another 2 tablespoons flour and tried again. Still too sticky. So, I just dropped the dough onto parchment-lined half-sheet pans, then slightly flattened each cookie.
Bake at 375˚ for 10 minutes.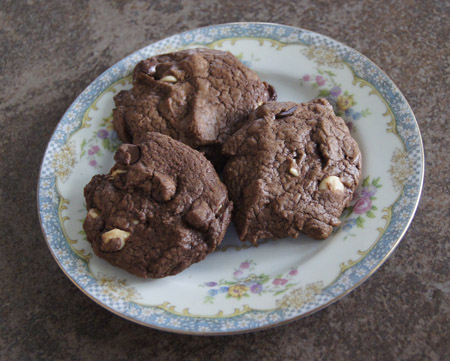 These were delicious! It made almost exactly 2 1/2 dozen, as stated in the original recipe. But if I had made them using 1 1/2 inch balls of dough, my guess is that it would have made a lot less.
The reason I used more milk chocolate chips than called for is because I wanted more of a milk chocolate taste. I had to purchase these (and the white chocolate chips) specifically for this recipe and now I am left with partial bags of all three types of chips. Guess I'll have to make these cookies again!