Cookbook #24: Good Cooking made Easy. Spry, the flavor saver. Lever Brothers Company, Cambridge, Massachusetts, 1942. Featuring advice and recipes from Aunt Jenny.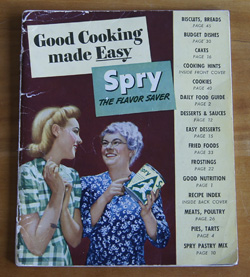 The time is 1942. The cookbook is Good Cooking made Easy, featuring Spry, a vegetable shortening.
"Today, we are bending every effort to make a strong, invincible America. The buoyant health of every man, woman, and child . . . of every member of every  household . . .  is an important link in our country's strength. It is our patriotic duty to feed our families well . . . to serve nourishing food in our homes daily."
So you have a real job to do in your country's defense . . . to see that your family gets good food and plenty of it . . . to choose the right foods . . . prepare them so that they will be both appetizing and delicious. It is not enough for food to be wholesome, nutritious, well-balanced . . . food must also look good, taste good.
That is where all you good cooks step in and take over. You know that reliable recipes are important in helping you turn out dishes that are attractive, good to eat. You rely upon pure, wholesome ingredients for making good, nourishing foods. Healthful breads and biscuits . . . hearty main-dish casseroles . . . light, delicate cakes . . . tender, flaky pies – these are some of the stand-bys that will help you serve satisfying, balanced meals.
To keep the body in good running order, include each of these nutrients in the diet, daily.
1. Proteins [yada yada]
2. Fats and carbohydrates provide energy for work and play; also furnish bodily warmth. Chief sources: vegetable shortening [Spry], butter, animal fats, cereals, breads, potatoes, sugar. Fats are the richest source of energy, by weight giving more than twice as many calories as carbohydrates or proteins. A pure 100% fat supplies over 4000 calories per pound; provides quick and lasting energy."
Ah yes. I do need to eat vegetable shortening to help furnish bodily warmth. One cup of Spry will furnish all the calories I need in a day! What a refreshing idea! I like being told to eat pies and cakes. I'm tired of the current litany pushing fresh, local, organic fruits and vegetables.
Of course, something is a bit "off" with this cook-booklet. But it's not only the nutrition advice, it's the comments throughout the booklet. Here are scans of several pages from the booklet.
"Even children can eat them???" This is just such a strange statement.
(The mark on the right side of the above page is a food stain.)
I turned to web searches to find out more about the origins of this booklet. In 1936, Lever Brothers began producing Spry, a solid vegetable shortening. Spry competed with Procter and Gamble's Crisco®. Lever Brothers waged an ad campaign, including an advertising character named "Aunt Jenny". Aunt Jenny (Edith Spencer in real life) was the host of a radio show called Aunt Jenny's Real Life Stories. This show ran for two decades, beginning in 1937. As the narrator, Aunt Jenny told a person's story over several days, in a soap opera fashion. Aunt Jenny included in each episode a recipe for an entree or baked good made with Spry, and she lauded the merits of Spry from her personage as a wise and friendly older woman. Several printed booklets of Spry recipes were published with Aunt Jenny's comments included. This advertising campaign greatly improved Spry's percentage of the vegetable shortening market.
You can read more about Spry and Aunt Jenny in Wikipedia. Wikipedia calls her "almost bizarrely enthusiastic", and that's exactly the feeling I got reading this booklet. Ghosttraveller, a collector of moldy cookbooks and other Americana has a photo of my cook-booklet and a fun discussion of Spry and Aunt Jenny. Old-Time Radio has a short article on the radio program. (All websites accessed 2013.)
By the 1970s Spry was no longer available in the US. I am old enough to remember Spry, although Crisco® was what we had in our kitchen when I was growing up.
Now, back to business. What recipe shall I cook from this booklet? It has recipes for everything from main dishes to breads to desserts. Gosh, 1942! My mother was a new bride then and only 26 years old! She marked several recipes. One of those recipes – Canteen Cookie Bars – made it into her repertoire as "Tom Thumb Bars"; I remember these well from childhood.
I decide to try Spicy Oat Cookies. My mother wrote a "Good" next to the recipe, and they have a modicum of healthiness by including oatmeal, peanuts, and raisins.
Here's a scan of the original recipe. Note the food stains!

I'll make them almost like the recipe. I'll use Crisco® instead of Spry, and I'll cut the salt in half. I think that molasses is included because sugar was rationed during World War II.
Note that in the recipe below I give weight measurements for the shortening and the molasses. I find it a lot more convenient to weigh these directly into the mixing bowl, that way you don't have to scrape gooey shortening or molasses out of a measuring cup. Note that Crisco® also has statements indicating it's a healthy food:
Spicy Oat Cookies
1/2 cup solid vegetable shortening such as Crisco® (3 1/2 ounces)
1/2 teaspoon salt
2 teaspoons cinnamon
1/2 cup sugar
1/2 cup molasses (5 1/2 ounces)
1 egg
1/2 teaspoon baking soda
1 1/2 cups flour
1/4 cup milk
1 1/2 cups oatmeal (regular, not old-fashioned or instant)
1/2 cup chopped peanuts
1 cup raisins
Mix the vegetable shortening with the salt and cinnamon, then add the sugar and molasses and beat until light and fluffy. (Use a stand mixer.) Add the egg and beat well. Combine the baking soda with the flour, and with the mixer on low, add to the creamed mixture. Beat only until it's all mixed in. Add milk, oatmeal, peanuts, and raisins and mix on low until combined.
Drop dough from a teaspoon on a parchment-lined baking sheet. (You can use greased cookie sheets if you prefer.) Bake at 350˚ for 12-14 minutes. Makes about 3 1/2 dozen.
These are excellent cookies! If they last long enough, we'll pack them along with us on our next hike – they make great little energy bar-cookies.