Cookbook #126: 500 Snacks – Bright Ideas for Entertaining, edited by Ruth Berolzheimer, Consolidated Book Publishers, Chicago, Illinois, 1940.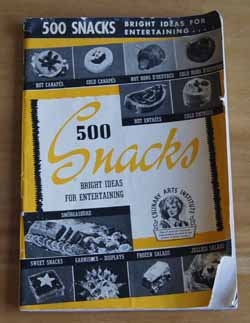 I'd call this a "vintage" cook book. That's my polite way of saying I think most of the recipes are not appetizing. Rounds of bread topped with cream cheese, eggs, and anchovy filling; olives lined neatly over cream cheese on squares of bread; toast topped with ground boiled ham, cheese, horseradish and condensed tomato soup; celery stuffed with tangy cheese spread; bananas rolled in cereal crumbs and deep fried; sausages baked in bananas; anchovy paste mixed with eggs and formed into balls and served on toothpicks; sardines on toast covered with melted American cheese; tomato juice and ground ham and cream cheese and mayonnaise in a molded salad loaf. (Actually those deep fried bananas sound kind of good . . . ) I was ready to recycle this book, but I checked my database and found that it was my mother's. There is some handwriting in this book, not sure it is hers, perhaps my grandmother's? Maybe she gave it to my mother, that's about the time my parents were married (1940). This book is for sale online, for about $10. Guess I'll keep my copy because it is so old. And 500 Snacks is kind of fun to leaf through. Brings back memories of the adult cocktail hour and the hors d'oeuvres always served at family gatherings. I especially remember smoked oysters on toothpicks in a special serving dish (I'll put a photo on the bottom of this blog entry) and the family story from when I was a little girl – once my cat got up and ate the little oysters off the toothpicks. I like the introduction to 500 Snacks: "The Smorgasbord".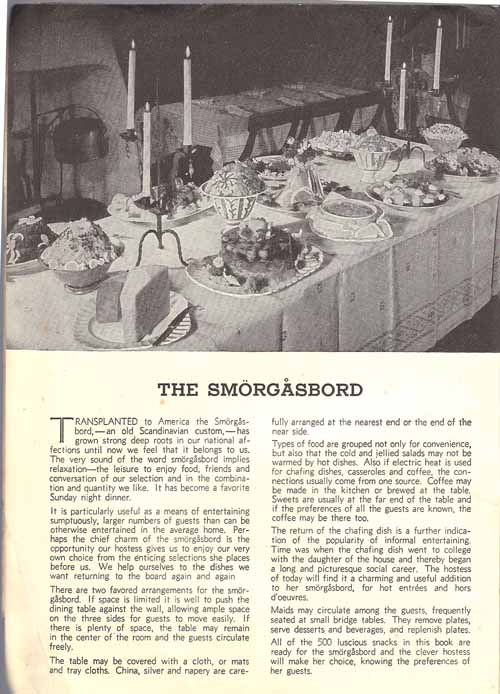 I decide to make "California Chicken Salad" for this blog. It actually sounds good – a mixture of chicken, apples, olives, and celery, bound together with mayonnaise and sour cream. Should be good over lettuce or with crackers, or maybe in a sandwich.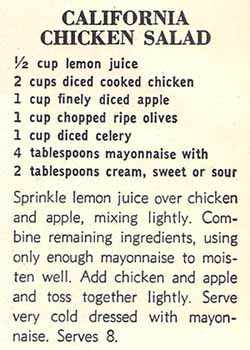 California Chicken Salad
1/2 cup lemon juice
2 cups diced cooked chicken
1 cup finely diced apple
1 cup chopped ripe olives
1 cup diced celery
salt to taste
1/4 cup mayonnaise
2 tablespoons sour cream
Combine the chicken, apple, and lemon juice in a large bowl. Add remaining ingredients and stir. Add a little more sour cream or mayonnaise if the mixture is not moist.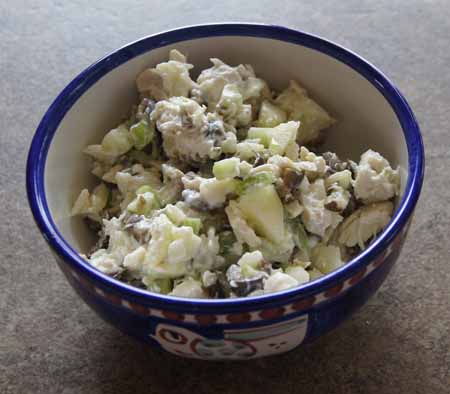 Success! The apples and olives really perked up an ordinary chicken salad. We all made sandwiches for lunch on toasted wheat or sourdough bread with some good crunchy romaine. I put provolone cheese on mine. And now for the promised photo of smoked oysters on toothpicks. I have this ceramic chicken with holes for toothpicks in it. In fact, I have a gang of these chickens. They are all family hand-me-downs. Here is one of the meanest-looking chickens with some smoked oysters stuck in it: