Cookbook #146: Simply from Scratch Recipes, Pillsbury Kitchens, The Pillsbury Company, USA, 1977.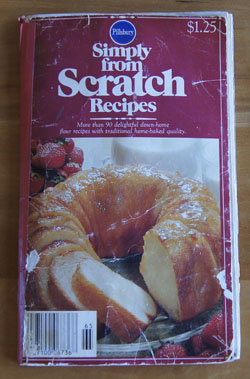 I have two copies of this cookbook listed in my 250 cookbooks database, so in my obsessive-compulsive manner I have to cover it twice! Bear with me, it's worth covering twice. It has great recipes!
The first copy I covered was the one I gave to my mother, and this one in my hands now is my own copy. I used it so much that I had to tape the cover back together. The pages fall out as I turn them.
Every recipe I've tried from this cookbook has turned out. It's my go-to book for potato chive rolls and one-rise monkey bread.
But the recipe I love and have used the most is the one for "Blueberry Muffins". I must have made them a zillion times over the last 40 years! They have the perfect combination of blueberries and oats and orange juice and are simple to make.
In fact, I am going to make them this week for this blog. (I have to redeem myself to my husband after my "sawdust" malt syrup bran muffins, although I loved them.)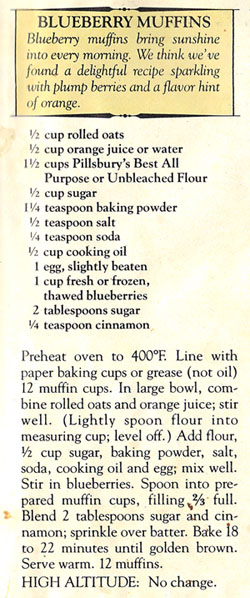 I made these exactly like the recipe this week. Sometimes I mix the dry ingredients together and the wet ingredients together, then combine the two mixtures just before putting them in the oven. (That's the method recommended by most chefs.) In Simply from Scratch Recipes, the muffin ingredients are just mixed in a big bowl, without regard to wet and dry ingredients.
Blueberry Muffins
makes 12 smallish muffins
1/2 cup oatmeal (I used quick oatmeal)
1/2 cup orange juice or water (I used fresh orange juice)
1 1/2 cups flour
1/2 cup sugar
1 1/4 teaspoons baking powder
1/2 teaspoon salt
1/4 teaspoon baking soda
1/2 cup vegetable oil
1 egg, lightly beaten
1 cup blueberries, either fresh or thawed frozen berries
2 tablespoons sugar plus 1/4 teaspoon cinnamon (topping, optional)
In a large bowl, combine the oatmeal and orange juice and stir. Add the flour, sugar, baking powder, salt, baking soda, oil, and egg and mix well. Stir in the blueberries.
Prepare a 12-muffin standard size tin by lightly greasing, spraying with non-stick spray, or lining with paper baking cups. Fill them 2/3 full. If desired, sprinkle the cinnamon-sugar mixture on top.
Bake 15-22 minutes at 400˚ until golden brown.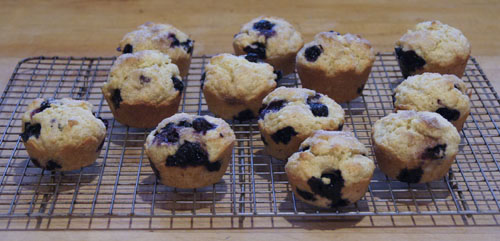 Great again! The simple mixing method worked fine. I liked the cinnamon-sugar on top: sometimes I skip that step. Sometimes too I try to cut calories by decreasing the sugar and oil. But this time, I made them as they were meant to be. And they were delicious.