Cookbook #141: Best You Can Bake Chocolate Desserts, Better Homes and Gardens, The Nestle Co., Inc., 1983.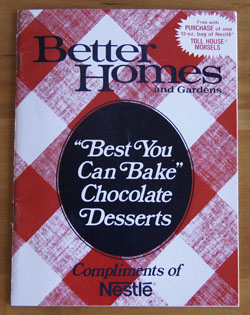 "Free with purchase of one 12-oz. bag of Nestlé® Toll House® Morsels" reads the text in a white burst on the front of this booklet. Another manufacturer's advertising booklet. Who needs one more book of recipes for cookies, cakes, pies, desserts and candy? Not I. But it's in my hands, and it was my mother's . . . so I'll find something to bake from it.
I am surprised to find the original recipe for Chocolate-Covered Cherry Cookies as the first recipe of this booklet. These are my "signature" cookies, and I wrote about them three years ago in December 2012. I wondered back then where I clipped the recipe – now I know that it might have been from the back of a bag of Nestlé chocolate chips! My recipe for these cookies has evolved from the original – I use more frosting to make them totally decadent.
It's kind of cute how the chapters in this booklet are named: Celebrated Cookies, Classy Cakes and Pies, Festive Desserts, Cookies Especially for Kids, Sweet and Fancy Candy. I'll keep this cookbook, heck, it doesn't take up much space.
I decide to make "Oatmeal Chippers" for this blog. This recipe has a lot of oatmeal in it – twice as much oatmeal than flour. It has peanuts in it, different from my usual choice of walnuts for chocolate chip cookies. I can see a need for these cookies in my repertoire!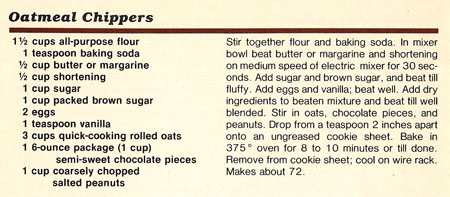 1/2 cup butter (salted is okay)
1/2 cup vegetable shortening
1 cup sugar
1 cup brown sugar
2 eggs
1 teaspoon vanilla
1 1/2 cups flour
1 teaspoon baking soda
3 cups oatmeal (the quick kind)
1 cup (6 ounces) semi-sweet chocolate chips
1 cup coarsely chopped salted peanuts (not dry roasted)
Beat the butter and shortening for 30 seconds. Add the sugar and brown sugar and beat until fluffy. Add the eggs and vanilla and beat well. Stir together the flour and baking soda and then add this mixture to the beaten mixture. Beat until well blended. Stir in the oatmeal, chocolate chips, and peanuts.
Drop by teaspoonfuls on ungreased baking pans. (I always line my pans with parchment.) Bake at 375˚ for 8-10 minutes.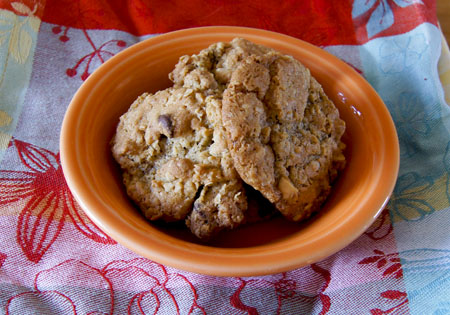 These are delicious! The oatmeal gives these a light and crisp texture. And the peanuts and chocolate? Yum. A good change-of-pace chocolate chip cookie.