Cookbook #29: One Dish Meals, The Easy Way. Reader's Digest, The Reader's Digest Association, Pleasantville, NY/Montreal, 1991.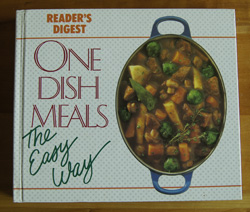 All of the recipes in this cookbook use "the convenience of serving a complete meal in a single dish" (from the preface). The chapters include cooking basics, soups, meat, poultry, fish, vegetarian dishes, pasta, salads, appetizers, desserts, and more. Each recipe includes nutritional information, touted as "weight-watching calorie counters", as well as suggestions for cutting fat and calories. The book is nicely laid out, the recipes easy to follow, and the photos are great.
This was one of my mother's cookbooks. She noted on the inside cover that it is "from Reader's Digest contest, May, 1993". I'm not sure quite what this means; maybe she entered a contest and the book was the prize? I'll never know.
My mother marked several recipes as "tried" in this book. Minestrone with Turkey Meatballs is marked "Delicious" and also as having "great directions". Mozzarella Meat Loaf Pie was "not great". Chicken Breasts Catalan was "good but not worth the fussing with". Turkey Sausage Succotash is marked "very good". This reminds me of my parents liked lima beans in soups and also succotash. She had marked a recipe for Ham and Lima Bean Soup to try.
I found it easy to find recipes for myself to try in this cookbook. Note that plural: recipes! A lot of them have over 600 calories per serving, but if that's the entire dinner meal, it's not terrible. Some, though, have over 900 calories, a bit daunting to fit into a low-calorie plan.
I chose a recipe for "Sweet Corn Chowder with Shrimp and Red Peppers". It has only 280 calories per serving, and I have some very good frozen shrimp in the freezer. I also have a jar of roasted red peppers in my pantry that needs to be used. I am impressed that the instructions direct you to cook the shrimp only 3 minutes – it shows that they know what they are doing.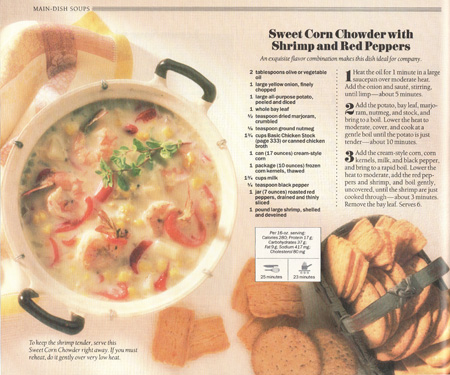 It's hard to read the above scanned-in recipe, but I wanted to show you the great photo layout of this book. Here's an enlargement of the recipe: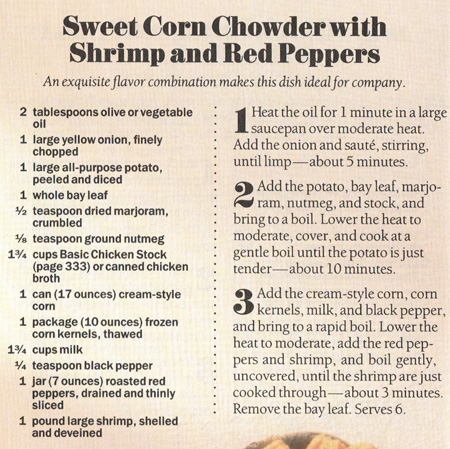 I made a half recipe as per the typed-in recipe below.
Sweet Corn Chowder with Shrimp and Red Peppers
(recipe for 3 people)
vegetable oil
1/2 yellow onion, finely chopped
1 small potato, peeled and diced (I used a russet)
1 bay leaf
1/4 teaspoon marjoram
pinch ground nutmeg
scant cup chicken stock (canned or homemade)
7 ounces cream-style corn (sold in 14-oz. cans 2013)
5 ounces frozen corn kernels (about half a cup)
scant cup milk
black pepper and salt to taste
3 1/2 ounces canned roasted red peppers, drained and thinly sliced (about 1/3 cup)
1/2 pound large shrimp, shelled and deveined
Cook the onions in a few drops of vegetable oil, sweating with a little salt, until the onions are limp – about five minutes.
Add the potato, bay leaf, marjoram, nutmeg, and stock, and bring to a boil. Lower the heat, cover, and simmer until the potato is just tender, about 10 minutes.
Add the cream-style corn, frozen corn, milk, and black pepper, and bring to a rapid boil. Lower the heat to moderate, add the red peppers and shrimp, and boil gently, uncovered, until the shrimp are just cooked through – about 3 minutes. Add salt and pepper to taste. Remove the bay leaf before serving.
Comments
This soup was good, and I might make it again. It was easy to put together, although it sure did require gathering a lot of ingredients! (Gee, I could have opened a can of soup instead!)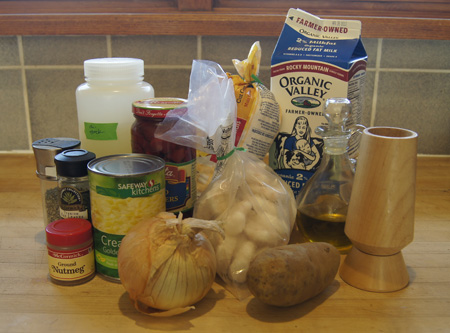 But the finished soup was worth the trouble. If you like corn and shrimp, you will like this soup.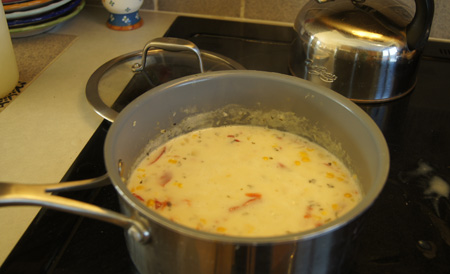 I served it with grilled cheese sandwiches, since the soup itself was low in calories. My method of making grilled cheese sandwiches is constantly evolving, but I'll share how I made them in April 2013:
I took a cast-iron grill pan, very heavy, and put it on my electric stove top and heated over medium-low heat for about 10 minutes. (It's important to heat the pan long on low heat.) I set a metal measuring cup with a small amount of butter in it on the grill pan. When the butter had melted, the pan felt hot to a hand held an inch above the pan. Time for the sandwiches.
I took rosemary-sourdough bakery bread and stuffed grated sharp cheddar cheese between two slices to form sandwiches. Then I brushed the tops of the sandwiches with melted butter and carefully flipped them to place them butter-side down on the heated grill pan. Then, I brushed the other side of the sandwiches with butter.
I peaked at the bottom sides and turned when golden. When both sides were golden and the cheese melted, time to eat! You can see them in this photo of the soup, dripping cheese and golden.