Cookbook #86: New Slow Cooker Meals, Betty Crocker, General Mills, Inc., Minneapolis, MN, 2001.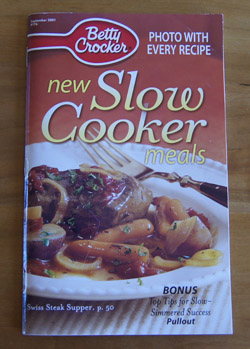 I remember there was a time that I searched my house but couldn't find any of my slow cooker cookbooks. That's probably when I picked up this small cookbook at a supermarket. Today, I don't find any of the recipes in New Slow Cooker Meals inspiring. In my opinion, most of the recipes would be better cooked in a pot on the stove for an hour than dragging out a big crockpot and having it cook all day. But then again, I am retired. (See my first crock pot entry for my opinions on crock pot cooking in general.)
Betty Crocker's New Slow Cooker Meals is 5×8-inches and 96 pages. You could subscribe to Betty Crocker cookbooks, and this cookbook has a url printed in it: www.bettycrocker.com. On the current website, these small printed cookbooks are called "Recipe Magazines from Betty Crocker", and you can still subscribe to them. The website has a section on slow cooker recipes.
I do have a task this week that I can tie into this cooking blog. The Lyons Garden Club is having a chile cookoff, and I want to contribute a crockpot of chile, albeit not one to enter into the contest (since I am a member). So, I will make the Family-Favorite Chili on page 19 of this Betty Crocker recipe magazine. Family-Favorite Chili is made with hamburger, spices, tomatoes, and beans.
(I find myself typing "chili" and "chile" interchangeably. Which is correct? A web search reveals much controversy. I kind of like the answer at MJ's Kitchen: a chili is a pepper and a chile is a dish cooked with a chili pepper. Don't sweat it.)
Here is Betty Crocker's recipe for Family-Favorite Chile.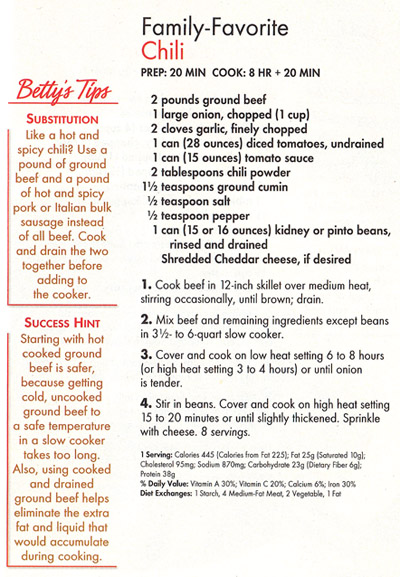 I will of course make some changes. I like to wilt onions a few minutes before adding them to a dish. (And I find it odd that step 3 says to cook until the onions are tender: 3-4 hours.) I like to use a seasoning packet like Two Alarm Chili or Carroll Shelby's Chili Kit. Boring, but consistent. I have some dry pinto beans and a new pressure cooker, so I will cook my own beans instead of using canned beans. Below is my version.
My Basic Red Chile with Hamburger and Beans
makes a big crockpot's worth of chile
2 pounds ground beef
1 large onion, chopped
2 cloves garlic, chopped
1 14-ounce can of diced tomatoes
1 15-ounce can tomato sauce
a chili kit (Carroll Shelby's or Two-Alarm or your favorite) or chili powder to taste
1 teaspoon salt (or to taste)
2 cups (more or less) cooked or canned kidney or pinto beans (I used pintos that I soaked then pressure cooked for 20 minutes; I added dried hot peppers and salt before cooking)
Brown the ground beef, then drain off any fat and put it in a crock pot. Heat some olive oil in a small pan and cook the onion (salt it) until it wilts; add the garlic and stir 30 seconds. Add the onion-garlic mixture to the crock pot.
Add the tomatoes, tomato sauce, and seasonings to the crock pot and give the mixture a good stir. Cover and cook on low about 6 hours. Add the beans and check the seasoning, adding more spice or salt to your personal taste. Cook until the chile-bean mixture is heated through.
This chile will hold well on low for another hour or more but you might have to add a little water if it gets too thick.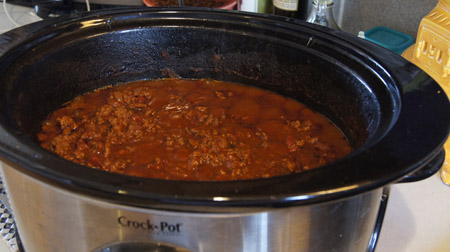 This chile is always good! Not different and unusual, but always welcome for a comfort-food dinner. We usually put cheese and onions on it and serve it with warmed flour tortillas.
I added some Mexican oregano and some of these dried chiles to this pot of chile: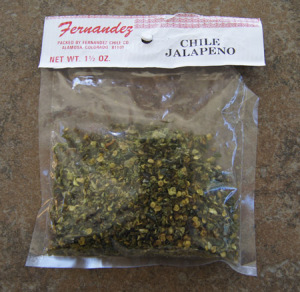 And here are the Chili Queens at the Chili Cookoff!