Cookbook #186: Cuisinart Prep 11, Cuisinart, East Windsor, NJ, 2001.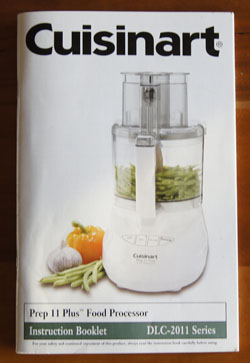 This is the instruction booklet for my first Cuisinart, a DLC-2011 series, that I gave to my daughter a year ago. It is still a working unit, although over the years I had some issues with the top and its attachment to the working bowl. (And now the blade has been recalled due to issues with the rivets in the blade falling apart.)
Included in this instruction booklet are about 40 recipes for appetizers, soups, breads, entrees, pizzas, sauces and dressings, sides, and desserts. The instructions for all recipes are excellent. I love the recipe for hummus – have made it many times. Although I have my own banana bread recipe, I read with interest the one in this booklet: finally a recipe that does what I came up with on my own. Why hand mash bananas? Use a processor, mix the bananas with other wet ingredients, and then fold in the mixed dry ingredients. I have used the pizza dough recipe, but not often. You can use the dough blade and the unit to knead yeast breads, but I rarely do.
The pesto recipe on page 43 is excellent and I have used it lots. As the instructions state, this pesto "is lower in fat than traditional pestos, and just as flavorable". It makes a lot, but can be frozen (I've frozen it before in ice cube trays).
Creamy Chevre and Peppercorn Dressing catches my eye. This is a salad dressing with shallots, green peppercorns, lemon, vinegar, sour cream, and olive oil. I think I'll make it for this blog! If I ever want to make my own mayonnaise using a food processor, I would use the recipe in this booklet.
I use a modified version of the french-cut green beans on page 54. Generally, I start with the chopping blade in place, then run the machine andI drop in a clove or two of garlic. I leave the garlic in the bowl, but remove the blade and insert the slicing disc and use it to process the green beans. Then I dump the lot into a sauce pan and saute in butter for a few minutes, add water and cook another few minutes, drain and serve.
I will definitely save this cookbook. I noted at least 10 recipes to try!
Below is the recipe for Creamy Chevre and Peppercorn Dressing.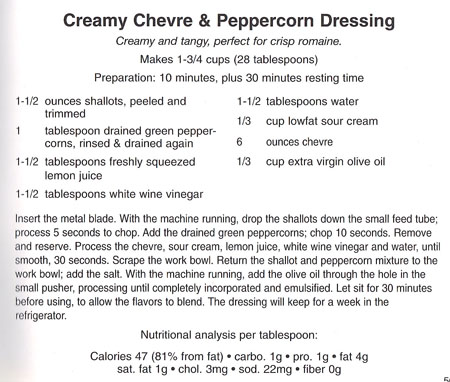 "Chevre" is more commonly called "goat cheese", at least where we live. I have used green peppercorns before (ages ago), and they were packed in brine, as called for in the printed Creamy Chevre & Peppercorn Dressing recipe. According to my Food Lover's Companion, "the green peppercorn is the soft, underripe berry that's usually preserved in brine. It has a fresh flavor that's less pungent than the berry in its other forms". But all I could find on my venture to Whole Foods was a spice jar of hard, dried green peppercorns. I bought that jar, and soaked a few peppercorns in a mixture of salted hot water and vinegar for awhile, then drained. They were still pretty hard. Thinking they are sort of like capers flavor-wise, I used half a tablespoon of these peppercorns and half a tablespoon of capers. If you can't find brined green peppercorns, I suggest substituting with a teaspoon of capers and then grind some fresh black peppercorns into the dressing to your own taste.
Creamy Goat Cheese Dressing
makes about 1 3/4 cups
1 1/2 ounces shallots, peeled and roughly chopped (for me, this was one medium-sized shallot "clove"; you could substitute a portion of a regular onion)
1 tablespoon drained and rinsed brined green peppercorns (or substitute as I suggested in the above paragraph)
1 1/2 tablespoons freshly squeezed lemon juice
1 1/2 tablespoons white wine vinegar
1 1/2 tablespoons water
1/3 cup sour cream
1/4 teaspoon salt
6 ounces goat cheese
1/3 cup extra virgin olive oil
Insert the metal blade in a food processor. Start the machine, and drop the shallots down the feed tube; process 5 seconds. Add the green peppercorns and process 10 seconds. Scrape the mixture out of the bowl and reserve.
Add the lemon juice, vinegar, water, sour cream, salt, and goat cheese to the food processor bowl. Process until smooth, about 30 seconds. Scrape down the sides of the bowl and add the shallot/peppercorn mixture. Start the machine running, and slowly add the olive oil through the feed tube. Process until all the olive oil is added and incorporated.
Remove the dressing from the processor. Let stand at least 30 minutes for the flavors to blend. This dressing will keep for a week in the refrigerator.
Below is a photo of my just-finished dressing, still in the processor. You can see I have a couple drops of olive oil still on top.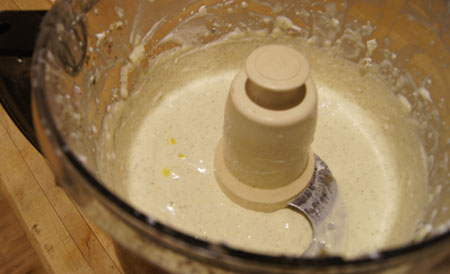 I honestly didn't think my husband would like this goat cheese dressing. So when I made up our salads, I only dressed mine, and told him he could make his own choice.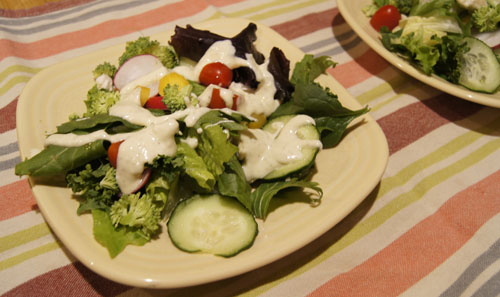 He ended up choosing the goat cheese dressing, and he liked it! He even chose it the next night too.
Me? I love this dressing. It's creamy and pungent and only about 50 calories in a tablespoon. It was even better the second night. I am using it for all of my salads until it is gone!