Cookbook #230: Pressure Cooker, User's Manual, Fagor America, Inc., Lyndhurst, NJ, 1999.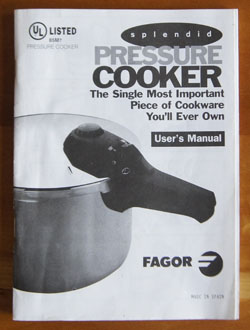 This is the instruction manual that came with the pressure cooker I bought sometime in the early 2000s. I have already talked about that specific pressure cooker in my post Fagor Pressure Cookers, More than 50 Recipes.
The first few pages detail how to use a stove-top pressure cooker and how long to cook a variety of foods. I now use an electric pressure cooker, so only the cooking time lengths and pressure release times are useful to me. For instance, the length of time to cook chicken is discussed in this section: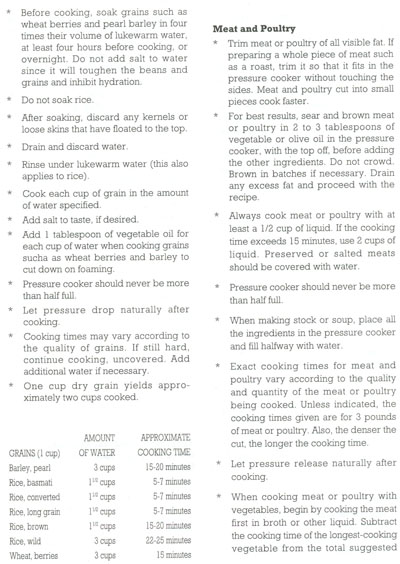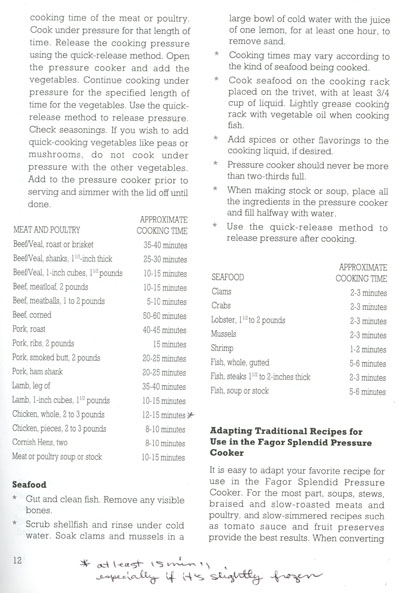 I've used this booklet – that note is in my handwriting. The cooking times for chicken correlate well with the times in my current electric cooker instruction booklet (Cuisinart Electric Pressure Cooker).
How about the recipes in this booklet? Good recipes might make me keep an instruction cookbook. But Pressure Cooker, User's Manual, has only 8 pages of recipes, from soups to vegetables to rice and pastas to game and poultry to meat to fish to desserts. The recipes are basic preparations, none have a much flair. Instead, their purpose is to acquaint the new user with the range of foods that can be cooked in a pressure cooker. Here is a typical recipe: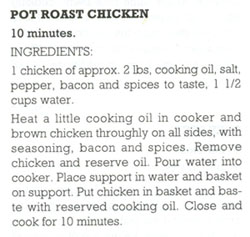 I don't need this booklet anymore, since I no longer have a stove-top pressure cooker and since the recipes aren't very exciting. I will recycle it.
For this blog I will cook chicken in my current electric pressure cooker. I go to Whole Foods to buy a whole chicken, but they are out! This is the day after Christmas and many shelves are bare. Not wanting to travel to another store, I buy bone-in chicken breasts and drumsticks, about 4 pounds worth. Do I need to cook chicken pieces for a shorter time than a whole chicken? According to to the section on Meats and Poultry in Pressure Cooker, User's Manual (above), the answer is "yes" – 9-10 minutes for pieces, 12-15 for whole. (The chicken-piece cooking time length correlates well with my Savory Chicken recipe.) How much liquid should I add to the pot? Pressure Cooker, User's Manual states "Always cook meat or poultry with at least a 1/2 cup of liquid. If the cooking time exceeds 15 minutes, use 2 cups of liquid."
The pressure release method also affects how done the chicken will be in a certain amount of time. Are the pressure release method the same in both sets of instructions? No, they are not exactly alike, as I found when I compared the manual cooker instructions with those in my Cuisinart Electric Pressure Cooker book:

Comparison:
Manual cookbook instructions
slow release
9-10 minutes for cut-up chicken
12-15 for whole chicken (and I noted to cook whole chicken 15 minutes "especially if it's slightly frozen)
1 1/2 to 2 cups water in their recipe for cut-up chicken in Chicken Casserols
Electric pressure cooker instructions
quick release
10 minutes for cut-up chicken
24-28 minutes for whole chicken
1 cup liquid in my recipe for cut-up chicken (Savory Chicken)
In summary, the manual cooker instructions state to cook a whole chicken a little bit longer than chicken pieces; the electric cooker instructions state to cook a whole chicken two and a half times as long. I can see that there are several other variables to control: cut of chicken, weight of chicken, amount of liquid, amount of liquid, length of cooking, and type of pressure release.
So how the heck shall I cook my odd mixture of thick chicken breasts and drumsticks? I decide to make an educated guess and do an experiment. I will cook my large-sized bone-in chicken breasts and 6 drumsticks in 1/2 cup water (and a little salt) for at least 10 minutes and use the quick release. But as an experiment, I decide to check the chicken after 8 minutes.
Results
At 8 minutes, the drumsticks were done, but the breasts were kind of "hard". I took the drumsticks out of the cooker and cooked the chicken breasts 5 minutes longer. Here is my chicken at 13 minutes: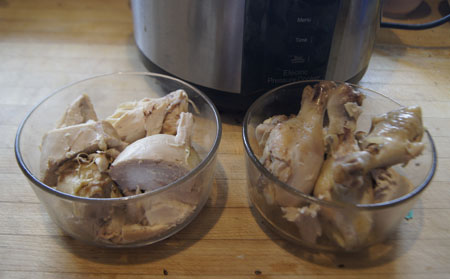 All the chicken pieces are done, but honestly, the breasts were kind of rubbery and dry. Hmmm. I poured the cooking liquid into a measuring cup – it totalled 1 cup. It seems a lot of the juices ran out of the chicken. In the future, I recommend trying more water in the pot at the start, up to 2 cups.
This chicken did make a great chicken salad. Cut up and dressed with mayonnaise, it was just fine, and didn't taste rubbery. It was also good in chicken soup (made with that cup of chicken liquid). And I have enough chicken for yet another meal too.
This is an experiment in progress! For large chicken breasts, I suggest trying (first) 1-2 cups water, and 12-15 minutes (quick release) cooking time for a whole chicken. If I have a whole chicken, I'd try 16-20 minutes.
I had a fun time with this – I still like doing experiments.