Cookbook #113: Hamilton Beach Automatic Heat Control Appliances, Hamilton Beach, Racine, Wisconsin, Division of Scovill Manufacturing Company, circa 1970 (no date in booklet).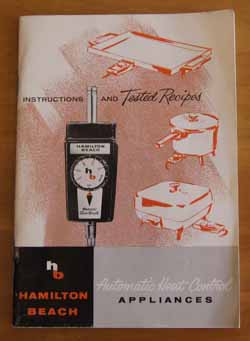 I found my old electric fry pan while organizing my cooking stuff in the basement. I wavered between putting it on the "definitely toss" or the "maybe recycle" pile for several weeks. I haven't used this fry pan in years, one reason being is that it is missing the little metal circle that enables you to set it at a particular temperature.
Then I found this instruction/recipe booklet: Hamilton Beach Automatic Heat Control Appliances. (Is is one of the "ccok books" listed in my database.) That inspired me to give this appliance one last meal to cook for us!
I carry the fry pan upstairs and wash off the dust and cobwebs. The bottom of the bottom has a small layer of burned-on fat, but I don't bother scrubbing it off. The top looks like it is water-spotted, but it doesn't clean up with an SOS pad.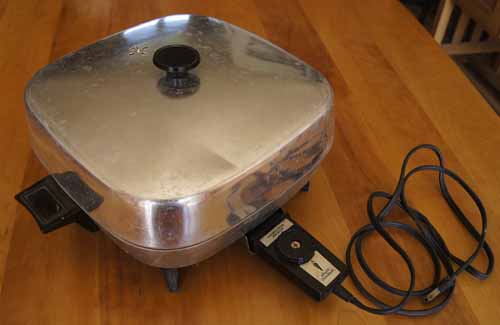 This unit has three pieces: the lid, the fry pan, and the plug-in thermostat. Thus, you can clean the pan by first unplugging the thermostat, then immersing the pan in water to clean. I note a patent number on the plug-in thermostat:
3007028
This US patent was granted in 1961 to G. E. Sorenson for an "Electrically heated device with plug-in thermostat". (Patent page.) The timing makes sense; I acquired this fry pan about 1969-71. I remember my college roommate making sukiyaki in it. The booklet tells me that the plug-in thermostat also works with a griddle and a saucepan (I had neither).
I decide to make "Chicken Tetrazzini" on page 42 of the booklet. But how am I going to set the temperature?  Hmmm. There is a photo of the dial on the cover of the booklet. Maybe if I scan it?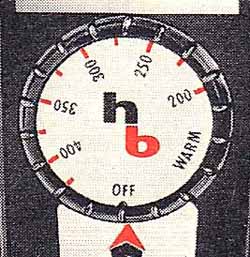 Okay – now I'll print the above and cut it out and tape it to the thermostat. Cool, it works! I'm ready to make the tetrazzini.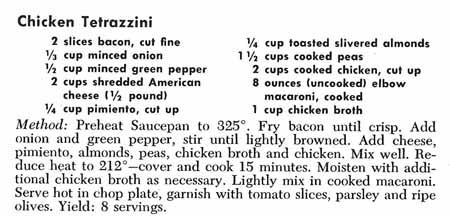 I will make a half-recipe. Instead of American cheese, I will use regular cheddar cheese. For cooked peas, I will use frozen peas, straight from the bag. Elbow macaroni – !!! – none in my pantry! I don't feel like driving back to town, so I substitute whole-grain cavatelli. I did pick up pimientos yesterday – I was surprised to find them canned at Sprouts. Pimientos are less prevalent these days than they were in the 1970s. I usually substitute red bell peppers. According to Wikipedia, a pimiento is a chili pepper that is smaller and a bit more sweet and succulent and aromatic than a bell pepper.
Below is my version of Chicken Tetrazzini. I used the electric fry pan, but any stove-top pan could be used.
1 slice bacon, chopped fine
1/4 cup diced onion
1/4 cup chopped green bell pepper
2 tablespoons pimiento (or use chopped red bell pepper)
1 cup cooked chicken, cut into chunks
3/4 cup frozen peas
2 tablespoons slivered almonds
1/2 cup chicken broth (you may need more)
1 cup grated cheddar cheese
olives and parsley (optional)
4 ounces (dry) elbow macaroni (can substitute another type of pasta)
Cook the bacon in a skillet or sauce pan. (I used the electric fry pan set at 325˚.) When the bacon is crisp, add the onion and green pepper and stir until softened. Lower the heat and add the pimientos, chicken, peas, almonds, chicken broth, and cheese. Cover and cook for about 15 minutes. If the mixture gets too dry, add a bit more chicken broth.
Meanwhile, cook the macaroni in salted boiling water. Drain, then add to the chicken mixture. Lightly mix and heat. If you like, add a few olives and some parsley. Serve!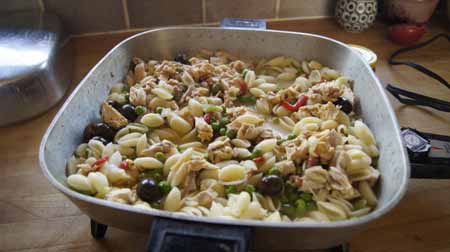 We both liked this! It's tasty and easy.
I'll keep my electric fry pan. It would be good for the Stylish Meat Balls I made last week, because it is a large pan and maintains a low heat setting. I'm sure I'll find other uses now that I have rediscovered it.