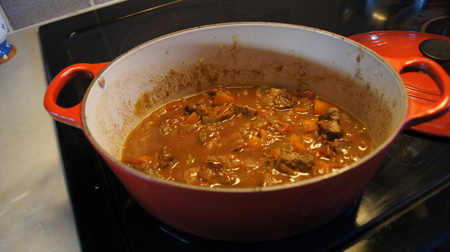 I created this recipe! And I wrote it down, pretty amazing for me, but maybe not so much since this happened during the last two years, so I had the time since I wasn't working. I wrote the introductory paragraphs then too.
(2011) This all began with a trip to the Savory Spice Shop on the Boulder mall. I brought home the most wonderful cinnamon that perfumed the house for days. I would come in from outside and think "cinnamon, I must use it in a dish other than a dessert!" In the meantime, I put it in a dessert and muffins. Once I ate a re-heated cinnamon-laden muffin for breakfast, and then hours later, in different clothing and hands washed, I was in the last 5 minutes of a 30 minute stint on the ellipticals at the rec center, and very sweaty, and suddenly I smelled cinnamon wafting around my head! I shook my head in amazement.
So back to the idea for a main dish with cinnamon. I thought back to the Mediterranean cooking class I took a few years ago. Cinnamon was in a chicken dish, and a ground lamb dish. I was thinking more of a stew. So I googled lamb and cinnamon and stew, and found a recipe that I based the following recipe on, with changes in spices made from the cooking class recipes.
Was the recipe a success? Yes! Did I get my cinnamon "fix"? Yes I did. Just the sort of complex flavor mix that I was looking for. Mixed with the lamb aroma, the cinnamon itself wasn't recognizable as pure cinnamon, but it added a complexity that was simply super. The hint of cayenne picked up the flavor to perfection.
This recipe serves two, generously. Since one of my pet peeves is the restaurant tradition of serving the same serving size to a small woman as a large man, I am reluctant to state the number of servings with a pretension of accuracy. It would serve one guy and two women, is my guess. It serves the two of us with some left over, enough for lunch the next day or for the doggies.
Lamb Stew, with Cinnamon

Serve this over rice or couscous. Flatbreads (naan) make a nice addition too.
1 pound boneless lamb stew meat, cut into chunks
olive oil or vegetable oil
1 carrot, diced
1 stalk celery, diced
3/4 of a medium onion, sliced thin
3 cloves garlic, chopped
1/2 t cinnamon
1/4 t cumin
a few shakes each of: nutmeg, allspice, cloves, and red (cayenne) pepper (watch the cayenne – not too much! really, just a couple shakes!)
salt and pepper to taste
a couple bay leaves
3 T flour
1 cup of diced, canned tomatoes – about 3/4 of a 14-oz. can
1/2 cup white wine
1/2 cup chicken stock
chopped parsley to taste
Brown the lamb in batches in a little hot oil in a pot on the stove. Don't crowd it; if you put too many of the lamb cubes in at once, they won't brown as well. As they brown, remove the lamb cubes from the pan and set them in a bowl.
In the same pot that you browned the lamb in, saute the carrots, celery, and onion in a little oil until soft, adding a little salt to help sweat the vegetables. Add the garlic and the spices and salt and pepper and continue to cook and stir for a couple minutes. Add the lamb back to the pot. Add the flour and stir until it's incorporated. Finally, add the tomatoes, wine, and stock. (Feel free to add a bit more stock if it looks too thick.)
Cover and simmer for at least 2 hours, probably more like 2 1/2 hours. Check periodically; add more stock if it's too thick, and check the lamb to see if it's done. You want the lamb to be falling-apart tender, and it takes awhile. (This could be done in a crock pot. I'd suggest 7-8 hours on low.)
Before serving, add some chopped fresh parsley (if you remember! I always forget).
The photo on the top of this post is of the cooked stew. The photo below is before the long simmering step. By the end of the cooking, the celery and onions meld into the sauce and the spices. This really is good, I've made it three times and someday I'm sure it will be listed in my "favorites"!