Cookbook #129: Mexican Cooking, The Pillsbury Company, 1995.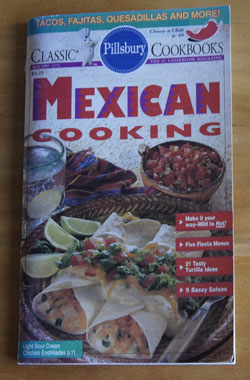 This is one of the series of "Classic Pillsbury Cookbooks" – I discussed their history in a previous post. This cookbook must have caught my eye enough to purchase it at the check-out stand back in 1995.
And I can see why it called to me then – the recipes are kind of the way I make Mexican food. Trouble is, I rarely follow a recipe for this type of cooking, I just toss it together. It's hard to go wrong when you start with things like salsa and beans and tortillas and cheese and some sort of meat. I'm sure I got a couple good ideas from this book twenty years ago, but I didn't mark any recipes. And today, I was able to find a recipe for this blog, but I will recycle the cookbook.
I decide to make "Chicken and Corn Tortilla Casserole". It's similar to Mexican Chicken Casserole, except it does not call for canned chicken soup and it does include pimientos and sour cream. Plus, the assembly method is different: instead of layering, you cut the tortillas in quarters and mix the chicken mixture together in a bowl before placing it in the casserole. Halfway through the cooking, you stir the casserole. My issue with most chicken/tortilla casseroles is that the tortillas turn to mush after cooking. Maybe this method will keep the tortilla texture better.
Here is the original recipe:

Of course I made a few changes. I didn't have cooked chicken on hand, so I boiled two boneless chicken breasts to use in this casserole, then used 1 1/2 of them (1 1/2 cups). I used the cooking broth instead of store-bought broth. I didn't have sour cream, so I used Austrailian-type full fat plain yogurt. I used more green chiles than called for and they were "hot green chiles". I added a little chile powder and cumin to the chicken-tortilla mixture.
Mexican Chicken Casserole 2
serves 3-4
1 1/2 cups cubed cooked chicken
1 1/2 cups grated cheddar cheese
1/2 cup chopped onion
1/2 cup chicken broth
1 4-oz. can chopped green chiles (mild or hot)
pimientos: I found them in a 4-oz. can and used half the can; can substitute red or green bell peppers
1/2 teaspoon chile powder
1/2 teaspoon cumin
6 or 7 corn tortillas, cut into quarters
sour cream or plain yogurt, enough to cover top of casserole, about 1/2 – 3/4 cup
green bell pepper strips
Combine the chicken, half the cheese, and the onion, broth, green chiles, pimientos, chile powder, cumin, and tortillas in a large bowl. Stir together. Pour the mixture into a 1 1/2 – 2 quart greased casserole.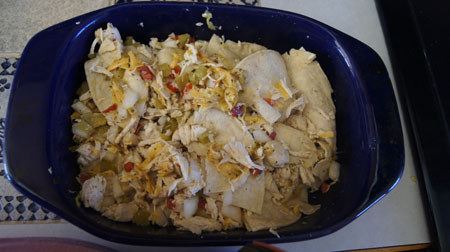 Cover the casserole and bake at 350˚ for 30 minutes, stirring once during this baking time. After the 30 minutes, spread the sour cream over the top, sprinkle on the remaining cheese, and lay the bell pepper strips on top. Bake, uncovered, 5 minutes, until the cheese is melted. Let the casserole stand 5 minutes before serving.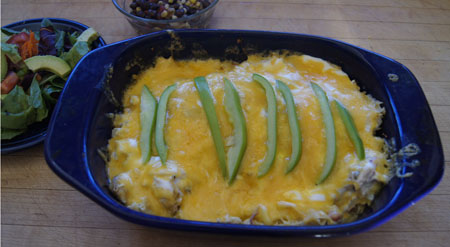 Doesn't it look pretty? I served it with some black beans mixed with freshly cooked corn off the cob and salsa, a lettuce salad with avocado, and heated corn tortillas. The taste of this casserole is very good, much like Mexican Chicken Casserole 1 but I liked the sour cream on top. (And I liked not having to use canned chicken soup.) The tortillas were once again mushy, but I guess that's just the way these casserole are. The taste was great and it was a hit!