On this page:
Gluten flour

Vital wheat gluten, or what I usually call simply "gluten flour", is a product made from the protein found in wheat. It improves yeast loaves by adding elasticity to the dough and bulk to the loaves. It looks like flour and is sold by companies like Arrowhead Mills, Bob's Red Mill, and King Arthur Flour. Currently (2012), I find it in the bulk section of Safeway but not at Whole Foods. I found this bag at our local natural grocery store, Steamboat Mountain, in Lyons, Colorado. This great small store is packed with a great variety of natural foods.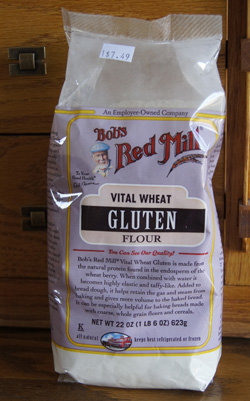 If you are using white flour sold as "bread flour", it will already have a high gluten content and you do not need to use wheat gluten in a recipe. But if you are using whole grain flour, I strongly suggest adding gluten flour to the loaf. I've mixed some wheat gluten in all of my yeast loaves since the 1970s. Back then, I could not find unbleached bread flour, so I used unbleached all-purpose flour and substituted some of the flour with vital wheat gluten. Today I include a third of a cup of wheat gluten per standard loaf of any yeast bread. It looks like any type of white flour, but it sure adds a lot to a loaf.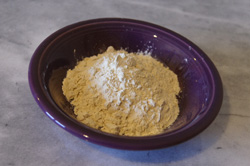 If you have never kneaded a loaf of bread, I suggest you start with making a loaf from vital wheat gluten. It quickly forms a springy and elastic dough! The loaf bakes up pretty bland, but it's good kneading practice. It's like doing a laboratory experiment. And the result is low-carb/high-protein.
From Beard on Bread.
1 pkg yeast
1 cup plus 2 tablespoons warm water
2 1/3 cups vital wheat gluten
1/2 teaspoon salt
Dissolve the yeast in the 2 tablespoons warm water. When it starts to bubble ("proof"), combine it with the additional cup of water. Stir in the flour and salt and knead thoroughly for 10-15 minutes. Roll the dough out and form into a loaf. Place in a greased or buttered 8x4x2-inch loaf pan and allow it to rise until doubled in bulk. This is a great low-carb/high protein bread. If you make 10 slices from a loaf, each slice has 110 calories, 20 g protein/slice, 6 g carb/slice. The recipe for gluten bred is below.
Bake at 350˚ for 50-60 minutes, until the loaf is nicely browned. Cool before slicing.
White whole wheat flour
White whole wheat flour is a product offered by King Arthur Flours. I'm not sure any other company sells this particular type of whole wheat flour. They claim that it is 100% whole wheat, just a different variety of wheat that is lighter in color and flavor than traditional whole wheat. I have found that it bakes up into a great, light-textured wheat loaf, even if you use it as the sole source of flour in the recipe (including the 1/3 cup gluten flour, of course).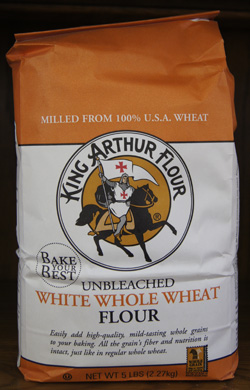 In general, whole grains make a loaf of yeast bread heavy and dense. The "whole" little grains are sharp particles that cut into and burst the bubbles that yeast forms in a rising loaf of bread. White whole wheat flour is great in that it doesn't seem to pop as many of the bubbles as traditional whole wheat flour, thus lending to a light loaf of bread.
Yeast

It is important that you know how your yeast will work in a recipe. This is especially important if you use a bread machine to knead and bake your loaves—something I rarely do, but still, I like to know my yeast. In my opinion, it's best to buy a large quantity of yeast and "get to know it". That is one reason not to purchase yeast in those little packets.
Another reason for me not to buy yeast in packets cost. I use a lot of yeast, and those packets get pretty pricey. Even by the jar, yeast is expensive. Over the years, the price kept creeping up, then one day I discovered that they sold yeast in one pound packages. I heard from someone that you could freeze yeast. So now, I buy a large package, put some in a small jar that I keep in the refrigerator, then I store the rest in a ziplock-type bag in the freezer. There came a time when I could no longer find the large packages in my local stores, so now I purchase 2-pound packages online for about $10.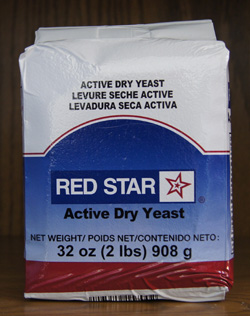 Note: Each packet of yeast is about 2 1/2 teaspoons, or a little under a tablespoon.