Cookbook #11: Sunset All-Time Favorite Recipes, Readers' Choices. Sunset Publishing, 1993.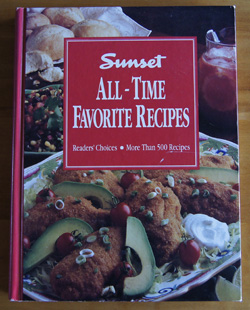 This one is going to be easy! I opened this volume of over 500 recipes and wanted to try at least half of them. I don't have to write about how much I dislike a cookbook!
This is a cookbook I bought for myself. The recipes work right into my type of cooking. I'd say they lean towards Southwestern cooking, with lots of chiles and spices, fresh vegetables and fruits, light and practical recipes, as well as comfort foods. I went to the current Sunset Magazine website, and they still focus on "How to Live in the West" (US). That's where I was born and raised—no wonder this cookbook "fits" me.
I have several pieces of paper marking pages in this book, and even a letter from my daughter. I've spent a lot of quality time with this cookbook. The book is well laid out with pleasing illustrations and rough-paper pages. I never wrote in this book, guess I felt it would be a shame to ruin the pages with my unreadable scrawl. There are not even any cooking stains in it. But I've used this cookbook a lot. Mostly as a reference for ideas, but a few of the recipes have become a part of my repertoire.
Special features that I have used as references include fish-cooking tips, sizzling stir-frys, and non-preachy lightening-up tips. The recipe content covers the gamut of appetizers to soups to poultry to vegetables to breads to desserts. Throughout, small insets offer historical tidbits and cooking insights. Nutritional information is given for each recipe.
One day a few years ago I re-shelved this cookbook and forgot about it. Well, I'm bringing it back downstairs and putting it within easy reach. It's like finding an old friend.
For this blog, I chose the recipe "Sesame Chicken". It uses boneless chicken breasts, a marvelous, low-fat convenience food. Grilled, baked, stuffed, sauted and sauced . . . chicken breasts lend themselves to so many different meals. Years ago we had to bone our own chicken breasts; later, as a working mom, I felt it was worth the money to buy them already boned. In the last decades of the twentieth century, these became available individually frozen in freezer bags. They are a staple in my freezer!
Here is the entire page that has the Sesame Chicken recipe. It's a good example of the nice layout and illustrations in this cookbook.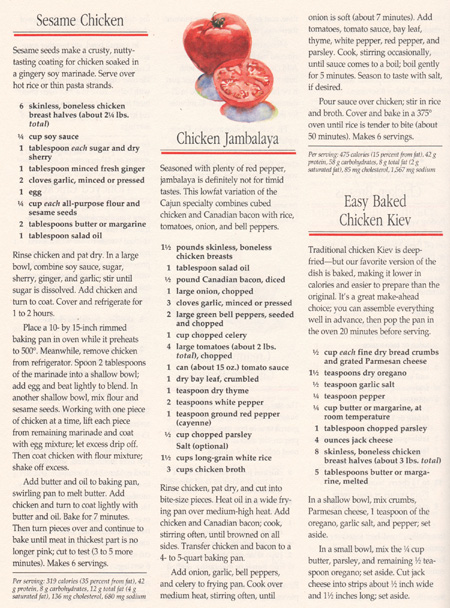 Sesame Chicken

I made this recipe for two people, with two chicken breasts. I made the original amount of marinade, though, as reflected in my recipe entry below. The chicken is baked really hot, for only 15 minutes. On busy work days, I'm sure you could start the chicken marinading in the morning. In fact, you could probably take frozen breasts out of the bag in the morning, rinse quickly with hot water, put in a ziplock bag with the marinade, set the bag in the refrigerator for the day, and the chicken would be ready to cook for dinner.
2 boneless, skinless chicken breasts (12-14 ounces)
1/4 cup soy sauce
1 tablespoon sugar
1 tablespoon sherry
1 tablespoon minced fresh ginger (a rasper-grater works well)
2 cloves garlic, minced
1 egg
2 tablespoons flour
2 tablespoons sesame seeds
1 tablespoon butter
1 tablespoon vegetable oil (about)
Mix the soy sauce, sugar, sherry, ginger, and garlic. Marinate the chicken breasts in this marinade for 1 to 2 hours in the refrigerator.
Preheat your oven to 500˚ (this might take awhile!). Place a baking pan (such as a 10×15-inch half sheet pan) in the oven to preheat the pan, too.
Put 1 tablespoon of the marinade in a shallow bowl; add egg and beat lightly to blend. In another shallow bowl, mix flour and sesame seeds. One at a time, remove the chicken breasts from the marinade and coat with the egg mixture; let excess drip off. Then coat chicken with flour mixture; shake off excess.
Add butter and oil to the hot baking pan and swirl to melt butter. Add chicken and turn to coat lightly with butter and oil.
Bake for 7 minutes. Then turn pieces over and continue to bake until meat in thickest part is no longer pink, about 3-5 more minutes. (Cut to test or use an instant read thermometer, 165˚ is good.)
I served the Sesame Chicken next to homemade fried rice. We liked it, and I'll make it again!