Cookbook #168: Step-by-Step Microwave Cook Book, Better Homes and Gardens, Meredith Corporation, Des Moines, Iowa, 1987.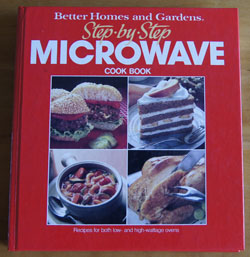 I do like Better Homes and Gardens publications! As I leaf through this one, I find myself enjoying most everything: the photos and the writing and the recipes. Reminds me of the BH&G Golden Treasury of Cooking that I covered a couple weeks ago. Checking my cookbook database, I find 17 BH&G books, and I have covered all but this one so far – and most I decided to keep.
I bought this cookbook for my mother in 1990, when she got a microwave oven.

My mother never really liked "new fangled things". She held out on a garbage disposal for years, and never wanted (or had) a dishwasher or clothes dryer. She relented to a microwave oven around 1990 – it came as the upper oven in her new stove. (I remember how long she needed a new stove, how the bottom was almost baked through by the time my father gave in and bought a new one.) My guess is that I found this cookbook in a bookstore, because I (still) like it so much (and purchasing in a brick-and-mortar bookstore is likely too because online book-buying was in its infancy in 1990).
I went into some detail on microwave ovens when I covered cookbook #17, Whirlpool Micro Menus Cookbook. I highly recommend reading that "old" post of mine! It talks of early microwaves and my uncle and how we were a bit wary of microwave ovens at first but how even ex-hippie-me finally added one to my kitchen. Now I would hate to live without a microwave oven, even though I use it mostly for tasks like defrosting or re-heating or melting cheese or making burritos, or baking chores like melting chocolate.
Microwave cookbooks encourage the reader to prepare the entire meal in the microwave, from appetizers to soup to stews to meats to breads to desserts. That's simply not the way I cook! But, I am always looking for ideas and sometimes I need microwave cooking times and methods, so I will keep one or two microwave guides on my cookbook shelf.
Okay, details on why I like this cookbook. The appetizer section gives lots of good ideas, especially South-of-the Border-Style Meatballs, Pork Kabobs, Taco Chicken Nuggets, and party and snack and nut mixes ideas. The bread section describes how to use your microwave to raise yeast dough. I like the quick breads Cranberry Orange Loaf and Chocolate and Whole Wheat Ring and the cakes Pumpkin-Raisin Cake and Applesauce Cake, but I'd probably adapt them for a conventional oven. I've never thought of making candies like divinity or brittles in the microwave, but it might be nicer than standing over a hot stove. Excellent instructions for scrambled eggs and omelets. Fish and Vegetables En Papillote sounds good. Mother tried and liked "Saucy Tuna-Mac Casserole". Walnut Bananas Foster! Sounds good for grandkids (if you leave out the rum!). If my regular oven breaks, I could simmer a pot roast in my microwave. I like the Spaghetti Pie, Mexican-Style Manicotti, and Saucy Sausage and Noodles casseroles. Good instructions for defrosting and cooking chicken pieces and a "Creating a chicken casserole" section. I like the chocolate and butterscotch ice cream toppings.
Clear instructions for thawing and cooking different foods are throughout the book, and the end of each section has the nutritional analysis of each recipe. Throughout, I am impressed by the clear instructions. Yes, I will keep this cookbook.
I choose to make Mexican Beef Salad for this blog.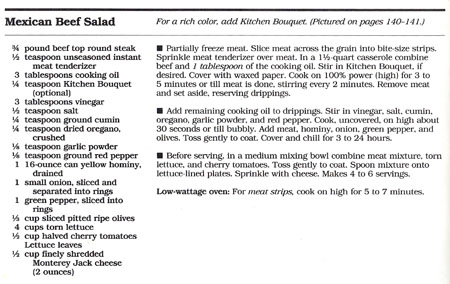 The round steak is cooked in the microwave, plus the prep takes just a few minutes. The whole salad can be prepared in just one bowl. It's July, and hot, and the less time spent in a hot kitchen, the better! I do think this salad needs a little salsa and avocado. I also put a few tortilla chips in our salads for some crunch.
I had trouble finding a small can of "yellow hominy". At my local supermarket, they only had 6 pound cans of hominy! The labels didn't say "yellow" hominy, but the picture on one of the choices looked a little yellower than the others. I bought that one huge can, and when I opened it, the hominy inside was pretty pale. And now I have the rest of the can to re-purpose.
The ingredient amounts in my version of this recipe (below) are approximate. It is, after all, just a salad! Experiment as you wish.
8-12 ounces beef round steak
2 tablespoons cooking oil
2 tablespoons vinegar (I used champagne vinegar)
1/4 teaspoon salt
1/2 teaspoon cumin
1/2 teaspoon dried oregano (Mexican oregano if you have it)
1/8 teaspoon garlic powder
1/8 teaspoon cayenne pepper
1 cup hominy (about)
1/2 large onion, sliced
1/2 green (or red) pepper, chopped or sliced
1/4 – 1/3 cup sliced black olives
halved cherry tomatoes
1/2 cup jack cheese, cut into small cubes, or grated
torn lettuce (I suggest romaine or iceberg)
optional: avocados, salsa, and tortilla chips
Slice the round steak into bite-sized strips. (It is easier to slice thinly if you put it in the freezer for about an hour first.)
Place the meat in a 1-quart glass casserole. Add 1 tablespoon oil, then microwave on high for 3-5 minutes, stirring every 2 minutes, until the meat is done.
Remove the meat from the casserole with a slotted spoon and set aside.
Add 1 tablespoon oil to the drippings in the casserole. Stir in vinegar, salt, cumin, oregano, garlic powder, and cayenne. Cook in the microwave on high about 30 seconds, or until it is bubbling. Add the cooked meat, hominy, onion, green pepper, and olives. Toss to coat. Cover and chill 3-24 hours.
When ready to serve the salad, stir the cherry tomatoes into the meat and vegetable mixture. Fill two bowls with as much lettuce as you like. Add the meat-vegetable mixture.
If you like, add chopped avocados and salsa, and garnish with tortilla chips.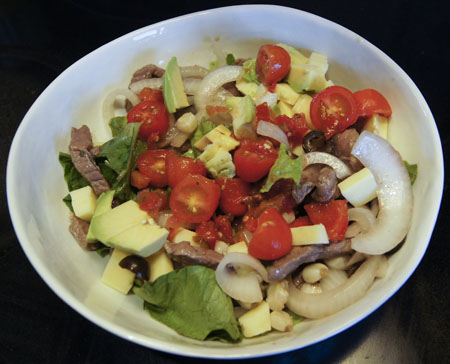 This was a great salad for a hot summer night! I'm sure I'll make it again.