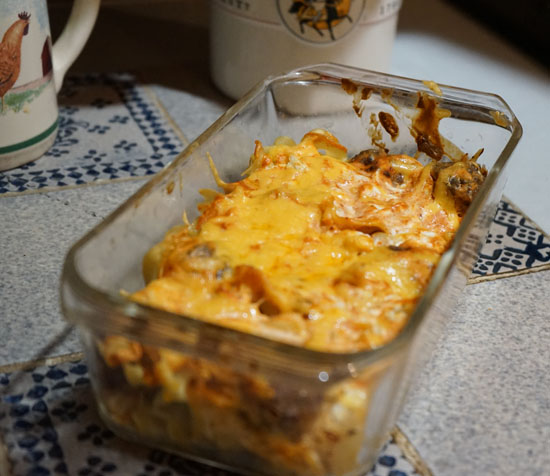 My sixth of seven pandemic-inspired recipes! This one is in my handwriting on an index card, so I may have added it to my repertoire any time before a computer came into my life, which was the mid-1980s.
I don't remember making this particular casserole, but I do have a recipe that I make a lot even now called "Sour Cream Noodle Bake". Both have noodles, sour cream, cottage cheese, cheddar cheese, and hamburger. Sour Cream Noodle Bake includes tomato sauce, while Paprika Covered Casserole does not. Also, the Paprika Covered Casserole turns the hamburger into meatballs.
So I will make the Paprika Covered Casserole, and see if I like it better than my usual casserole, and/or if I can learn anything from the recipe.
Paprika Covered Casserole
1/2 pound broad noodles
8 ounces creamed cottage cheese
1/2 cup grated Tilamook cheese (cheddar)
1 cup sour cream
1/2 cup milk
2 1/2 teaspoons paprika
1 pound ground beef
3 tablespoons bread crumbs
1 egg
1 teaspoon salt
2 tablespoons instant chopped onion (or 1 teaspoon granulated onion)
1/8 teaspoon garlic powder
1/8 teaspoon pepper
grated cheddar cheese and more paprika for top (optional)
Cook noodles in boiling water; drain. Combine cottage cheese and cheddar cheese. Blend sour cream with the milk and 2 teaspoons of the paprika.
Prepare meatballs by combining the ground beef, bread crumbs, egg, 1/2 teaspoon of the paprika, and the salt and pepper. If using instant chopped onions, let them stand in 2 tablespoons water for 8 minutes; if using granulated onion, just add it directly to the ground beef mixture. Shape into 1-inch meatballs (I suggest even smaller meatballs, perhaps 1/2 to 3/4 inch). Brown the meatballs in a skillet.
Place in a buttered casserole layers of noodles, cheese mixture, sour cream mixture, and meatballs. Repeat, ending with meatballs. (If you like, sprinkle additional cheddar cheese and some paprika on top. I did this, even though it was not in the original version.)
Bake at 350˚ 30 minutes, or until nice and bubbly. Serves 6-8.
---
This was good, but I doubt I'll make it again. Making the meatballs was time-consuming, and in my opinion, not worth the trouble. Below is my favorite recipe for Sour Cream Noodle Bake, that I have decided I still like better.
Sour Cream Noodle Bake
8 oz. egg or spinach noodles, cooked
1 pound ground meat
1 teaspoon salt, 1/4 teaspoon garlic salt, 1/8 teaspoon pepper
8 oz. can tomato sauce
1 cup cottage cheese
1 cup sour cream (or yogurt)
6 green onions, chopped
3/4 cup grated cheddar cheese
Brown the meat, add spices and tomato sauce and simmer 5 minutes. Mix noodles, cottage cheese, sour cream, and onions.
In a greased 8″ square pan, layer half of the noodle mixture, then half of the meat mixture; repeat. Top with cheddar cheese. Cover lightly with foil and bake at 375˚ for 15 minutes, then remove the foil and bake 5-10 minutes more, until the cheese melts and browns.