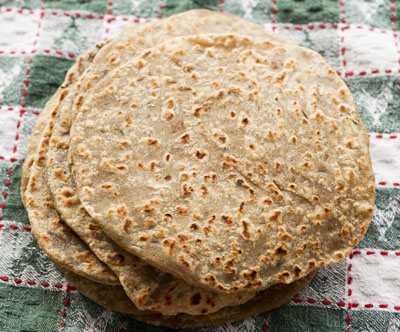 Happy Saint Patrick's Day! That was the inspiration for these tortillas. Well, that and Sam Sifton's recipe for Irish Tacos (New York Times Cooking website).
I have been making flour tortillas for awhile and have developed a recipe that I like (flour tortillas). Why not a rye bread tortilla? Should be yummy good stuffed with home-cooked corned beef and Swiss cheese and pickles and a tasty cabbage slaw. And it was! Below is how I made these delicious "tortillas".
Rye Caraway Tortillas
cup rye flour
1 1/4 cup bread flour
1/4 cup gluten flour (or bread flour)
1 teaspoon salt
1 tablespoon caraway seed (or less – it's up to you)
1/4 cup olive oil
1 cup water, microwaved one minute
Put the flours, salt, and caraway seed in a bowl and mix well. Add the olive oil and about half the water. Mix the dough, and continue adding only enough of the remaining water so that you have a dough that holds together and is smooth and not sticky. Continue kneading a few times, then divide into 8 portions and roll each portion into a ball.
Let the dough rest, covered, for 2-3 hours at room temperature.
Heat a heavy flat pan on a stove top burner set on medium. The pan is ready when you feel good heat when your hand is about 3/4 inch above the pan. You do not want it smoking hot. I use a remote temperature sensor and try to get (and keep) the pan at about 400˚.
Roll the balls of dough into 8-inch circles. Put a tortilla on the pan and let it cook for about 20-30 seconds on the first side. It is ready to flip when light brown spots appear on the underside (peek!). Flip, and cook the other side of the tortilla the same way.