Cookbook #181: Original Schlemmertopf Recipes, Scheurich-Keramik, publication date not given.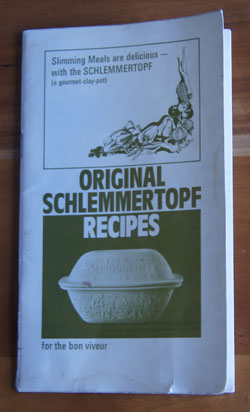 A "Schlemmertopf" is a covered clay baking pot. I received my first clay pot as a gift sometime in the 70s. I wrote a lot of background material in Römertopf Cooking is Fun, so I won't repeat that information here.
Original Schlemmertopf Recipes is the instruction/recipe booklet that came with my first clay pot (the one that broke long ago). Even though there is no publication date given, this booklet is obviously decades old. (I have a newer instruction/recipe booklet that came with my second clay pot.)
Both Romertopf and Schlemmertopf brands of clay pots are currently available. Each is made in Germany. A search for "which clay pot is best" pulled up a few sites that discuss clay pots and where to buy them, like the Kitchn site, but no reviews. Romertopf has a website, but Schlemmertopf does not seem to have one.
Originally, I used a Schlemmertopf for making stews and braising meats, as I discussed in Römertopf Cooking is Fun. In the 2000s, I bought a Schlemmertopf to replace my broken one, but I bought it mainly for baking crusty no-knead bread. The yummy pot roast that I cooked for  Römertopf Cooking is Fun was the first time I had used my new one for something other than bread.
Clay pots are a bit different to use than other types of covered cooking pans or casseroles. Never, ever can you use a clay pot on the range top, like when you want to brown meat or saute vegetables, or to make a gravy after the baking process. Before you start, you soak the pot in cold water, then you put the pot (with your food inside) into a cold oven (clay pots don't do well with quick thermal change). Once in the oven, you can turn the temperature way up, even to 475˚. After cooking, removing the hot, heavy, covered pot from the oven can be difficult (and these pots break easily). If you want to make a sauce or gravy, you have to pour out the pan juices into a stove-top pan. Cleaning the pot usually requires an overnight soak in soapy water (no dishwasher for clay pots!).
So why use a clay pot? Because the results are juicy, well-browned, tastily braised meats.You don't have to brown the meat before starting. The recipes cook faster than a slow cooker or even a typical oven braising. If you don't make a gravy, it is a one-step process, just put the food in the clay pot and bake.
Since the pot roast that I cooked for Römertopf Cooking is Fun was such a success, I am looking forward to cooking another braised meat recipe from Original Schlemmertopf Recipes! I choose "Chicken Shanghai", because I have a whole chicken in the freezer.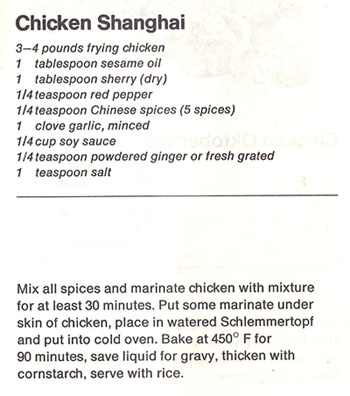 I often roast a whole chicken in an open roasting pan; it will be interesting to compare/contrast the different cooking methods.
1 whole chicken, 3-4 pounds
1 teaspoon sesame oil (more if you like the flavor a lot)
1 tablespoon dry sherry
1/4 teaspoon red pepper (or use a little hot chili oil)
1/2 teaspoon Chinese 5 spice powder
1 clove garlic, minced
1/4 cup soy sauce
1/4 teaspoon powdered ginger (or use freshly grated ginger)
1-2 tablespoons cornstarch
cooked rice
Mix the marinade ingredients (everything except the chicken, cornstarch, and rice). Put the chicken in a bowl and add the marinade to it, rubbing some under the skin. Let stand at least 30 minutes, turning occasionally.
While the chicken marinates, soak the top and bottom of a clay pot in cold water. (Note: if the bottom of your clay pot is glazed, it does not need to be soaked in cold water.)
(Leave your oven off!)
Pour the water out of the soaked clay pot and wipe it with a towel. Add the chicken and its marinade in the pot, cover, place in a COLD oven and turn the oven to 450˚. Bake for 90 minutes.
Carefully remove the clay pot from the oven and uncover. When cool enough to handle, remove the chicken to a plate and cover to keep warm. Pour the clay pot pan juices into a sauce pan and add 1-2 tablespoons cornstarch mixed with a little water. Boil this sauce until it thickens.
Slice the chicken and serve over rice with the sauce.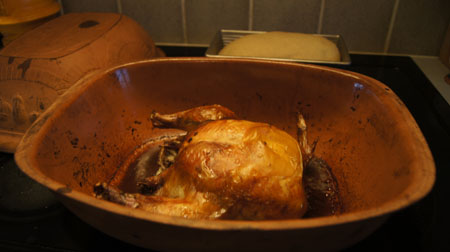 Comments
This chicken was extra-nicely browned! And unlike my other roast chicken recipes, the clay pot cooking method caused no oven splatter, since it is roasted covered. The meat was very juicy and moist. And the flavor was great, of both the meat and the sauce. We both loved it. I did think the sauce a bit salty (and I even left the added salt out of the recipe) and fatty; next time I might use a gravy separator before thickening.
I definitely will roast more chickens using a clay pot. I have a few of my own recipes I can adapt, or can look for others online, like this one using lemony thyme, sage and oregano. I am glad I have re-discovered clay pot baking – it definitely adds variety to my repertoire.