Cookbook #2: Tastes Great! Summer Salads and Barbecue. Published by Safeway Stores in 1989. (Opus Productions Inc.)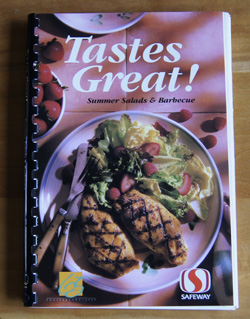 Okay, time to choose my second cookbook. I close my eyes and reach out my left hand and my right hand, and lay each on a book. My eyes still closed, I explore each book: one is big and one is small. Since my last book was big, I choose the small one. I open my eyes.
Yuck, just a "supermarket" book. Published by Safeway Stores. This ought to be pretty boring. I open it and start reading. Hey, this recipe looks good . . . and this one too! In a few minutes I find almost ten recipes I am interested in. I am pleasantly surprised! I read the preface and find that the cookbook celebrates Safeway's 65 anniversary. "Summer is a time for friends and family, warm weather, and most of all – great food." And everything I need is available at Safeway. Sounds good.
In fact, the recipes do list ingredients that I keep in my pantry. I don't have to go to the store to search for anything but perhaps the main ingredient, like the meat or chicken. A plus.
The barbecue section is geared to charcoal-type barbecues, but the authors tell me that "the cooking times and directions are for any type of barbecue, including today's popular and widely used gas barbecues." That's friendly.
Will I use this cookbook again? Definitely. Besides several grilling recipes, I want to try a few of the salads: Chinese Chicken Salad, Summer Pea and Bacon Salad, and Fresh Basil Vinaigrette. I like that the recipe for Caesar Salad is just like the one in my Joy of Cooking, right down to letting a clove of garlic stand in olive oil for several hours, then using that garlic-olive oil to fry white bread for croutons. Good, basic down-to-earth cooking.
Recipe: Colorado Chuck Steak on the Grill
4 stars

A thick chuck steak is great barbecue family fare. Try this boneless chuck steak slow-cooked on the grill with a lid. Accompany with old-fashioned scalloped potatoes, fresh broccoli, and a loaf of Best-Ever Garlic Bread. [Cookbook authors' note.]
1 4- to 5-lb. boneless chuck roast, cut 2″ thick
Spicy Red Wine Marinade (recipe follows)
Prepare the marinade. Place chuck steak in a shallow dish and cover with the marinade, turning to coat both sides. Cover and refrigerate 6 hours, turning once. Bring steak and marinade to room temperature while preparing coals to medium-hot, 45 minutes.
Place grill 6″ above coals. Oil grill. Place meat on grill, reserving all marinade. Place lid on barbecue, with the draft vents open. Cook steak, basting frequently with the marinade and turning with tongs, until done, about 30 minutes total cooking time. Make a tiny cut to check for medium-rare. Remove cooked steak from the grill, and place on a carving board. Allow meat to stand 10 minutes, then slice across the grain into thin slices. Heat any remaining marinade in a small pan on the grill, and spoon over servings, if desires.
Spicy Red Wine Marinade
1/3 cup salad oil
1 medium-sized onion, peeled and minced
1 large clove garlic, peeled and pressed
1 cup tomato-based chili sauce (hamburger-type, bottled)
2/3 cup dry red wine
1/4 cup red wine vinegar
2 Tbsp. Worcestershire sauce
1 Tbsp. horseradish (prepared, not creamed)
1/2 tsp. liquid smoke flavoring
1/4 cup brown sugar
2 bay leaves
1 Tbsp. each thyme and oregano leaves
1 Tbsp. cracked black peppercorns
Heat the salad oil in a saucepan over medium-high heat. Add the minced onion, and saute 1 minute. Stir in the remaining ingredients, bring mixture to a simmer, and cook over low heat uncovered for 25 minutes. Remove from heat, and cool to room temperature.
Comments on Recipe
I invited family over for this meal, since "A thick chuck steak is great barbecue family fare." Personally, I might have given the recipe 3 stars, but my guests said "4 stars". Probably there is a "politeness" bias in their 4 stars, but I'll let it stand.
Cooking instructions are pretty brief: put the meat on a medium-hot charcoal grill and cook 30 minutes, turning and basting. I will pull in my years of experience with my particular gas grill and include them here, since it worked.
My grill has three burners. I preheated the grill by turning the front two burners to the highest setting until the thermometer in the grill's lid registered 400˚F. Then, I turned the burners down to 75% heat, scrubbed the grill, and lay the meat on the grill over the front burners (direct heat). I left the meat over direct heat for 10 minutes, turning once and basting. Then I moved it to indirect heat (the back burner that I never turned on), keeping the temperature of the gas grill at 375˚, as much as possible.
I kept turning and basting every 5-10 minutes. After 20 minutes cooking time, I began testing for doneness. Instead of making a tiny cut to check this, I  used my instant-read thermometer. According to the chart that I use, the meat should be 125-135˚ for medium rare.
My total cooking time was 35 minutes. I meant to pull the meat off the grill at 135˚ internal temperature, but missed that point and pulled it at 140˚. Then I let it rest over half an hour. It was cooked perfectly, pink but not raw. The meat was very tasty. My only complaint was that the meat was a little chewy, even when cut into thin slices.
The marinade is unusual in that it was simmered before the meat was placed in it. The simmering made it thick and boosted the flavor. I was apprehensive grilling a chuck roast, because I usually braise them – long, slow, moist cooking to render them tender. I was surprised it turned out as well as it did. It's a cheap cut of meat, and it's always nice to have easy and inexpensive company main dish recipes in your repertoire.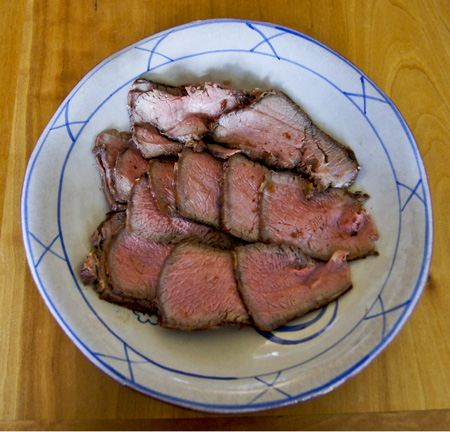 And what to do with the leftovers? Barbecue beef sandwiches!