The "Shui Mai" that I make are little pork-shrimp dumplings encased in a wonton wrapper, steamed, and served with a soy sauce-based dipping sauce. The spelling of "shui mai" varies according to the country or region of origin, and the Americanization thereof. In general, they are bite-sized dumplings served on small plates.
There are a lot of recipes already on the web for shui mai. I'm not offering a particularly special recipe – I'm just encouraging everyone to make shui mai because they are GOOD!
My recipe for shui mai entered my repertoire in the1970s. I learned of these treats from The Chinese Cookbook by Charles Claiborne and a clipped recipe from a magazine, way before shui mai (and pot stickers) became popular out and about. I made them just the other night when trying out the recipe for Chinese Asparagus Salad. Once again they were wonderful!
You need a steamer, either the electric kind or the stacked-bamboo type that sits in a wok. Shui mai take a little time to make but are worth every minute.
Shui Mai

This recipe makes about 40 dumplings and serves about 4 people. Usually, I serve shui mai as part of a meal, perhaps with a stir fry and rice. They aren't a meal in themselves, they are dim sum, a "small plate" food. If you make too many, they are great the next day!
1/2 lb ground pork (use a fresh, quality ground pork)
1/2 lb raw shrimp, chopped into small pieces but not ground
1/4 cup minced water chestnuts
1/4 cup finely chopped mushrooms (preferably shitake)
1/4 cup finely chopped green onions
1 tablespoon soy sauce
1 tablespoon dry sherry or Chinese rice wine (optional)
1 teaspoon cornstarch
1/2 teaspoon sugar
wonton skins (you need about 40 skins)
1 egg beaten with 1 tablespoon water
dipping sauce (recipe follows)
Combine the filling ingredients. Brush a wonton skin with the egg-water mixture, then place about a teaspoon of filling in the center. Press together opposite corners of the square to make a packet. (See the photo of finished shui mai.)
Place the filled dumplings in a steamer. I use an electric steamer and I usually spray the plastic trays with Pam to prevent sticking.
Steam 20-25 minutes (in steamer).
Dipping Sauce
1/2 cup soy sauce
1 tablespoon rice vinegar
1 teaspoon minced garlic
1/2 teaspoon grated fresh ginger
1/2 teaspoon sugar
a few drops hot chile oil (or use 1 tablespoon Thai sweet chili sauce, or pepper flakes)
sesame oil to taste (optional)
2 green onions, chopped fine
1 tablespoon chopped cilantro (optional)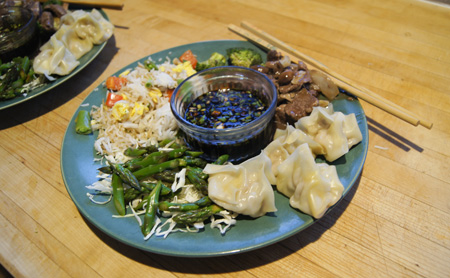 The shui mai are at about 4 o'clock on the plate, with the dipping sauce in the center. There are many ways to gather in the sides of the wonton skins to form these dumplings; feel free to be creative. Round skins (gyozo) can also be used. And of course, you can vary the ingredients.