Cookbook #63: The New Crockery Cooker Cook Book. Better Homes and Gardens, Meredith Corporation, Des Moines, Iowa, 1987.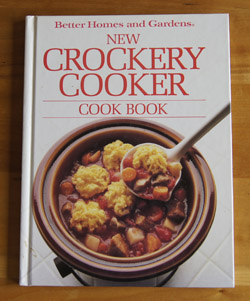 This is my third crock pot cookbook entry; I have eleven in all. Please see my first crock-pot entry for a brief history of crock-pots.
I used this cookbook a lot. I found a bunch of clippings in the back, and scraps of paper and notes in/on several pages. The cover is dirty with food spots (but cleanable!). I got my inspiration for my Botched-up Cassoulet recipe from this cookbook. Even today, I am noting about ten main dish or stew recipes I'd like to try (or cook again). Soups are included in this cookbook and look fine, but I usually just toss together soups sans recipe. The New Crockery Cooker Cookbook has a chapter on breads to accompany the main dishes; I am marking down a few to try.
So I do still like this cookbook. By the 80s, the preponderance of pre-packaged mixes in recipes in everyday cookbooks diminished. I'm talking about mixes like spice seasoning packages and biscuit-type products, that sort of thing. I like the way this book employs tapioca in the recipes as a thickener. I appreciate the authors' admission that crock pots cook chicken to a pulpy mass; they suggest freezing chicken pieces before adding to the pot so that it cooks to perfection. The New Crockery Cooker Cookbook is sensible and useful (IMHO).
For this blog, I choose to cook Pork Stew with Cornmeal Dumplings. Except, I will not make the dumplings because I wrote a note to myself that my family did not like them. The cover of this cookbook (above) shows a photo of this stew (with dumplings). Here is a scan of the recipe: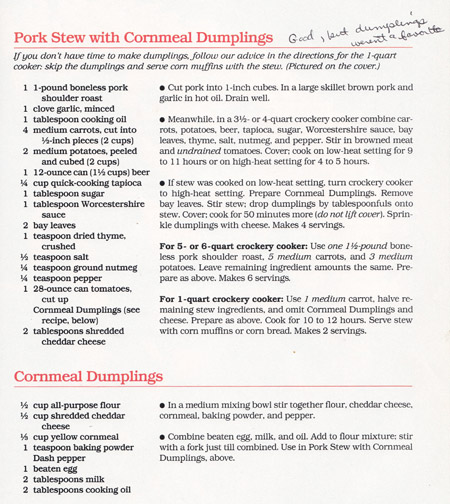 I know from experience that potatoes and carrots will turn to mush after "9-11 hours on low or 4 to 5 hours on high". Maybe this is just a problem of my own current crock pot, but I will change this recipe by adding the potatoes and carrots in the last hour of the cooking time.
Instead of the dumplings, I will serve the stew with Parmesan-topped french bread. Corn muffins would be great too, or better yet, my corn sticks (that I should add to this cooking blog!).
Pork Stew
serves 2-4, depending on appetites
1 pound boneless pork, cut into 1-inch chunks
1 14-ounce can diced tomatoes
1 12-ounce can beer
1 clove garlic, chopped fine
1 tablespoon sugar (optional, not sure I'd use again)
1 tablespoon Worcestershire sauce
2 bay leaves
1 teaspoon dried thyme
1/4 teaspoon ground nutmeg
1/2 teaspoon salt (or to taste)
1/4 teaspoon pepper (or to taste)
3 tablespoons quick cooking tapioca
1/2 – 1 cup water (may or may not need)
2 carrots, cut into about half-inch chunks
2 potatoes, peeled and cubed (if you use red potatoes, you could leave the skins on)
Brown the meat in a little oil in a frying pan; add to crock pot. Then, rinse the good browned drippings in the pan into the crock pot, using maybe the tomatoes, the beer, or a little water.
Add the tomatoes, beer, Worcestershire sauce, sugar (if using), bay leaves, thyme, nutmeg, tapioca, and salt and pepper to the pot. Stir it all up, cover, and set the crock pot your choice of low or high temperature.
After 6 hours on low or 3 hours on high, add the potatoes and carrots. Cook until the potatoes and carrots are done: probably another two hours on the low setting or one hour on the high setting.
Note: If you really know your crock pot, use your own knowledge to adjust the cooking time. Mine cooks pretty hot. I checked it several times during the cooking and added more water. Unfortunately, especially with the step of adding the potatoes and carrots near the end, this recipe cannot be left unattended for the entire day.
Comments
This stew is good. I messed up and added only a 14-ounce can of tomatoes instead of the suggested 28-ounce can! (Maybe that's why I had to add more liquid during cooking.) But it still turned out fine. I might try using more tomatoes next time. I found the taste a little too "sweet", it almost was like a sweet-and-sour pork dish (I felt like I should have added pineapple). My dining partner liked it "as is", though.
Here are the pork cubes, browning. I decided to rinse the brownings into the stew pot, as noted in my directions (above).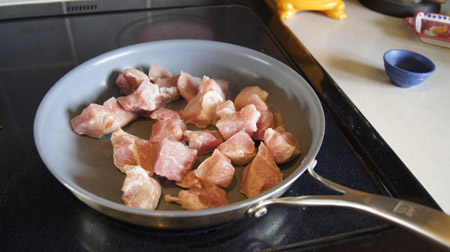 My ingredients up to the potatoes and carrots are below. Note that I used fresh thyme and I ground my own nutmeg; next time I'll just used dried thyme because it just wasn't worth the bother. There is a new box of tapioca because I had searched my cabinets for minute-tapioca and found two old boxes with expiration dates of 2002 and 2008, respectively. (Guess it's been awhile since I needed tapioca!) And the Dale's Pale Ale: I'm in Lyons, and that's our local brewery!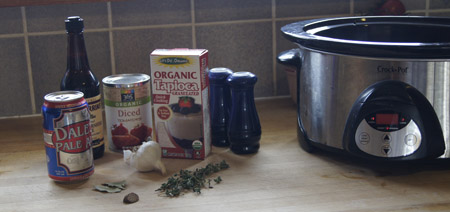 During the cooking time, I had to stir and add water several times. It stuck to the bottom sides of my crock pot. I suggest using 3 tablespoons tapioca (as in my ingredient list) instead of the 1/4 cup, because it got pretty thick. I may not have had this issue if I had used the called-for amount of tomatoes. But also, as I stated before, I know my crock pot, and I know it cooks hot. It's really too big of a crock pot for two people.
Here it is, nearly finished, with the potatoes and carrots added.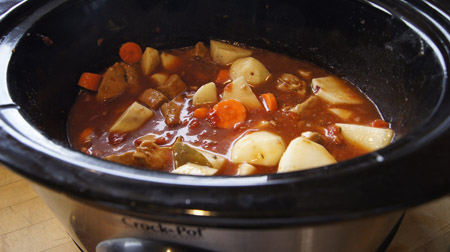 It was good, I'd give it 3 stars out of 5. I'll probably make it again. It is a good change of pace from my usual southwestern-style spicy pork stews.