Cookbook #165: Land O Lakes Cookie Collection, Favorite Recipes™ Magazine, Publications International, 1990.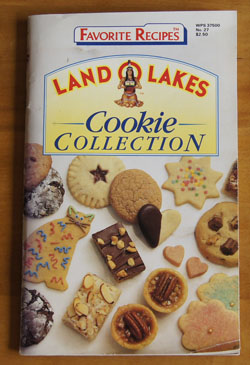 Cookies, more cookies! Do I really need another cookie recipe? Well no, but just can't resist.
This cookbook-magazine was published in December 1990. I am sure I was planning my Christmas cookie selection for that year, standing in the grocery line and looking for something to read, and it caught my eye and my interest. Only $2.50! So I put it in my cart and took it home.
Favorite Recipes™ magazine published recipes for various brand names: Best Foods and Karo Syrup are two examples revealed by a google search. Land O Lakes is currently a co-op for milk products and eggs. This little 1990 cookbook, though, is all about butter – butter in each and every recipe. I used to use margarine in cookies, thinking it prevented them from spreading out too much on baking. These days, I much prefer natural butter, and am adapting my current margarine recipes to butter instead. So, Land O Lakes Cookie Collection is of more interest to me in 2016 than it was in 1990.
Today I can buy this booklet online for $1.49! Guess I could have saved myself a little money by waiting.
I don't think I ever tried any of these recipes. None of the recipes look familiar, and there are no markings, no food stains. There are about 100 recipes in this book, and most of them look pretty good. Drop cookies, bars, fancy cookies, they are all here. I'd love to eat them all, but that old friend/enemy, calories, lurks in every recipe.
I decide to try "Coconut Snowdrops" for this blog. These are simple drop cookies with lots of butter and coconut.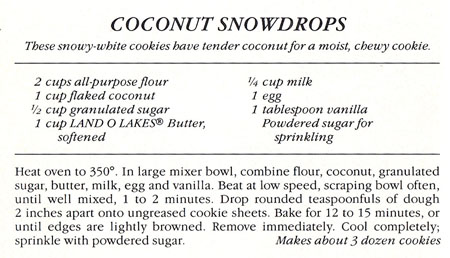 The recipe says you can put everything in a mixer bowl in one step. I am in the habit of mixing the butter and sugar, beating in the eggs, and then adding the flour last, so that's how I made these.
Coconut Snowdrops
makes about 3 dozen
1 cup butter
1/2 cup sugar
1 egg
1/4 cup milk
1 tablespoon vanilla
2 cups flour
1 cup flaked coconut
powdered sugar for sprinkling
Beat the butter with the sugar, then add the egg, milk, and vanilla and beat again. Slowly mix in the flour and coconut until incorporated.
Drop by rounded teaspoons onto a cookie sheet. (I rolled the dough between my hands to form round balls, but that is optional.) Bake at 350˚ for about 15 minutes, until the edges of the cookies are golden brown. Cool, then sprinkle with powdered sugar.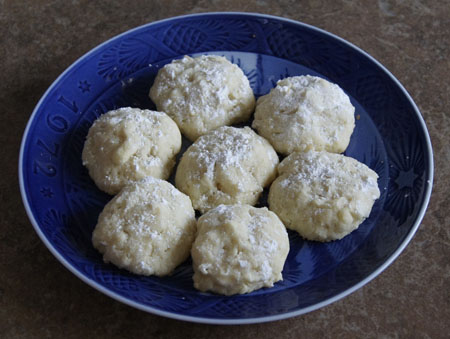 These are excellent cookies! Soft and rich, but not too sweet. We all liked them, and they disappeared in a hurry!
I will keep this little cookbook and try another recipe someday. I do like the butter-y-ness of these cookies. And it might help me convert some margarine-based recipes to butter instead.