Cookbook #199: Knudsen Recipes, Knudsen, Knudsen Creamery Co. of California, 1955.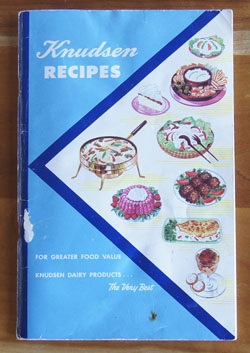 This is the second "Knudsen Recipes" cookbooklet that I have covered. I didn't much like the recipes in the first one I covered, the 1953 version. In fact, I couldn't find a single recipe to try in that version! This one is a lot better. I'll give some examples below.
But first, a review. "Knudsen" is a California dairy product company, currently owned by Kraft Foods. Knudsen-brand products are still available in California and even in some of my local supermarkets here in Colorado. In 1955, they were quite proud of their high quality and modern research facilities. Note the illustration below. A chemist (male, of course) holding a round bottom flask with a claisen adaptor and a distillation apparatus.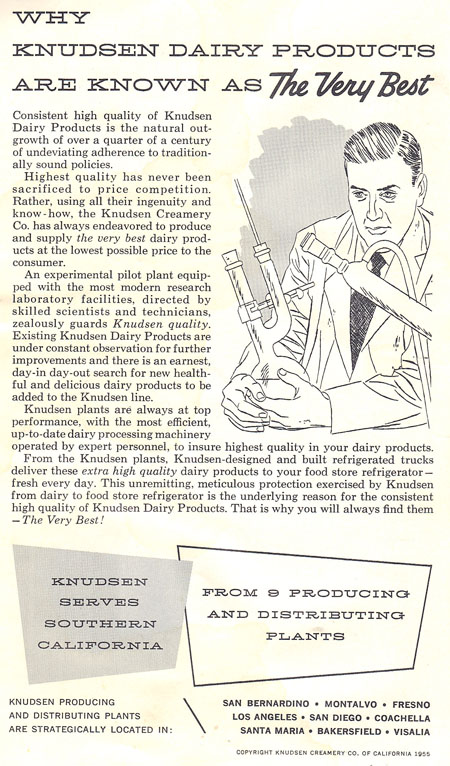 Facing the page of the male chemist is a photo of the cook (female, of course) using a Knudsen product. Note: "For the young bride whose kitchen 'know how' begins and ends with frying an egg . . . ". And this is good too: "Here you will find colorful photographs showing how to make foods more appetizing and table settings more attractive."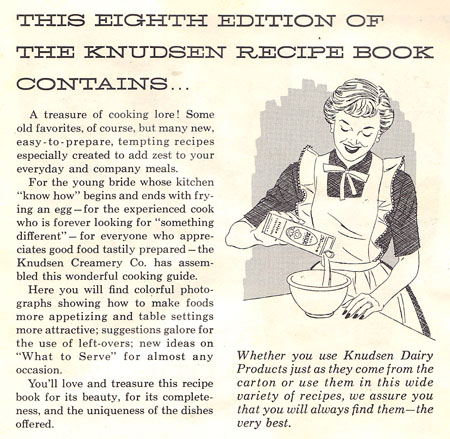 Knudsen Recipes begins with recipes for appetizers. I kind of like" Smoked Salmon Spread", with salmon, cream cheese, sour cream, and onion. It would be good with crackers or small toasts. My mother put a check by several recipes in this chapter – dips for parties and other get-togethers were quite popular in our home. Most of the Knudsen dips are made from cream cheese, sour cream, maybe cottage cheese, and then canned shrimp, tuna, crab, or bacon. Most sound "okay". (Except the dip made with cottage cheese, Bleu cheese, sour cream, olives, and peanuts. I'd never make that one.)
Dessert recipes come next. I like the recipe for "Chocolate Cream Cookies" (with sour cream) and Cream-Orange Drops (with cream cheese).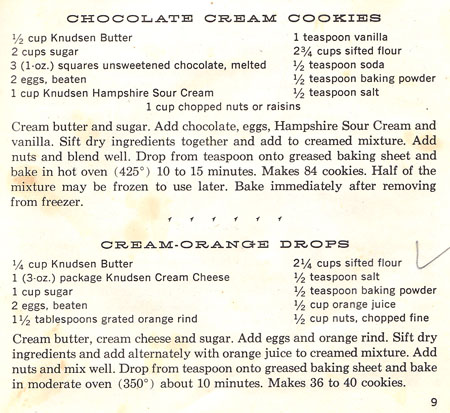 There is a cup cake recipe with cottage cheese in the batter I might like to try. "Boston Brown Betty" is an apple-crisp type of dessert with cream cheese and graham crackers – sounds good. Mother tried the "Quick Raisin Pie":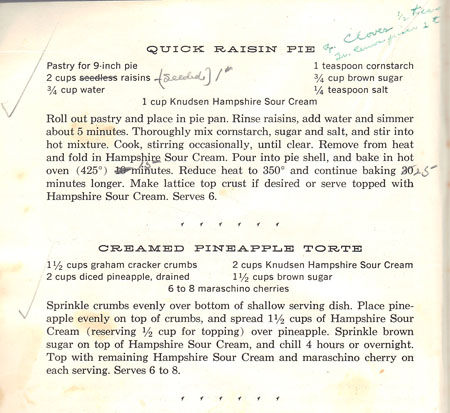 On to main dishes. "Liver Loaf" with liver, salt pork, bread crumbs, and cottage cheese doesn't sound good to me, but it illustrates how popular organ meats used to be. The page below illustrates some of the main dishes: canned macaroni and cheese with milk, cottage cheese and hamburger;  stroganoff with cottage cheese and cream cheese rather than sour cream; a shrimp dish with canned shrimp.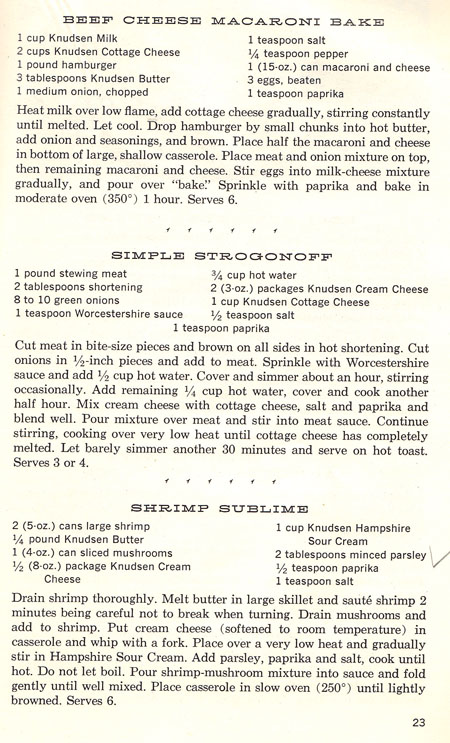 The "Crab and Shrimp Bake" (below) is made with cooked shrimp "cut in bits' and crab meat, cottage cheese, sour cream, celery and onion and green pepper, and potato chips. I don't know, does it sound good to you? I do think I'd probably like the "Chicken-Noodle Mix".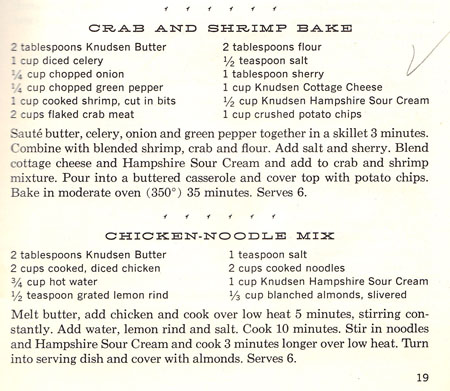 Below is another page of main dish recipes. Note the "Baked Potato" recipe. Haven't seen this recipe for awhile – baked potatoes with sour cream and chives. That was always a standard at our house and was often offered at restaurants. In fact, when they'd ask if we wanted butter or sour cream and chives, we'd say "both". I think we sometimes made a mix of butter, sour cream, cream cheese, and chives (or green onions) to put over baked potatoes.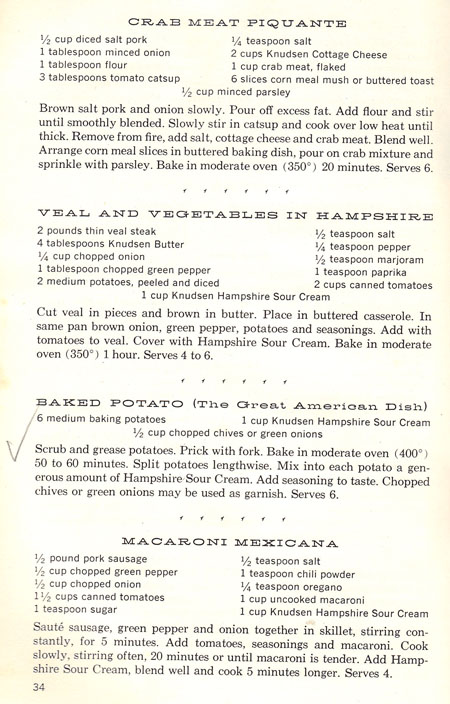 In the middle of the book is a page of menus for the family and entertaining (typical 50s "the woman belongs in the home" slant). Next is a section on dieting: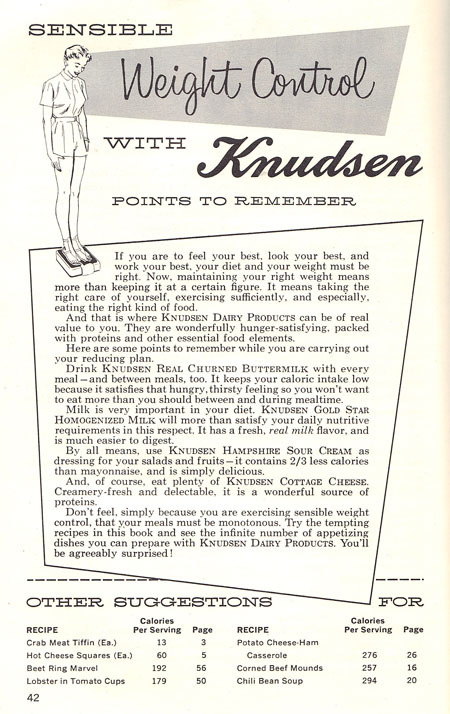 The next page is "Menus for reducing". Example, for lunch, you get 6 celery rings (celery with Bleu cheese, cream cheese, and sour cream), a small glass of buttermilk, one soda cracker, 1/2 teaspoon of butter, one cookie, and coffee with half-and-half. Egads! you could skip the silly single soda cracker and the sugary cookie and have something whole grain instead, and put skim milk in your coffee! Where is the protein, except in the milk products? And note the low-calorie recipes at the bottom of the page, with the 243 calorie peanut butter pudding (vanilla pudding mix, peanut butter, and cottage cheese).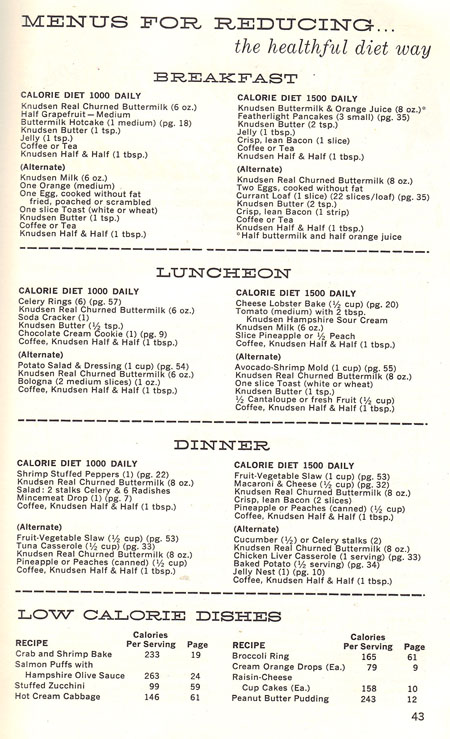 I like this excerpt below: "But first, you must learn the language of calories, a language anyone can pick up quickly."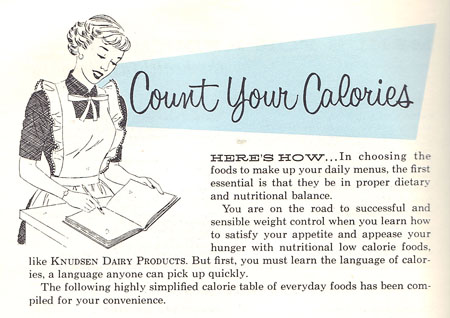 One more comment on this dieting section. I would have thought that yogurt would be in a dieting plan. But no recipes in the book include yogurt, although it is included with the Knudsen products on the back cover: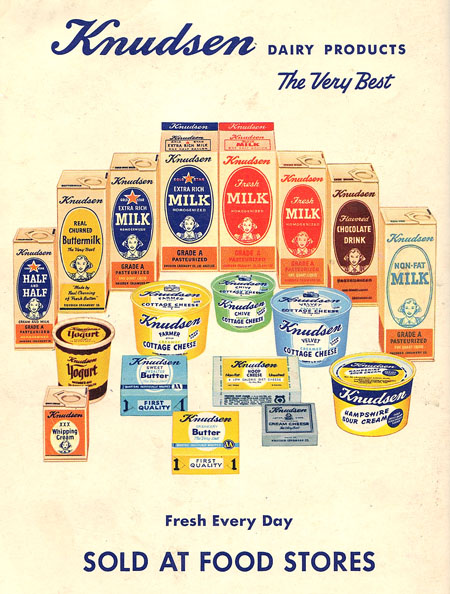 After the menu planning and dieting sections, Knudsen Recipes goes to salad recipes: molded salads with cream cheese and cottage cheese and fruit, avodados with cottage cheese, broccoli with cream cheese. Not many of these recipes interest me, other than as nostalgia.
I like the page below for two reasons. For one, I like the illustration of the housewife. For two, I like the table of "oven temperatures". Many times I have run across a recipe in an older cookbook that says simply "cook in a hot oven" or the like. This table will help me convert old recipes to current oven settings.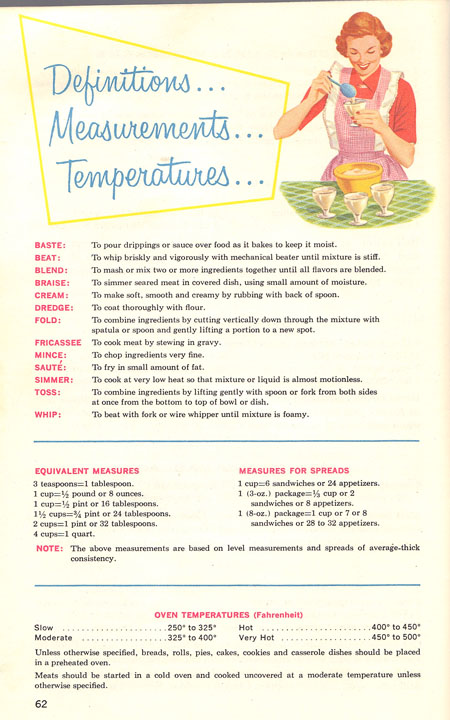 If you would like to see more of this cookbook for yourself, I found a digitized copy of this book on the HathiTrust.org site: the record and the full digitized view.
I decide to make "Chocolate Cream Cookies" for this blog. The scan of the original recipe is above in this blog, page 9. Below is my updated version of this recipe.
Chocolate Cream Cookies
about 6 dozen
1/2 cup butter (I used salted butter)
2 cups sugar
2 eggs
3 ounces unsweetened baking chocolate, melted
1 cup sour cream
1 teaspoon vanilla
2 3/4 cups flour
1/2 teaspoon baking soda
1/2 teaspoon baking powder
1/2 teaspoon salt
1 cup chopped walnuts
Cream the butter and the sugar on high speed. Add the eggs one at a time and beat until well mixed. Add the chocolate, and then the sour cream; mix in on medium speed. Combine the dry ingredients and add slowly until all of the flour is incorporated. Add the nuts and mix in.
Drop dough from a teaspoon onto a baking sheet. (I used a sheet of parchment in my half-sheet pan.) Bake at 375˚ for 8-12 minutes.
Here are my cookies. I took them to share at my Lyons Garden Club meeting.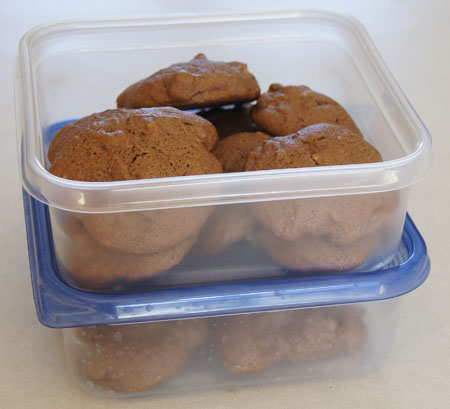 These cookies are very good! Kind of a subtle chocolate-y flavor in a soft cookie. The sour cream does make these cookies stand out amongst all the other chocolate cookies I have made.
I baked the first batch as directed at 425˚ for 10 minutes. I could smell them burning and sure enough, the bottoms of this first batch were burned. I lowered the oven to 375˚ for 10 minutes for the rest of the cookies. I suggest peeking at the first batch at 8 minutes though, as all ovens vary a bit.
I made the dough for these and kept it in the refrigerator, making cookies "as needed". As the original recipe states, you could probably freeze the dough with success.