Cookbook #206: Portable Electric Cookery, Bonnie Brown, Sunbeam Corporation, Chicago, Illinois, 1970.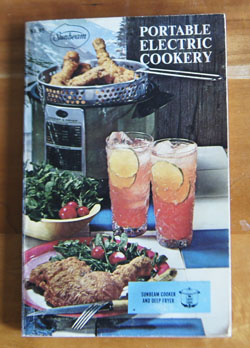 I wrote in my database that Portable Electric Cookery "came with my deep fat fryer", and it has recipes written for deep fat fryers, electric fry pans, blenders, and electric mixers. I covered the deep fat fryer in Sunbeam Cooker and Deep Fryer, the fry pan in  Hamilton Beach Automatic Heat Control Appliances, and  my old portable electric Sunbeam mixer in Sunbeam Deluxe Mixmaster Mixer.
When I opened this booklet this week, I expected it to be "just another manufacturer's cookbook". But no, this one is written by a real person, Bonnie Brown, and her personality is reflected throughout the book. For instance, the table of contents is: Appealing Appetizers, Superb Soups, Magic with Meats, Fabulous Fish . . . you get the idea! Cutesy titles repeating first letters.
And what of the recipes? Surprisingly, I find some that are interesting. We had "Osso Buco" – braised lamb or veal shanks – at a local restaurant and I made it at home because we liked it so much. The Osso Buco recipe in Portable Electric Cookery includes lemon peel and anchovies – I think we'd like that. Savory Lamb Chops, simmered with olive oil, onion, carrots, tomatoes, sherry, and mushrooms sound good. So do the Lamb Shoulder Chops, Pizza Style (simmered in a sauce and covered with mozzarella cheese).
The Perfect Poultry chapter has a lot of recipes for bone-in chicken pieces. Several years ago, stores in my area stopped selling packages of "whole chickens, cut up", like the "Pick of the Chix" I bought for years. Today I have to buy breasts, thighs, legs, and wings separately, which can be a pain. Or, I have to cut up a whole chicken myself. Anyway, the recipes in this chapter include old standbys like Chicken a la King and Chicken Stroganoff and Chicken with Dumplings, as well as many simmered chicken recipes with a variety of seasonings, like tarragon and ginger. "Flaming Breast of Chicken" is a recipe for boned chicken breasts in a rich egg yolk, mushroom and scallion sauce, cooked in the electric fry pan, and covered with brandy and flamed just before serving.
Candied Sweet Potatoes reminds me of the candied sweet potatoes my mother always made for Thanksgiving. I've lost her recipe, but the recipe in Portable Electric Cookery is probably about how she made them. Cherries Jubilee is a cooked-at-the-table recipe that would work well using the electric fry pan, in fact, the recipe says not to use a non-stick pan. Briefly, dark sweet cherries are boiled with a bit of cornstarch, then sprinkled with sugar. Then, you cover them with warmed brandy, ignite the brandy, and spoon the cherries over vanilla ice cream.
Sukiyaki is a dish I learned how to make from my Japanese college roommate, and I always make it in the electric fry pan. The recipe in ortable Electric Cookery is similar to mine. The Delectable Desserts chapter has an interesting recipe for Baked Alaska.
Guess I've decided to keep this cookbook. The recipes are from scratch, and include a variety of meats and seasonings influenced by different cultures. I am pleasantly surprised! Most of the recipes, though, I'd cook in my current selection of stove top pans, electric slow cookers, Kitchen Aid mixer, and a food processor rather than a blender.
I like the recipe for "Mandarin Beef" in the "Cooking with a Foreign Flavor chapter". It has a sauce of ginger, garlic, soy sauce, and tomatoes. Tomatoes in a stir fry is a new twist, so I decide to make this recipe for this blog.

I don't feel like pulling out my electric fry pan, so I'll just use one of my stove-top frying pans. For the two of us, I'll halve the recipe. Instead of the canned bean sprouts, I will substitute with julienned zucchini (I would have used fresh bean sprouts, but forgot to buy them!). I did have mushrooms, so I used them in this dish. And I'll use fresh ginger and garlic. Tomatoes and fresh ginger and garlic remind me of the base for many dishes my daughter cooked for us in Togo. I think we will like this Mandarin Beef.
12-16 ounces flank steak, cut across the grain into very thin strips
2 cloved garlic, chopped fine
1 small piece of fresh ginger, grated
salt and pepper to taste
2 tablespoons soy sauce
1/4 teaspoon sugar
one tomato, quartered
1 small green pepper, cut into chunks
fresh bean sprouts, or julienned zucchini
sliced mushrooms (optional)
1 tablespoon cornstarch dissolved in a little water
Heat a little oil in a wok or fry pan. Add the beef, garlic, ginger, and salt and pepper, and brown the beef over fairly high heat.
Turn down the heat and add the soy sauce and sugar and cook and stir about 5 minutes. Add the tomatoes, green pepper, bean sprouts (or zucchini), and mushrooms and cover and cook about 5 minutes. Add the cornstarch/water mixture, and cook and stir until the dish is slightly thickened.
Serve over rice (I used jasmine rice).
Below is a photo of the meat and vegetables ready for the stir fry.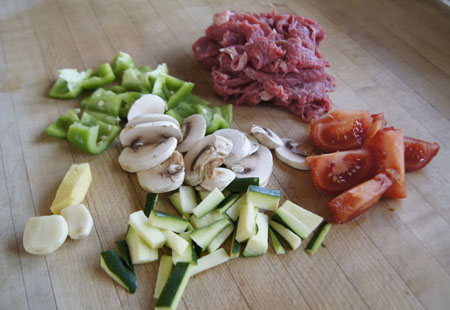 I totally forgot to take a photo of the cooked meal! It smelled so good and we were hungry – that's my excuse. It was very good and I would make it again.