Cookbook #117: Settlers' Recipes and Remedies, Historic Boulder, Inc., 1978.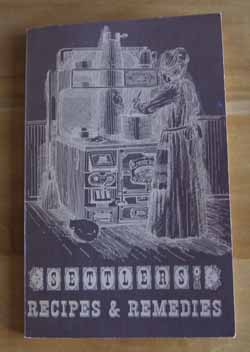 "Hiccups are immediately stopped by giving a lump of sugar saturated with wine vinegar."  "For a headache, peel and slice raw potatoes and bind them on the forehead in a cloth that reaches around the head." "It will be bad weather if carrots grow deeper."
Such is the lore of the first settlers in Boulder, Colorado. Settlers' Recipes and Remedies includes small black and white photos of people and serving ware and  a store and historic homes in Boulder. There are quite a few recipes – some basic, some interesting, some odd – but few very are practical for today's cooks. No oven temperatures! No cooking times!
I must have bought this book used in a bookstore in Boulder, since "$3.00" is written in pencil on the first page. I've never used it as a recipe source. I can't find any information about it online, except that the Denver Public Library has a copy. Historic Boulder has a current website, but they don't mention this book.
I will cook "Wild Bill Hickock's Smothered Beefsteak" for this blog. You take a thin steak, smooth a bread stuffing on top, roll it up, and cook it til done. Good basic foodstuff. Then, I will recycle this book.
one thin-cut steak, sirloin or round, about 12 ounces
1 cup fine bread crumbs
1 tablespoon soft butter
1/2 teaspoon sage
1/2 teaspoon summer savory (or, use oregano or thyme)
salt and pepper
milk, about 1/4 cup
salt pork, about a tablespoon, chopped
beef broth, 1-2 cups, or use water
flour
Lay the steak out on a breadboard and pound with a meat pounder/tenderizer until it is smooth and flat.
Put the breadcrumbs, butter, herbs, and salt and pepper in a bowl. Add enough milk to make a "stiff" mixture (one that hold together when pressed with your hands). Spread this mixture over the steak in an even layer.
Roll the steak (from either side, your choice) and tie with pieces of string. Set aside.
In a pot on the stove top, brown the salt pork. Add the steak roll and brown on all sides. Add beef broth (or water); the roll does not need to be submersed in liquid, just have the depth of liquid at about an inch. Cover the pot and simmer 1 1/2 – 2 hours. Check about every 30 minutes and add more broth or water if it is evaporating away.
The roll is done when it is knife-tender. Remove the roll from the pan and set aside. Add a tablespoon or two of flour to the gravy in the pot and mix in; add water until the gravy is as thick or thin as you like.
Slice the roll and serve with the gravy.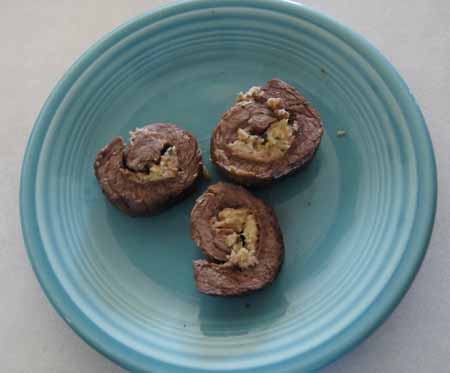 We liked these – good comfort food. They were excellent with mashed potatoes and peas!I think the salt pork added a lot of flavor. If you can't find it, use a piece or two of bacon. I was able to find salt pork at Whole Foods. Part of the current movement to bring saturated fats back into the US diet, I guess!