Cookbook #248: Pillsbury's Bake Off Dessert Cook Book, The Pillsbury Company, USA, 1968, 2nd printing, 1971.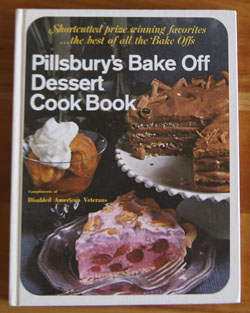 Pillsbury's Bake Off Dessert Cook Book is the last and grandest of my Pillsbury Bake-Off cookbooks. All of the others are small booklets but this one is hard-cover bound and 144 pages long. It includes recipes from "Eighteen years of Pillsbury Bake Offs", updated with "short-cuts and the use of convenience food ingredients where possible". (I discuss Pillsbury Bake-off cookbooks/recipe magazines more thoroughly in my blog post covering the 1964 Bake-Off Cookbook.)
This is one of Mother's cookbooks, but she has no written notes in it. Two places in the book are marked with small scraps of paper (pages 123 and 127). I'm kind of surprised at this, because she was such a Bake-off Cookbook fan. And I was hoping for a few more memorable notes from her, as I get to the last of her cookbooks in this 250 Cookbooks blog.
The first chapter is "Desserts Warm From The Oven". Hmmm, sounds right up my alley. Peach Melba Special looks good: peaches and red raspberries with ginger topped with batter and baked. How about Applecots, apple halves stuffed with apricots and wrapped in dough and baked. Or Caramel Apple Pudding, a "pudding cake" with 1 1/2 cups fresh apples and 1/2 cup chopped almonds. What's a pudding cake? It's a cake made by placing a wet or dry batter in a pan, adding a boiling water sauce on top, and baking in the oven. Pudding cakes are one of my favorite desserts! Why? They are simple, often contain fruit, and are served hot with ice cream. Homey goodness.
I found two more recipes I like in the Desserts Warm From The Oven chapter. Apple Peanut Spoon Dessert calls for 4 cups of apples and has peanut butter in the topping. Baked Apple Cuplets are peeled whole apples topped with a cake-like batter and baked in custard cups.
The next chapter is "Family Dessert Favorites". I like the Quick Banana Buns, an unusual banana dessert made from dough laced with mashed bananas cooked as buns, then filled with sliced bananas and whipped cream.
The final three chapters are "Pies, Pies, And More Pies", "Make-Ahead Pies and Desserts", and "Conversation Piece Pies And Desserts". Hey – no chapters for pies and cookies! There are a few cake-type recipes in the other "Dessert" chapters, but that is all.
Mother was great at making pies, and I am surprised she marked none of the pie recipes. I think almost all of the pie recipes Pillsbury's Bake Off Dessert Cook Book sound great. I just don't make pies often because they are so full of calories. (And if I want to make a pie, I use one of my mother's recipes.)
Many, but not all, of the recipes in Pillsbury's Bake Off Dessert Cook Book call for "short-cut" ingredients, such as refrigerated rolls, canned pie filling, cake mixes, and canned fruits. For instance, one recipe calls for "peanut butter refrigerated quick caramel rolls with nuts". I doubt these could be found in markets today – fifty years since the publication of this book. (Besides, I prefer to cook from scratch.)
It's not until page 136 that I find the recipe I want to make for this blog: "Cherry Honeys".

Why do I like this? Because it has fruit and honey in it, and I can cut calories by using Cool Whip® instead of whipping cream. Sour cream and coconut are folded into the whipped cream – an unusual and tasty-sounding twist. The serving sizes are small and designated so we can stay on our "diet" and still have these. Of course, I'll make my own pie crust instead of purchasing pie crust mix. Plus, they should look really cute and pretty!
And I have to admit, I get to buy something new to make these: tart pans. I have quiche pans of many sizes, custard cups, many sizes of ramekins, small and large donut pans, bun pans, bundt pans, small and large spring form pans, cake pans, popover pans, lava cake pans, muffin pans – but NO mini tart pans!
crust for single-crust pie
1 can (16 ounces) pitted dark sweet cherries
1 1/2 tablespoons cornstarch
1/4 cup honey
1 tablespoon grated orange peel
1 tablespoon lemon juice
1/2 cup whipping cream (or use a light whipped cream alternative)
1/2 cup flaked coconut
1/3 cup sour cream
2 tablespoons sugar
Divide the dough into 6 pieces. Roll each into a circle to fit 4-inch tart pans. Fit them into the pans, forming a standing rim, and flute the edges.
Bake at 450˚ for 8-10 minutes, or until golden brown. Cool.
Drain the cherries and save the juice. Add the cornstarch to the juice and mix well, then add the honey and orange peel. Cook over medium heat, stirring until the mixture is thick and clear. Remove from heat and add the cherries and lemon juice. Cool.
Beat the whipping cream until thick, then fold in the coconut, sour cream, and sugar.
Just before serving, spoon the cherry filling into the tart shells and garnish with the whipped cream mixture.
These were excellent. Except for the crust, they aren't terribly rich. The next night, I made another batch of the cherry mixture and served them with ice cream. Yum!