Cookbook #54: A Treasury of Bake Off Favorites. The Pillsbury Company, 1969.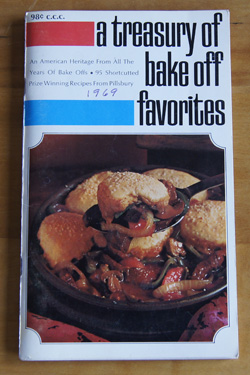 This is another of my mother's Bake-Off Cookbooks. So far I've done three Bake-off years: 1964 (Cookbook #4), 1959 (Cookbook #10), and 1963 (Cookbook #27). I refer you to the 1964 blog post for a more thorough discussion of these cookbooks/pamphlets.
This pamphlet cost 98¢ (the 1959 one cost 25¢). Inside the front cover, "Ann Pillsbury" writes:
"In eighteen years of Pillsbury Bake Offs certain recipes have stood out as being all time "favorites", as judged by our own staff and by the requests we get from homemakers everywhere. We have chosen ninety-five of these 'favorites' for this collection."
So, some of these recipes are repeats from earlier Bake-Off collections. To me, the most famous cookie in this particular Bake-Off Cookbook is "Peanut Blossoms". Yup, the peanut butter-sugar cookie topped with a chocolate kiss. My mother made these, I made these – and I already entered them into this blog. My mother also tried and liked the Jim Dandies, Hoosier Peanut Bars, Chocolate Macaroon Cake, and Dilly Casserole Bread. She liked the cookie recipes best! This cookbook also includes main dish recipes. They are "okay" but not my kind of cooking. Too "fifties".
My choice to try is a cookie recipe called "Spicicles". As usual, I am looking for something a little healthy. While this recipe includes a lot of butter, it is relatively low in sugar, and it includes raisins, walnuts, dates, and candied pineapple. The preface to this recipe suggests these as holiday cookies, and they are reminiscent of Snowballs, those buttery-nutty cookies baked in formed balls and then rolled in powdered sugar while warm. We always made them at Christmas. (The recipe that I have used for years for a snowball-cookie is Dainty Nut Balls, exactly like this online version.)
My thought for Spicicles is that I can use them like energy bars for mid-day boosts on exercise days.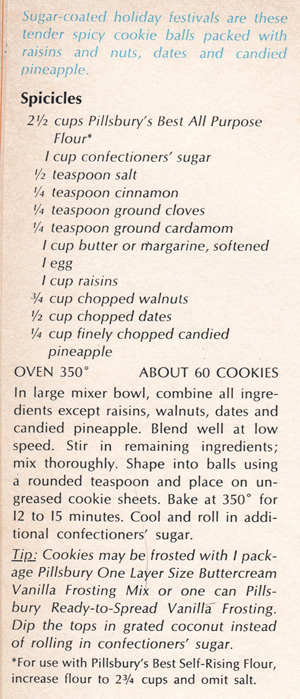 Now, candied pineapple: I think the recipe means the candied pineapple sold around Christmas time for fruit cakes. My idea is to use dried pineapple, one of our favorite ingredients in trail mix. It's sold in most stores, with other dried fruits like raisins.
Then I hit the jackpot. I decided to check the bulk bins at Whole Foods. And I found these thick rings of pineapple, dried and coated with sugar, for only $3.99/pound. I filled a bag partway, then took a tiny taste while still in the store. Yum! I topped off the bag – this stuff is great. I can hardly wait to try this pineapple in the cookies. Heck, I can hardly wait to leave the store and munch on a few pineapple rings on the way to the car!
I made these pretty much as called for, except I used more pineapple, fewer raisins, and more spices (and fresher spices!). Below is my version.
Spicicles PLF
makes about 60 small cookies
2 1/2 cups flour
1 cup powdered sugar ("confectioners' sugar")
1/2 teaspoon salt
1 teaspoon cinnamon
1/4 teaspoon ground cloves
1/2 teaspoon ground cardamom
1/4-1/2 teaspoon ground nutmeg, preferably freshly grated
1 cup butter
1 egg
1/2 cup raisins (sultans might be nice)
3/4 cup chopped walnuts
1/2 cup chopped dates
3/4 cup finely chopped dried pineapple
In mixer, beat the butter with the egg until well blended. Add the flour, powdered sugar, salt and spices and blend well. Stir or mix in the raisins, nuts, dates and dried pineapple.
Form into balls, using a teaspoon to scoop up the dough. Bake on ungreased or parchment-lined baking sheets at 350˚ for 12-15 minutes. The bottoms will brown, but the tops of the cookies will remain kind of pale. Don't worry, they will be done!
Transfer the cookies to a wire rack, and when they are just cool enough to handle, roll in powdered sugar.
Here is the wonderful dried pineapple alongside the walnuts, dates, and raisins: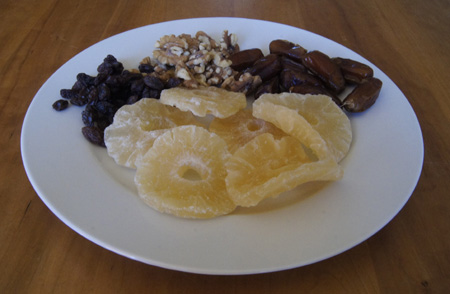 I searched my spice cabinet for cardamom, and found an old jar of ground cardamom. Sniffed it – seems to be missing its punch. But I had a jar of cardamom seeds, so I ground some in the coffee grinder that I reserve for spices. Perfect! Below are the cardamom seeds and a half-grated nutmeg: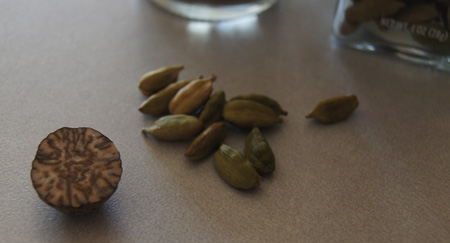 The cookie dough is pretty thick and rather dry, but it does hold together. I ended up making 61 cookies – pretty close to 60!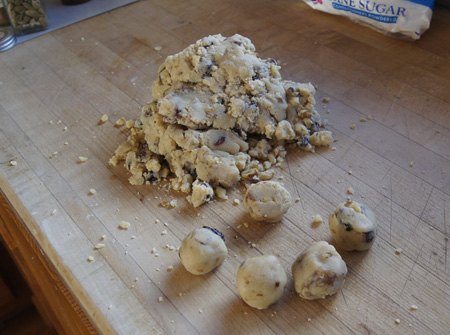 Here are the baked Spicicles PLF (PLF? that's my "tag"):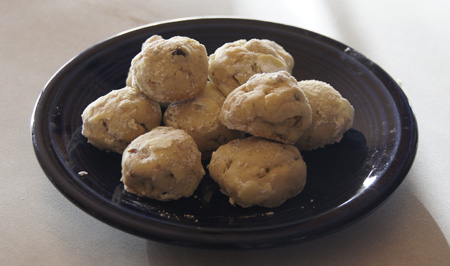 These were a hit! I took them for mid-day energy snacks and always . . . wanted another one! I didn't think my husband would like them a lot, but when I suggested a frozen (lite) ice cream bar for dessert, he looked at me and said "I really like those cookies, I'll have them instead!"
It was pretty easy to go through those 61 cookies. I will make them again!