Cookbook #101: Bake-Off 34th Contest Cookbook, The Pillsbury Company, Minneapolis, MN, 1990.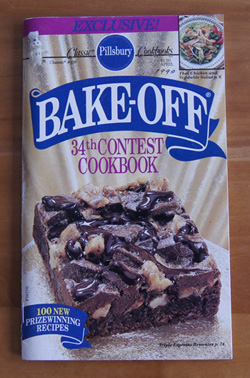 The earliest Bake-Off cookbook I covered in this blog was published in 1959; I discuss these cookbooks more thoroughly in my blog post covering the 1964 Bake-Off Cookbook. By 1990, Pillsbury was producing monthly Bake-Off or Classic Cookbooks, known as "magazine cookbooks", as I discussed in this post.
This booklet was my mother's. She only marked one recipe: "Praline Pecan Cheesecake", "yummy!" and "rich!". The ingredients of this cheesecake are: a Pillsbury Cake Mix, butter, cream cheese, sugar, eggs, toffee candy bars, brown sugar, pecans, and caramel ice cream topping. If you cut this 9-inch pie into 16 slices, each has 520 calories. I'll never make this cheesecake, it is too rich and yummy for my style of eating.
The Bake-Off 34th Contest Cookbook offers recipes for salads, breads, brunches, main dishes, cookies, and desserts. Although some are from-scratch, many of the recipes include canned or frozen veggies (I prefer fresh), refrigerated biscuits or crescent rolls, or packaged pie or pizza crusts. Some of the cookie and cake recipes call for brownie or cake mixes. Since I prefer recipes from scratch, I am not going to keep this cookbook, although I saved a couple cookie recipes to try sometime. (Cookies are a weakness of mine!)
For this blog, I will try Tropical Oat Bran Muffins. This is a from-scratch recipe. It calls for whole bran cereal, bananas, macadamia nuts, coconut, and pineapple. These should be great for breakfast!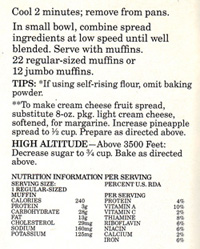 Note that the recipe calls for either "whole bran cereal with oat bran" or "fortified whole bran cereal". I have a box of Kellogg's™ All Bran cereal, and it doesn't have oat bran in it, so I'll call my version "Tropical Muffins". I made two-thirds of the recipe (so it would yield 12 muffins), used more banana than called for (I had 2 ripe bananas), and used a little less flour (high-altitude adjustment). I didn't make the "fruit spread" (a mixture of lite margarine and jam). My version of this recipe is below.
Tropical Muffins
makes 12 muffins
1 1/2 cup plus 1 tablespoon flour
1/2 cup bran cereal
1/2 cup coconut
1 1/2 teaspoons baking powder
1/2 teaspoon salt
1 teaspoon cinnamon
2-3 ounces macadamia nuts, chopped
1/3 cup butter
1/2 cup white sugar
scant 1/4 cup brown sugar
2 eggs
generous 1/2 cup mashed banana (about 2 ripe bananas)
1 1/2 teaspoons vanilla
2/3 of an 8-ounce can of crushed pineapple
Prepare a 12-cup muffin pan, either by lining with paper cups or lightly greasing.
Stir together the flour, cereal, coconut, baking powder, salt, cinnamon and macadamia nuts. Set aside.
Use a mixer to beat the butter with the white and brown sugars until light and fluffy. Add the eggs and banana and blend well. Stir in the vanilla and crushed pineapple.
Combine the wet and dry ingredients and stir just until the dry ingredients are moistened. Fill the muffin cups 2/3 full.
Bake at 350˚ for 25-30 minutes.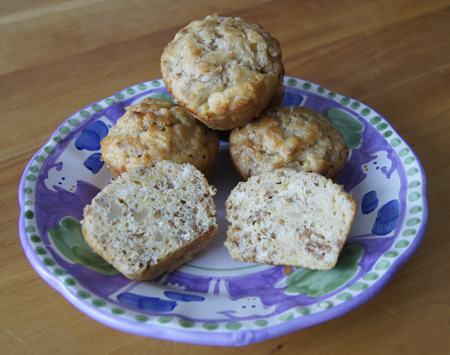 Excellent muffins! I want to make them again already. These have a denser texture than some muffins, since they are chock full of fruits, nuts, and coconut. We both liked them.