Cookbook #212: Knudsen Recipes, Knudsen, Knudsen Creamery Co. of California, 1958.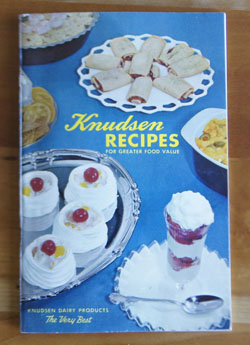 This is the third of my mother's "Knudsen Recipes" cookbooks that I have covered: 1953 was the first, 1955 the second.
I like this edition because it is very much like the 1955 version. Again, the first page illustrates a male chemist in the lab. This time he is dripping something from a big round separatory funnel into a round bottom flask. If he adds much more solution, it will definitely overflow. Plus, why is the lower flask suspended? He is not heating that flask, and it would make more sense to have it on a solid surface, and to use an erlenmeyer flask. (The organic chem lab teacher in me never quits.)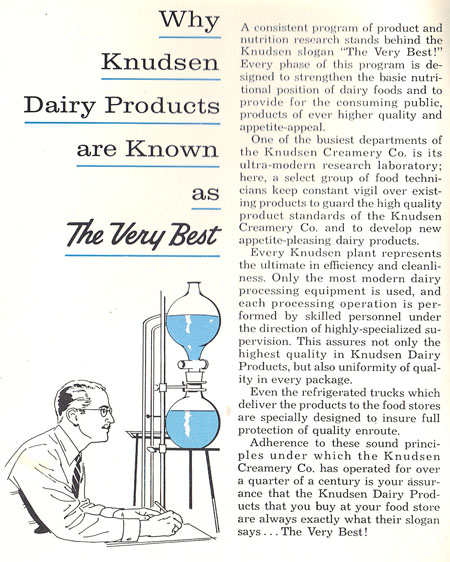 And as in the 1955 edition, it is a woman who is doing the cooking, or at least reading the cookbook.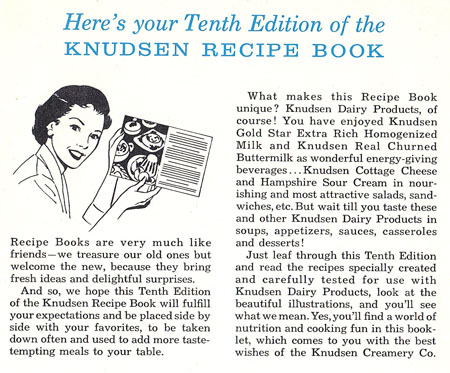 The first section is Appetizers and Spreads. Mother marked several: Crab Meat Canapes, Salami-Julienne Spread, and Cheese Onion Balls. These are all made with cream cheese, cottage cheese, and/or sour cream, with additions of canned or frozen products. During the 50s, and especially during the cocktail hour, these types of appetizers were a mainstay of American cookery.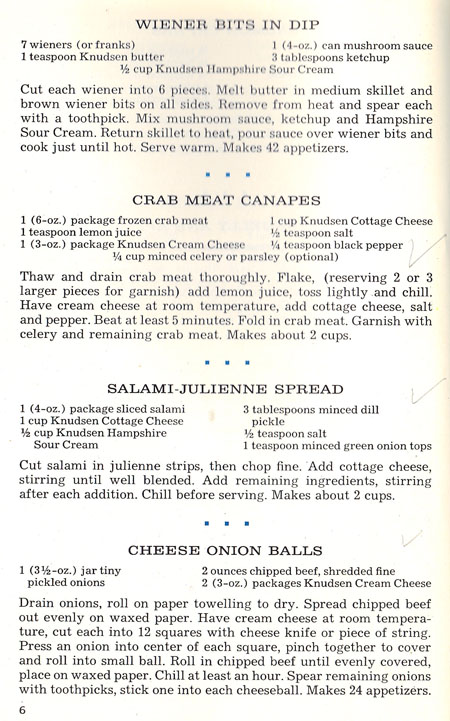 Here is a photo of some of the appetizers: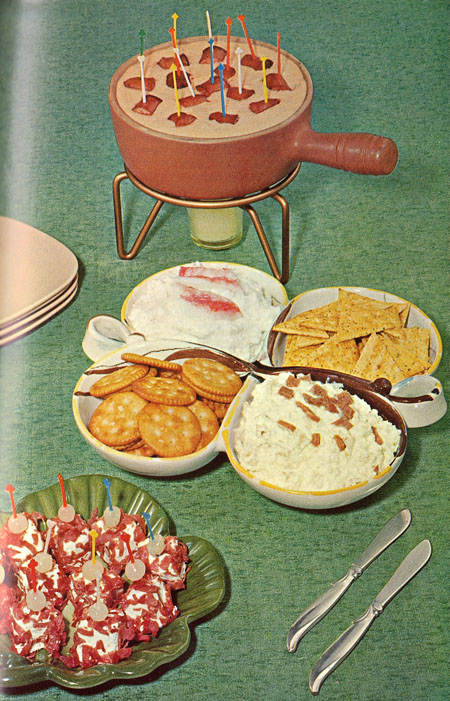 Next is Salads. Mother put a check mark on "Carrot and Red Cabbage Salad". I thought about making this salad, since I like the combination of carrots and cabbage, but this recipe has more sour cream than I think I'd like. A "Full Meal" salad mixes leftover cooked meat with canned or fresh vegetables and a lot of cottage cheese and sour cream. Not for me. Nor are the molded salads. I guess this whole chapter is just not for me!
In the Main Dishes chapter, most of the recipes use about a cup of sour cream and/or cottage cheese per recipe. "Spaghetti with Beef in Hampshire" is a dish of steak, herbs, canned mushrooms, canned tomato soup, Worcestershire sauce, and sour cream, cooked and served over spaghetti. "Spaghetti Cheese Pie" is cooked spaghetti spread in a pie pan and covered with bacon, mushrooms, eggs, cheddar cheese, and cottage cheese and then baked. Both of these typical homey 50s recipes might taste good, but just aren't the way I cook today. "Baked Potato, The Great American Dish" – baked potatoes with sour cream and chives – was also in the 1955 edition of Knudsen Recipes.
Right in the middle of the Main Dishes chapter I find a recipe for "Cherry Muffins". Why here? I really don't know. But I like the recipe, because I am always looking for new muffin recipes and this one has cottage cheese (protein and calcium) in the batter along with a can of tart red cherries (tart cherries are supposed to be good for you). Note all of the recipes on the page below: they are good examples of the type of recipes in this cookbook.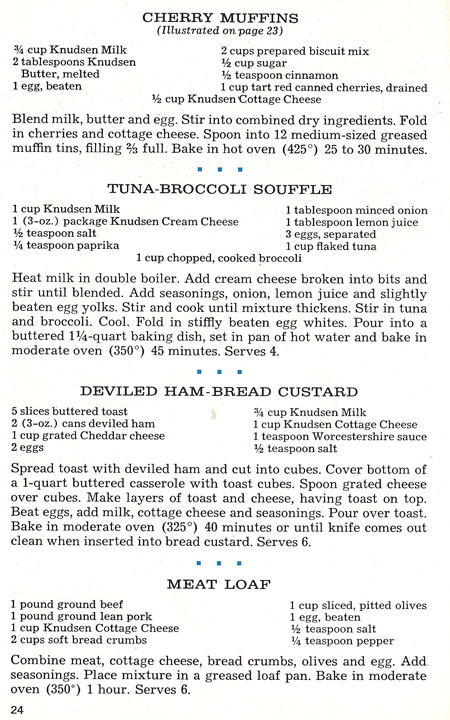 Perhaps Cherry Muffins were meant to be served with supper, or on a buffet, as in the photo below. The muffins are in the lower right hand corner: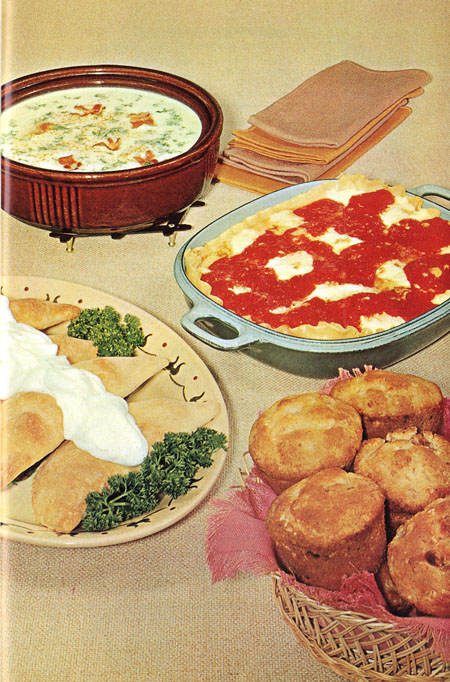 Also in the Main Dish chapter is the following recipe for "Zucchini Dollar Cakes". I think the recipe sounds kind of good. And it might come in handy in late summer, when all those zucchini squashes are out there.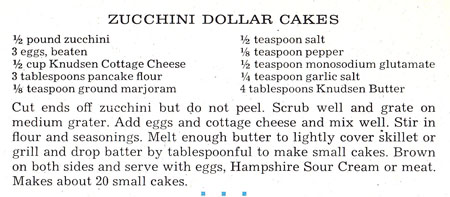 In the Vegetables chapter, most of the vegetables are heavily sauced. Except "Broccoli in Almond Sauce", which has just a little sour cream. But it calls for frozen broccoli. I prefer a little seasoning on lightly cooked fresh vegetables. I do like the idea of adding cottage cheese to mashed potatoes, one of the other recipes in this section.
Desserts and Sweets is the best chapter for recipes that include sour cream and cream cheese, in my opinion. We expect desserts to have calories, and getting those calories from milk products might be better for us. Examples are: "Cream Cheese Pie", "Cheese Cake", "Viennese Apple Strudel" (with cream cheese, butter, and a lot of apples), and "Sour Cream Boston Cheese Cake". I am marking "try" on the recipe for "Hampshire Sour Cream Spice Cake", with cottage cheese, sour cream, and lots of spices. It is baked in a bundt pan.
The closing pages of Knudsen Recipes include lists of menus, ideas for using Knudsen products for "weight control for better health", and a table of calories in a few foods and recipes in this cookbook.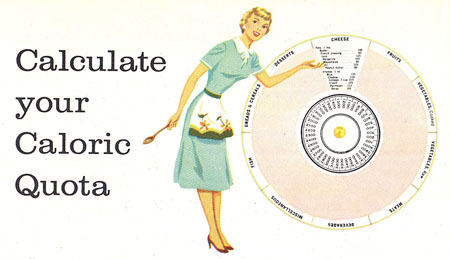 Next is a rave for all the good things about yogurt, hoop cheese, and milk. "Looking for New Ideas? Ways to use cottage cheese" lists a page of ideas. The following one is my favorite. "The men like this with old-fashioned hot potato salad."

"Looking for New Ideas? Ways to use sour cream" is next, and here is my favorite from that list. "Gourmets babble?"

And that's the book. I decide to make the "Cherry Muffins" for this blog. Here is the recipe (again):

The first issue I need to address in baking these muffins is the "2 cups prepared biscuit mix". Biscuit mix, or "Bisquick", was a staple in American kitchens in the 1950s. It is still available today. Should I purchase a box of Bisquick to make this recipe? I think not. I have no other use for it, and in general, I like cooking from scratch, so that I know my ingredients. Luckily, at some time in the recent past I had copied from the web search results for a substitution for biscuit mix:
"For each 1 cup biscuit mix (like Bisquick) called for in a recipe, use 1 cup all-purpose flour, 1 1/2 teaspoons baking powder, 1/2 teaspoon salt and 1 tablespoon vegetable shortening."
I decide to use a combination of unbleached all purpose flour and whole wheat pastry flour, and to use butter instead of vegetable shortening. Also, the cottage cheese I have is very salty, so I am going to cut down the amount of salt. Below is my version of "Cherry Muffins".
1 cup all purpose flour
1 cup whole wheat pastry flour (you can use all purpose flour instead)
1 tablespoon baking powder
1/2 teaspoon salt
1 teaspoon cinnamon
1 egg
1/2 cup sugar
3/4 cup milk
1/2 cup cottage cheese
4 tablespoons melted butter, preferably unsalted
1 cup (one can, 13 oz.) tart red cherries, unsweetened, the kind used to bake cherry pies
Combine the flour(s), baking powder, salt, and cinnamon. Set aside.
Put the egg in a good sized bowl and whisk it a few times. Add the sugar, milk, cottage cheese, and melted butter. Mix well.
Chop the drained cherries. These cherries will be very wet and soft, and I didn't get them totally drained. No problem, just scoop them into the bowl with the wet ingredients.
Combine the wet ingredients with the dry ingredients and stir just until mixed. Put into 12 muffin cups. Bake at 400˚ 20-22 minutes, until golden brown and test done with a toothpick.
These were a lot better than I expected! I was concerned that the cherries would not lend enough flavor to the muffins, but I was very wrong. Also, I often use vegetable oil in muffins, but used butter in these. Same calories, but what a difference in texture! These almost taste like pie crust.
Success! I was able to use healthy ingredients, like tart cherries and cottage cheese, to make delicious morning muffins. Probably current and future readers will find nutritional problems with my recipe, as opinions and science are in flux. But for now, I will enjoy my semi-healthy muffins!