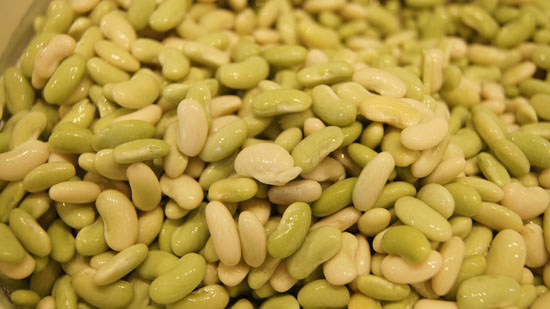 I found an (expensive) bag of heirloom flageolet beans at a little store called "Cured". Aren't they pretty? Some of them are creamy tan, and some pale green.
"Cured" is a curious shop tucked near a janitorial supply on about 18th and Pearl in Boulder. I discovered it a few years ago, and now stop to browse whenever I'm in the area. They have an exotic selection of cheese and sausage, and shelves of items like duck fat, olives, crackers, truffles – all sorts of exotic fare. Plus gorgeous loaves of bread. They have a sit-down area for coffee customers. The late morning we were there last week, the store was crowded to overflowing! (Don't folks in Boulder have to work mornings?)
What to do with these flageolet beans? I went to the website of Rancho Gordo, the company that sells these beans. According to Rancho Gordo, If soaked overnight, flageolets need only about 45 minutes to cook. That's not long, so I decide not to use the electric pressure cooker that I traditionally use for beans, and instead just let these simmer on the stove top.
Here is how they look just after I put them in a bowl and added water: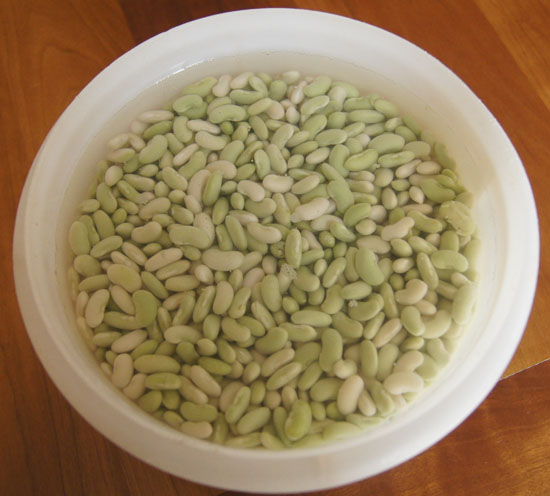 (The photo at the top of this page is of the beans the next morning, after soaking.)
I did add a little salt before cooking, although the Rancho Gordo website advised against it. The cooking liquid from these beans has amazing flavor.
I pretty much followed the recipe for Grilled Shrimp with White Beans, Sausage & Arugula on the Rancho Gordo website. I added a bit of basil, and near the end of the cooking I added a couple fresh, peeled, chopped tomatoes marinated in about a tablespoon of balsamic vinegar for about 30 minutes.
I served these to my bean-reluctant husband for a Saturday night dinner. Surprise! He liked them! And of course I did!