Cookbook #95: Cookies, Brownies and Bars, Classic Cookbooks, The Pillsbury Company, Minneapolis, MN, 1991.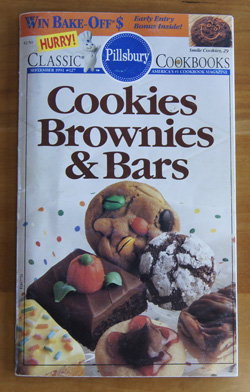 I have covered several Pillsbury Bake-Off cookbooks in this blog, and three Pillsbury cookbooks that are not Bake-Off associated: Simply From Scratch Recipes (1977), Healthy Home-Style Cooking (1989), and Cookies, Bars and Brownies (1994). I recall a time when these small cookbooks became available monthly, either at the supermarket's check-out stand or by subscription. I did a little web research and found this to be true:
"Pillsbury Publications launched the concept of digest-sized, full color food magazines in 1979. By 1989, the concept had developed into a monthly series of Pillsbury Classic Cookbooks that were available at supermarket checkouts and later by subscription. The recipes all use Pillsbury name brand products. The wonderful photos are guaranteed to get you in the mood to cook! Advertising Cookbooks is pleased to carry many of the back issues of this popular recipe magazine." —Advertising Cookbooks, accessed 12/2014.
These "advertising" cookbooks can have some great recipes. The Advertising Cookbooks website even offers some of the back issues for sale. They sell my Healthy Home-Style Cooking for $6 USD. Pillsbury, Better Homes and Gardens, Betty Crocker, Women's Circle, Land O Lakes and many other companies produced/produce this type of cookbook. (If interested, do visit the Food Company Cookbook blog associated with the Advertising Cookbooks website.)
My copy of Zestful Recipes for Every Meal – published in 1931 – is the oldest digest-sized, in-color advertising cookbook that I own. It's pretty cool.
Cookies, Brownies and Bars is one of my favorite Pillsbury Classics Cookbooks. It was published in 1991, at a time when I was baking a lot of cookies for my young family or for friends at work or for Christmas packages. I tried and liked a lot of recipes in this cookbook: Peanut and Candy Jumbles, Almond Kiss Cookies, Ranger Crispies, Oatmeal Coconut Fun Chippers, Chocolate Chip Cookies Supreme, Chocolate Raisin Smile Cookies, Almond Fudge Brownies, Fruitcake Fantasy Brownies, German Chocolate Saucepan Brownies (these are fantastic! I've made them a lot), Chocolaty Caramel Pecan Bars, Mocha Almond Fudge Bars, and Applesauce Granola Bars. And the recipe for Chocolate Pixies is quite similar similar to one of my Favorites: Chocolate Chews.
Now that is a record amount of cookie recipes for me to have tried from one book!
Another thing I like about this cookbook are the "Cook's Notes" on many of the pages. Next to a recipe for gingerbread bars that calls for molasses, a Cook's Note explains the difference between light, dark, and blackstrap molasses. Another note helps the cook decide between butter and margarine. The Chocolate Raisin Smile Cookies have a Cook's Note about dark and golden raisins.
And another good thing! A lot of the recipes call for what we generally consider "healthy" ingredients, such as fruits and vegetables (e.g. apples, raisins, zucchini) and whole grains (whole wheat flour, oatmeal). Most of the recipes are from-scratch. They even give directions for baking at high altitude.
I decide to make "Oatmeal Coconut Fun Chippers". I made them before and marked them as "good". This drop cookie recipe has brown sugar, a lot of vanilla, oatmeal, coconut, and M&Ms®. I am sure these are better than just "good"!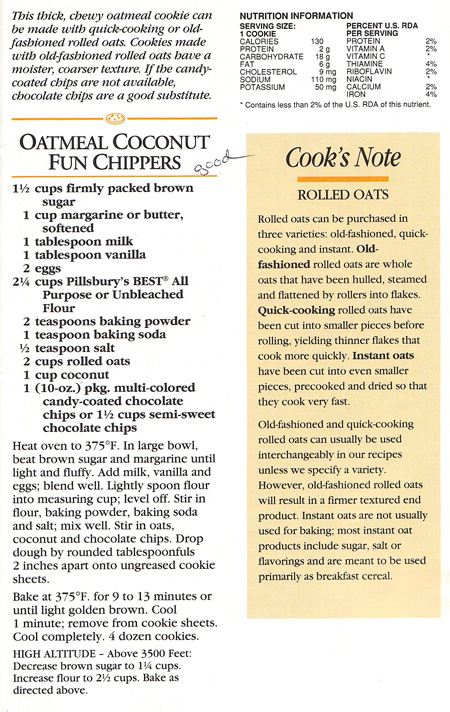 Note the note next to the recipe in Cookies, Brownies and Bars. It explains the difference between old-fashioned rolled oats, quick-cooking rolled oats, and instant oats. For this recipe, I have the option of either old-fashioned or quick-cooking oatmeal. I chose old-fashioned, which I am advised will result in a firmer textured cookie. I can also choose between butter and margarine: I chose butter. And, I can choose between M&Ms® or chocolate chips: I chose M&Ms®! Also, since we live at high altitude, I added an extra 2 tablespoons flour.
Getting the M&Ms® required a trip to my small town of Lyons, since I don't keep them in my pantry. It was a frigid, snowy, icy drive, but I did it – anything for this blog! I was lucky to find them at the gas station store, since the two markets in Lyons carry mostly natural foods. Aah, Colorado.
My version is below.
Oatmeal Coconut M&M® Cookies
makes about 4 1/2 dozen
1 1/2 cups firmly packed brown sugar
1 cup butter (I used salted butter)
1 tablespoon milk
1 tablespoon vanilla
2 eggs
2 3/8 cups flour
2 teaspoons baking powder
1 teaspoon baking soda
1/2 teaspoon salt
2 cups oatmeal (I used old-fashioned, quick-cooking might give a more tender cookie)
1 cup coconut
M&Ms®, about 1 1/2 cups (10 oz.)
Beat the brown sugar and butter until light and fluffy. Add milk, vanilla and eggs and blend well.
Stir together the flour, baking powder, baking soda and salt, then add to the beaten mixture and blend until mixed in. Stir in the oatmeal, coconut, and chocolate chips.
Drop dough by rounded tablespoonfuls onto cookie sheets (I lined my cookie sheet with parchment). Bake at 375˚ for 10 minutes.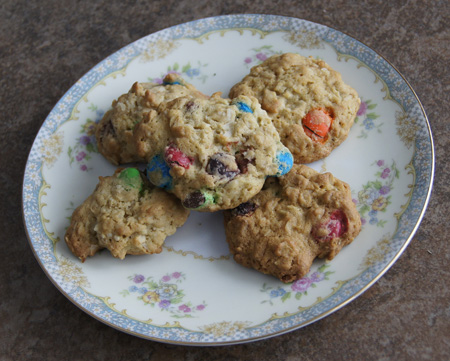 Comments
These are not just good, they are very good, and chewy and hearty and sweet! These cookies would be a great energy food on a hike, because they hold together well (like a granola bar).
Here is a batch of cookies waiting to be baked. See the M&Ms®?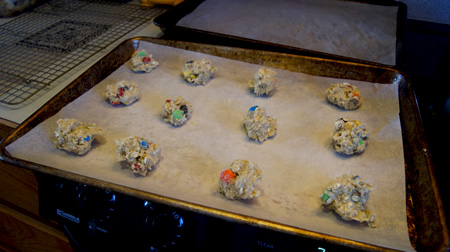 I baked the first batch 12 minutes and I think they got a little too browned:
I baked the rest of the batches 10 minutes and liked them better. It's my opinion that they keep better if they are a little bit under-baked.
I'll make these again!