Cookbook #161: Cooking of Japan, Rafael Steinberg and the editors of Time-Life Books, Time-LIfe Books, NY, 1969. Foods of the World series; sixth printing, revised 1976.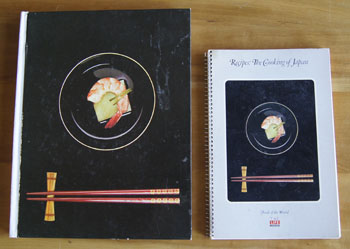 Once again, I look forward to discovering another interesting author as I open this Foods of the World cookbook, just as I discovered M. F. K. Fisher in the Cooking of Provinvial France, Emily Hahn in the Cooking of China, and Joseph Wechsberg in Cooking of Vienna's Empire. So, who is Rafael Steinberg?
The information page of Cooking of Japan tells us that Rafael Steinberg first went to the Orient as a correspondent during the Korean War. "Later he was a Time correspondent in Tokyo and London, and he spent several years as Newsweek's Tokyo bureau chief. He is the author of Postscript from Hiroshima, a book about survivors of the nuclear bombing." In the first chapter, he writes of his first trip to Japan: "as soon as I set foot on the good ship Hikawa-maru in Seattle – oh yes, airplanes were invnvented but they weren't flying the Pacific – I was confronted with what the passengers called 'The Choice.' You could either have a full Western meal or a full Japanese one. I asked for Japanese food, got it three thimes a day and stuck to it for all 21 days of the voyage to Yokohama."
The above brief excerpt illustrates Steinberg's writing style (readable! engaging!). His writings are so important that Columbia University Libraries/Information Services' Rare Book & Manuscript Library acquired the papers of "Rafael Steinberg, a distinguished author and foreign correspondent whose dispatches from Korea, Japan, and elsewhere, provide a unique eyewitness perspective on U.S. foreign relations during the height of the Cold War." The Columbia University site goes on to say "Described by the New York Times in 1966, as 'one of the most knowledgable American journalists in Japan,' he reported on life, death, culture, and politics in key hotspots around the world during some of the most tumultuous events of the 1950s and 1960s. . . . his intuition and quick grasp of events showed brilliantly in reporting on subjects that ranged from diplomacy and disarmament talks to a world heavy-weight boxing championship bout and the cuisines of Asia."
I feel lucky to have one of the works of this author in my hands to read and enjoy. History and food and the culture of another country. Perfect combinations.
I love the photos in the Cooking of Japan. It's enjoyable to leaf through the pages and gaze at the artful food presentations, and learn about the culture of Japan. To actually cook many of the recipes in my own kitchen presents a few obstacles. For one, many include raw fish. Here in Colorado fresh sushi fish is very expensive. Plus I have some reservations about buying and consuming raw fish. Other ingredients beyond fish are also hard to find. For instance, to make a dipping sauce for noodles, you need mirin (sweet sake), katsuobushi (dried bonita), and  kombu (dried kelp). Almost each recipe presents a shopping challenge.
Finally, I am not a patient and artful cook. I try! I don't mind spending hours in the kitchen, but when it comes to meticulously arranging foods, I am inept. And arrangement is a big thing in Japanese food.
I choose three recipes to try for this blog: Red Caviar with "Sleet" Dressing, Cold Noodles with Shrimp and Mushrooms (and a dipping sauce), and Duck Simmered in Sake-Seasoned Sauce.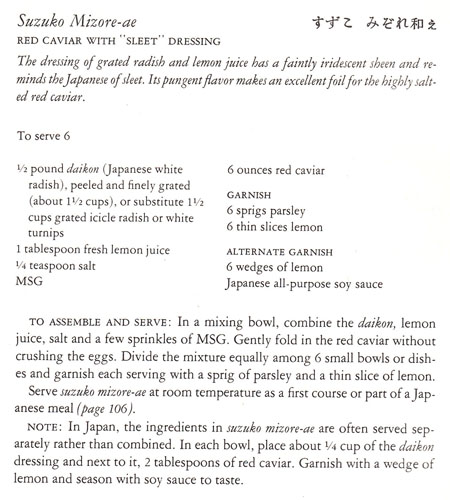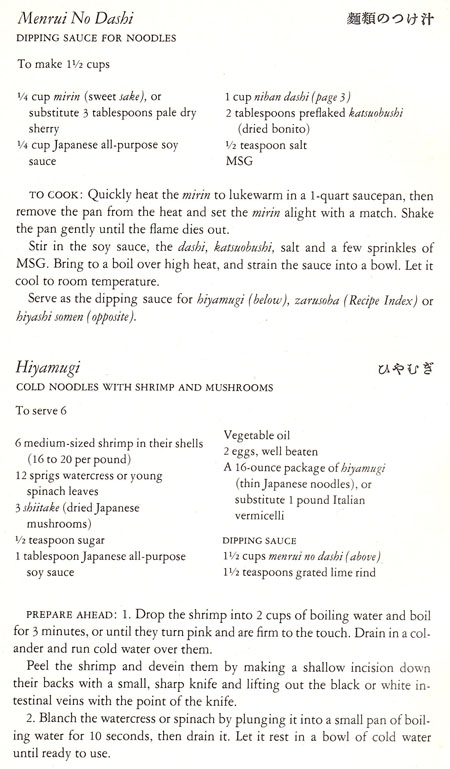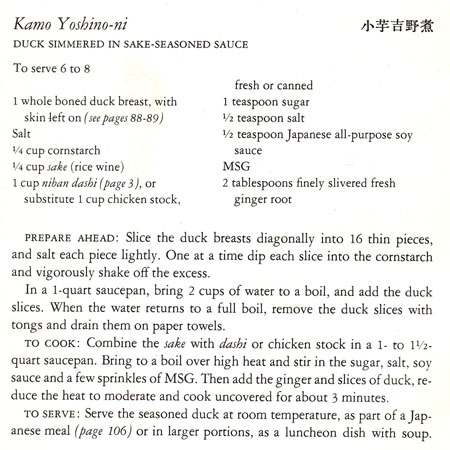 I set off to my favorite Asian Seafood Market with a long list of ingredients. I so enjoy searching the loaded shelves of this market! The lady shopkeeper chides me for not visiting her store in such a long time. I smile and say I've been busy with grandkids. I find many of the ingredients on my list, but decide to buy a pre-made Japanese dipping sauce for the noodles and forgo the bonita flakes and kelp. I put Japanese soy sauce, mirin, and soba noodles in my basket. And daikon (radish), ginger, and some big long green beans (not in my recipes, but they look so cool). Much to the pleasure of the shopkeeper, I picked up a package of shrimp wrapped in noodles with a little sauce from the tray at the check-out counter. "Very good!" she exclaims.
That was fun! But I'm still missing a few items, so I have to shop some more. I find sake at the Liquor Mart, and duck breasts and red caviar (salmon roe) at Whole Foods. I was surprised to find dried bonita flakes at Whole Foods – didn't buy them but did pick up some packaged Japanese snacks. I also bought fresh shitake mushrooms and watercress.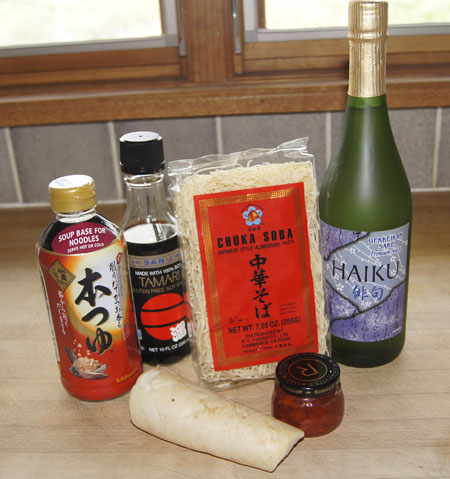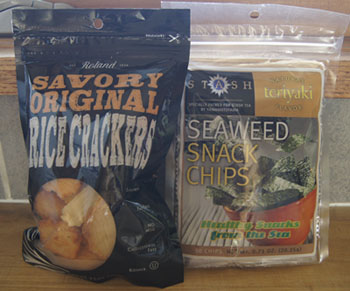 I had fun cooking my Japanese dishes and worked as best as I could to artfully arrange them on our plates: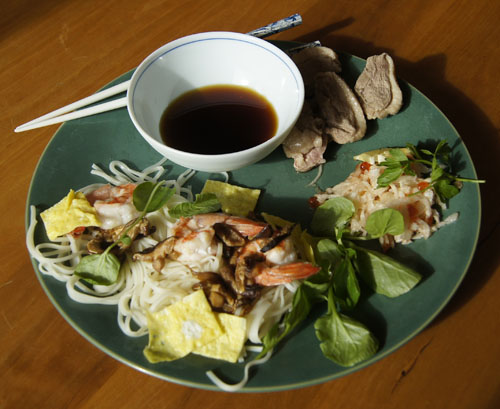 The meal was great. I thought the duck a little chewy – probably should have thinly sliced breast from a whole duck. Everything else was bright and tasty.
I'm not writing my own versions of these recipes into this blog. I made so many changes as I cooked each recipe that it's hard to renumerate. And, although the meal was delicious and I learned a lot and got a lot of new ideas, I don't plan to cook these recipes again.