Cookbook #147: Microwave Guide & Cookbook, General Electric Co., USA, 1979.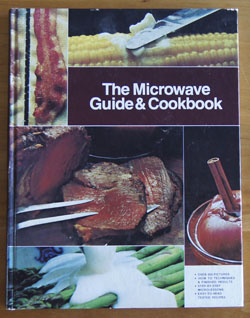 Who needs an instruction book for a microwave oven? You just put in your coffee cup or lunch, set the dial for a minute or two, and click start, right? And if you ever want to know how long to cook a particular food item, you just google it.
So were my thoughts as I sat down with this book. I started leafing through it. The very first pages describe how microwave ovens work. A magnetron in the microwave oven generates and transmits microwaves. "Microwaves" are high frequency (and short wavelength) radio waves. AM, FM and CB radiowaves are lower frequency (and higher wavelength) than microwaves. Your microwave oven is similar to a miniature broadcasting system! It is self contained – only the inside of the metal-lined oven sees the broadcast.
How do microwaves cook food? They agitate water molecules and cause them to vibrate and generate heat. Most food has plenty of water in it so it heats – and cooks. (And the air around the food does not get hot, so the food does not brown.)
On page 5 of The Microwave Guide & Cookbook, a potato is comparisonally cooked in a pan, an oven, and in a microwave. For each process, they recorded a "heat photo" or thermograph. This tickles my scientistific nerve! After 4 minutes, a microwaved potato is all yellow or hot, while it takes an hour for a potato in a conventional oven to show the same thermograph.
Twelve big pages show photos of foods that cook particularly well in a microwave; I find this practical, visual, and useful. This book recognizes the limits of microwave cooking, while reminding me that I could be using it for more foods than I currently do. A few pages describe microwave safe dishes and food coverings.
And then, in the defrosting section, a lovely photo of a block of ice partially thawed in a microwave: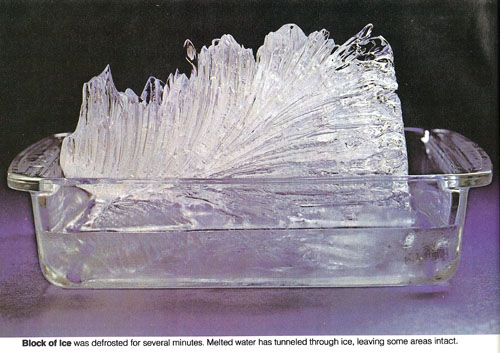 Isn't that cool? I think this book is a keeper! I like reviewing the science behind my appliances and I like having good cooking references at home for those times when we don't have the internet in our semi-rural area.
The Microwave Guide & Cookbook presents different foods in separate chapters: appetizers, meats, poultry, fish, eggs and cheese, sauces, pasta and rice, vegetables, breads, desserts, and jams. Each of the meat, poultry, and fish chapters begins with a description of how to defrost different forms of the food (e.g., details for hamburger, steaks, and roasts) and then gives cooking instructions and a few recipes. The recipes are often for illustration – the cook is encouraged and guided to adapt his or her own recipes to a microwave version.
What I learned or found useful:
In the ground meat section, I liked the instructions for defrosting. My current microwave oven has an autodefrost function that works miserably; now I have the knowledge to use a manual defrost mode more effectively.
In the steak section, they say you can grill a steak briefly to get the grill marks and flavor, then heat it up in the microwave at dinner time. Sounds like a good idea for a busy cook.
I found a ham and pork loaf recipe that might help me use up leftover ham and have an interesting filling for sandwiches.
Bacon can be microwaved on a plate covered with a paper towel.
Explicit instructions for cooking chicken are given: number (and size) of the chicken pieces; cooking power; cooking times; turning instructions. This cookbook has a microwave version of Mexican Chicken Casserole that I would like to compare and contrast with the two versions I have covered in this blog: one and two.
You can boil pasta in a microwave! Maybe we will (again) have an extended power outage and I will only have the use of my microwave oven when using our somewhat-limited backup generator system.
The egg section gives a good "microlesson" on how to microwave scrambled eggs and how to poach an egg. I could definitely learn from this. Hey, they have an egg and cottage cheese scramble, like I make on the stove top! Microwave oven users are given a strict warning NOT to microwave whole eggs in the shell. Oh boy, I learned this in lab. Back in the 70s I was working in a molecular biology lab. We had a microwave oven in the lab, ostensibly to liquify agar gel for bacteria plates. Well, one of our young lab helpers decided to microwave a whole egg in it. It burst loudly and violently! The lab stank for weeks.
The vegetable section is excellent and complete with tables and comments. I know I'll refer back to this in the future.
Desserts. How to melt chocolate, make fudge, s'mores, custards, puddings, and pies. Brownies. Cakes in a microwave oven rise higher but are not brown; the texture is great, though, and frosting will cover any difference. Quickie chocolate sauce, butterscotch sauce, and cinnamon sugar sauce might come in handy and tasty.
With all these good ideas and learning lessons, what to choose to cook for this blog? Umm, I do love meatballs. Let's try a microwave meatball recipe and compare and contrast with my usual stovetop method. How about Swedish Meatballs?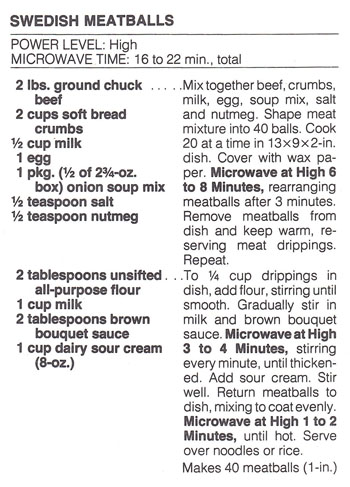 In the Microwave Guide & Cookbook, general instructions for microwave meatballs are given on the same page as the Swedish Meatballs recipe. I find these instructions useful: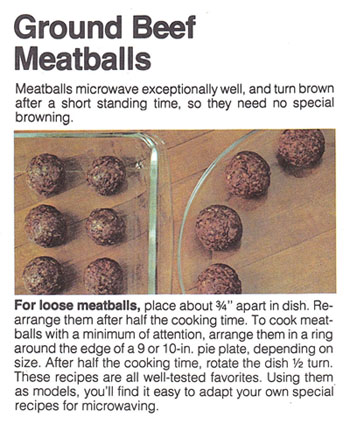 I halved the recipe for the two of us. I usually cook 12 ounces of meat for us – I cooked about 14 ounces this time and had a few meatballs left over. I didn't have brown bouquet sauce (kitchen bouquet) so I left it out.
Microwave Sweedish Meatballs
serves about 2
about 14 ounces ground beef
1 cup bread crumbs
1/4 cup milk
1/2 egg (whisk an egg, measure wieght or volume, use half)
1/2 packet onion soup mix*
1/4 teaspoon salt
1/4 teaspoon nutmeg
1 tablespoon flour
1/2 cup milk
1/2 cup sour cream
*Onion soup mix still comes with 2 packets per box. But, now the box weighs 2 oz. instead of the old 2 3/4 oz. I opened one packet and used about half of it for my version of the recipe.
Mix the ground beef, bread crumbs, milk, egg, onion soup mix, salt, and nutmeg. Form into 20 meatballs (I used a kitchen scale to get them all equal-sized).
Put the meatballs in a glass baking dish that fits in your microwave oven. (I used a 9×11-inch glass pan.) Cover with wax paper.
Microwave on high for 6-7 minutes (until done), rearranging the meatballs halfway through the cooking. (If you question whether or not they are done, you can gently cut an opening in one to check.)
Remove the meatballs from the baking dish and set aside. Add the flour to the drippings that remain in the baking dish and stir well, then gradually stir in the milk. Microwave at high for 3-4 minutes, stirring every minute, until the mixture is thickened. Add the sour cream and stir.
Stir the reserved meatballs into the sauce and mix to coat evenly. Microwave at high for 1-2 minutes, until hot. Serve over noodles or rice.
Here are the meatballs before cooking: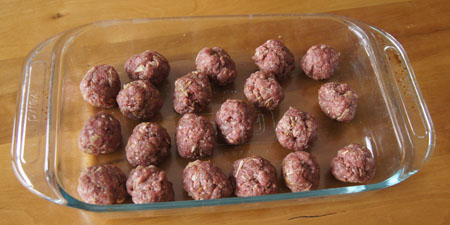 And here they are cooked: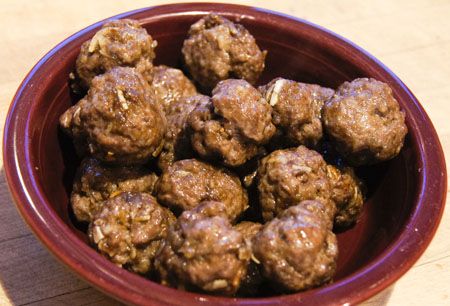 Plated: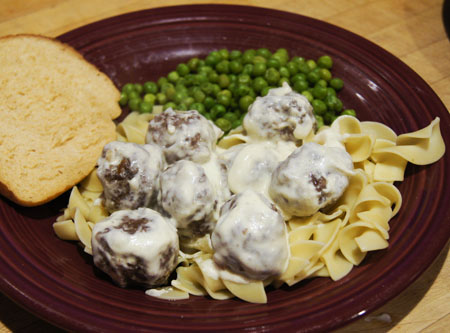 I got raves for this simple dish! It really was easy and fast, and tasted great. I didn't have a splattered range top to clean either. I did kind of miss the good odor of browning meat. But other than that, I think these are just about as good as traditionally-cooked meatballs.
It would be easy to adapt any of my current meatball recipes to this microwave version: the rule is 20 meatballs from 14 ounces of meat baked on "high" in a microwave oven for 6 minutes. If I used a pound of meat, I might increase the cooking time a half minute or so. If you are cooking two pounds of meat, cook in two batches.
Success!
Note: I covered another microwave cookbook (that I didn't like) and a bit of the history of microwave ovens in a previous post. I got my first microwave oven (a Whirlpool) in 1981 and it lasted 23 years. I'm currently on my second microwave oven, a combination convection-microwave JennAir.